Stephen Colbert Presents 'Breaking Bad' Meets 'Downton Abbey' For 'Breaking Abbey'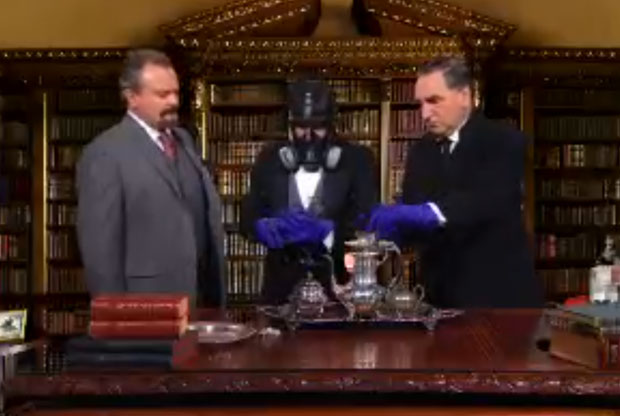 Now that obnoxiously loud commercials are officially a thing of the past, the No. 1 worst thing about being a television fan is the long, arduous wait for a beloved series known for long hiatuses to return. Though, knowing that someone else has seen it long before you have is a close second. No one knows that pain quite like Stephen Colbert who was outraged — outraged I tell you! — when he discovered that First Lady Michelle Obama (or, as he hilariously quipped, Lady Michelle Antoinette) got her hands on the hotly anticipated Season 3 premiere of Downton Abbey before we all get to watch on January 6.
The First Lady may be making her fellow Americans awfully jealous, but Colbert is never one to let his nation down. The host upped the ante and combined Downton with an equally beloved and anticipated, albeit slightly different, drama series, Breaking Bad for the unbelievably awesome mashup Breaking Abbey. With Downton Abbey cast members (who are continually proving to be some delightful, good-humored people) Hugh Bonneville (Robert Crawley), Jim Carter (Mr. Carson), and Rob James-Collier (Thomas Barrow) on board and channeling their inner Heisenbergs and Jesse Pinkmans, the parody trades meth for tea leaves and gives the AMC series' rough-around-the-edges dialogue some British flair. ("Mo' money, mo' quandaries!")
If this doesn't curb your hankering for Downton Abbey and/or Breaking Bad, someone may have to pop a cap in one's ass. This sketch — which also features a thugged-out Mark Consuelos as a client ("I'll take that s**t with some milk!") — is more addictive for TV junkies than some sweet blue tea, not to mention yet another example of why The Colbert Report deserves to get their damn Emmy already. Watch the very funny, very NSFW Breaking Abbey clip here:
Okay, Bryan Cranston and Aaron Paul, your turn: Downton Bad. Make it happen, Colbert Nation.
[Photo credit: Comedy Central]