Stephen King's 'Under the Dome': Super Bowl Gives Us First TV Spot, Tells Us Nothing — VIDEO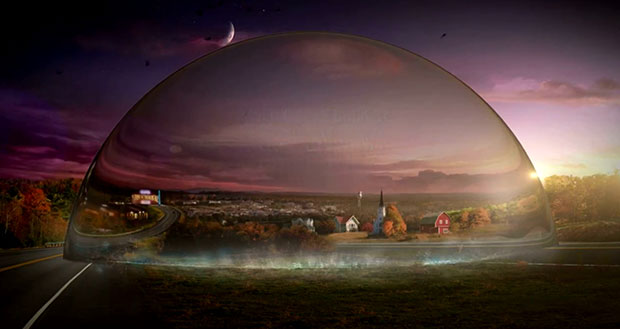 Dead Zone, Kingdom Hospital, The Haven. All TV series inspired or based on Stephen King novels. Welcome to that fold Under the Dome, the al-new, and all-ambiguous new series from King, coming Summer 2013 to a small screen supplying CBS near you. And it's all about the larger questions — especially those that
RELATED: CBS Goes 'Under the Dome' with Stephen King and Steven Spielberg
The book the show is based on — a gargantuan effort at over 1,500 pages — tells the tale of Chester's Mill, a small town in the northeastern United States that finds itself literally cut-off from society thanks to a magical dome that appears one day without warning. Various nefarious sources come into play, including a giant meth explosion that kills all but 26 of the townspeople. There are aliens nicknamed "leatherheads" even though they never played old-timey football, headaches, brain tumors, meth labs, bad dudes, an invisible dome, and the ramifications of being cut off from society in a literal bubble.
Check out the trailer for yourself, and see if you can glean more from it than we did.
RELATED: TV Tidbits: 'Secret Circle' Alum Goes 'Under the Dome'
Have you read Under the Dome? Planning on checking out the new show? Let us know in the comments!
[Photo Credit: CBS]
Follow Alicia on Twitter @alicialutes
---
You Might Also Like:

Biden? Ford? Surprisingly Hot Young Pics of Politicians

Who Wore This Crazy Hat?

Stars Who Changed Their Look After Love