Steve Holt!: A New Movement To Bring Back The Beloved 'Arrested Development' Character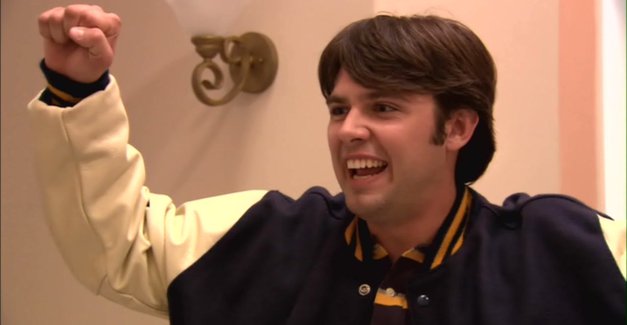 Not since the fine folks of a Chicago suburb rallied together to Save Ferris has there been a more important pop culture rescue mission. With the impending return of the beloved cult comedy Arrested Development, fans of Justin Grant Wade's character Steve Holt (Steve Holt!) have started a, er, foundation to ensure that Steve Holt (Steve Holt!) will appear in the new episodes come 2013.
On their website SaveSteveHolt.com, creators Robert Adamson and Nick Blancarte, two enthusiasts of the fist-pumping third-year senior, shared their concern that Wade "has not yet been asked to return to the show to reprise the role" and in turn are hoping fellow Steve Holt (!) fans will tweet their support with the hashtag "SAVESTEVEHOLT" and buy their custom-made Save Steve Holt t-shirts. Wade himself even appears in a video on the site (though he looks noticeably different sans letterman jacket and sporting a beard) to confirm that he would also love to see the return of Steve Holt!
Hey, if the Internet can band together to re-launch the career of Betty White or try to help Dustin Diamond get his house back, why can't we all join forces to urge the folks at Arrested Development to give Steve Holt a second (or third) chance? Steve Holt!
(Photo credit: Fox)
More:
Netflix To Air All-New Episodes Of 'Arrested Development'
'Arrested Development' Cast Signed On For New Season
'Terra Nova' To Join 'Arrested Development In Netflix Lineup?