Steven Moffat Should Give Up 'Doctor Who' & Focus on 'Sherlock'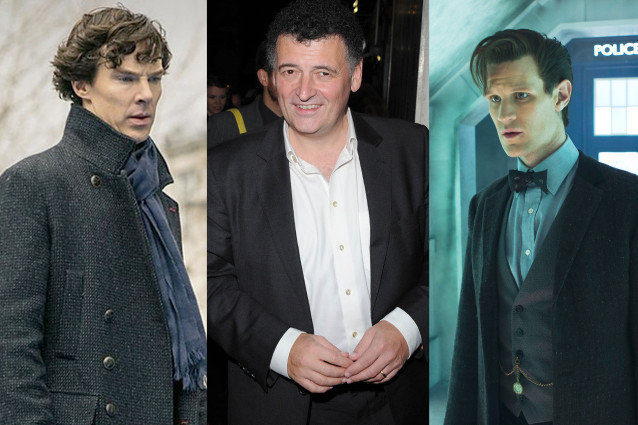 BBC One/Getty/BBC
It seems the BBC has found their ratings guru in Steven Moffat; as showrunner for both Doctor Who and Sherlock, he's pulled in some of the biggest numbers for the network. The Doctor Who 50th anniversary special was watched by 10.6 million viewers, the Christmas special by 8.3 million people while the Sherlock season three premiere garnered the attention of 9.2 million viewers. It's safe to say that — at least ratings wise — Moffat is BBC's not-so-secret weapon.
However, discontent has been brewing within the Doctor Who fandom about Moffat's complex storylines (he tries to fit a whole 2-hour story into a 1-hour episode). Fans have also criticized the lack of character development and his total aversion to a female Doctor (referring to a female Doctor as being like a cross-dressing Queen of England). 
While Russell T. Davies was executive producer of Doctor Who, Moffat wrote many episodes that are some of the fans' favorites, but viewers are skeptical of his ability to run the whole series. 
On the contrary, pretty much every complaint fans have of Moffat's Doctor Who works to his advantage when it comes to Sherlock. Complex plotlines? They're great when you have an extra hour to fill. Character development? Sir Arthur Conan Doyle took care of it. Female characters? Who needs them! The fans come back again and again for John Watson (Martin Freeman) and Sherlock Holmes (Benedict Cumberbatch).
Which is why we're proposing that Moffat give up Doctor Who — which might be raking in the ratings, but who knows how long that will continue — and focus primarily on Sherlock. Then, everyone will be happy and we won't have to wait another two years for more Sherlock.