'Suburgatory': Is Yoni Gone for Good? Wilmer Valderrama Answers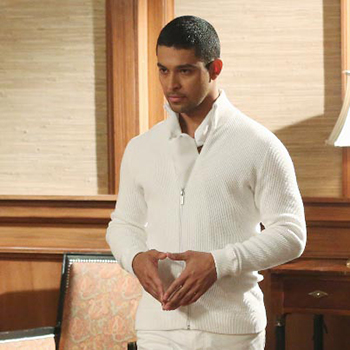 Once again, tonight's episode of Suburgatory gave us 22 minutes of pure giggle-inducing fun — but what made "Yakult Leader" truly special was the return of Wilmer Valderrama as Yoni, the overly serious spiritual hunk. Fans of the ABC comedy first met Yoni last season as Dallas' first post-divorce tryst, and now the all-white wardrobe enthusiast has a new profession: dog whisperer.
Valderrama told Hollywood.com that he was thrilled to reprise this role on Suburgatory — mostly because he has such great respect for the show's creator, Emily Kapnek. "She's one of the most brilliant writers I know and the tone is just so ideal and perfect," Valderrama says. "She called me and said 'I have this little character that I think you will have a lot of fun with.' …Basically, she just kind of let me create this random mystical creature."
Now that Yakult is finally free of her depression, does this mean that Yoni is leaving Chatswin for good? Not necessarily! "I think that when you're in the world of Emily Kapnek, you don't necessarily go very far," Valderrama explains. "I'll tell you this much: If they ask me to come back, I definitely, definitely would."
The actor even has a plan for what he'd like to do in Yoni's third appearance: "I feel like he should move on to the other couple [Sheila and Fred Shay]," Valderrama suggests. "He should definitely help them with some spiritual guidance." Good point — if there's one person who could use Yoni's calming, velvety voice to relax it's the always-wired and slightly neurotic Sheila Shay.
One last thing: Yakult has always seemed to be a bit of a pretentious pup, so we were curious to know how Valderrama really felt about working with his canine co-star. "To be honest, she seems like such a diva, but she's actually the most cooperative actress that I've ever worked with," the actor jokes. "This dog completely blew me away. I had the most fun working with her."
You can catch all-new episodes of Suburgatory every Wednesday at 8:30 p.m. on ABC.
Follow Leanne on Twitter @LeanneAguilera
[Photo Credit: ABC]
MORE:
Leanne's Spoiler List: Couple Alert! What's Next for Nick and Jess on 'New Girl'?
The 'Happy Endings' Engagement: The Tricky Union of Friends and Romantic Partners
'HIMYM' Officially Renewed: We Will Meet the Mother… in the 9th and Final Season

20 Hottest Celebrity Bikini Bodies