'Suburgatory' Scoop: Jane Levy Dishes on Tonight's Holiday Reunion with Malin Akerman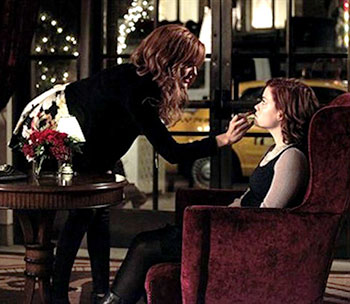 It's Christmas time in Suburgatory so pull out your lavish decorations and start writing that mile-long wish list because there's one thing that suburbanites know how to do best: spread Christmas cheer! And it looks like George (Jeremy Sisto) is fully embracing the holiday spirit by offering to spend time with Yakult so he can give Tessa the super sweet gift of spending time with her mom.
Get ready Chatswin lovers, Malin Akerman is back to reprise her roll of Alex—Tessa's flaky yet kind-hearted momma that we finally met in the Thanksgiving episode. To get all the scoop on tonight's episode, "Krampus," we chatted with leading lady Jane Levy and are bringing you a sneak peak of the greatest music video ever made. Read on for all the deck-the-halls details!
"It was really really really fun." Levy tells Hollywood.com about working with Akerman again. "She's a great person and a great actress and I think she did something really cool with the character." Plus the fact that Akerman looks absolutely fantastic as a red-head is definitely a pro. In an interesting surprise, Levy revealed that she never once thought about what Tessa's mother would be like.
"I didn't really picture anything… Every week I have no idea what is going to happen so I just like to wait and see who they cast and what happens." Levy explains, "Also in the pilot it said that Tessa never talked about her mom and so I just never really thought about her. It wasn't until late last season when they brought that back into the picture."
In tonight's episode fans will get to see Tessa and Alex finally spend some "girl time" together in the Big Apple. Some highlights include the hotel room revelations, the perfect red lipstick, and the world's most awkward hug. Ever. Levy says that her on-screen mom flawlessly transformed her roll from MIA mother to a complex and intriguing character. "She was like funny and loveable but at the same time sort of tragic and it makes you like her yet want to hate her." The 22-year-old actress says, "I think that's a hard note to hit and it started with the writing but then Malin came in and made it a great character. " Tessa and Alex's emotional journey in tonight's episode is definitely something fans don't want to miss.
Oh and of course we have to mention that Dalia (Carly Chaikin) makes a music video! That's right, our favorite queen bee of Chatswin is asking Santa to bring back her beloved housekeeper so naturally she makes a music video to get Carmen's attention. It has it all! Catchy beat? Oh yeah. Sparkly dress? Yup! Toxic-inspired dancing flight-attendants? You better believe it! Check out all of the amazingness of Dalia's soon-to-be hit, 'You Missed a Spot" in the video below.
You can catch Suburgatory tonight on ABC at 9:30 PM
Follow Leanne on Twitter @LeanneAguilera
[Photo Credit: ABC]
MORE:
An Interview with 'Suburgatory' Star Jane Levy
One-on-One: 'Suburgatory' Star Jeremy Sisto Talks 'Sex and the Suburbs'
Casting Roundup: 'The Office,' 'Suburgatory' and 'The Glee Project' Welcome Newcomers
You Might Also Like:

Jake Harper to Disappear on 'Two and a Half Men'? 6 TV Kids Who Vanished