'Suits' Stars Gabriel Macht & Patrick J. Adams on Season 2, Suiting Up, and Don Draper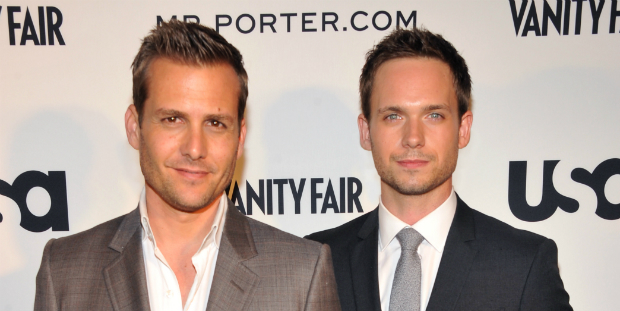 With the premiere of USA's sleek sophomore series
Suits
just a day away, it's natural that fans would be buzzing about the series' dapper stars. Luckily, Hollywood.com caught up with both
Gabriel Macht
and
Patrick J. Adams
at the USA/Mr. Porter.com Suits and Style fashion show in New York, and we got a little insight into what's on the docket for Season 2. 
"The firm is about to be unraveled," says Macht. "I don't know, Harvey might get disbarred this year." When we last left Harvey Specter (Macht) and Mike Ross (Adams), Mike's old cohort Trevor has just whispered something to Mike's boss, Jessica (Gina Torres). If the whispered secret is that Mike is actually not a lawyer and that he's been practicing without a degree for the whole first season of the series, both Harvey and Mike will have some 'splanin to do. 
Of course, Macht wasn't willing to tell us exactly how it goes down, but his suit's condition will, apparently, speak volumes. "When [Harvey's] put together, he's buttoned up. When he's in a compromised position, we're going to see him a little more unbuttoned. Let's put it that way," teases Macht. 
Adams was also coy about Mike's fate in Season 2, though he did discuss the series dipping its well-manicured toes into darker waters. "There are a couple things this season that really hit home, while at the same time not losing the humor and the joy because that's life," says Adams. And while he notes that USA is "the blue sky network" where series tend to err on the lighter side of things, it's the fans who are encouraging this darker turn for
Suits
. "I love that [the fans] don't want us to just be funny and witty … it's them who are asking for more," he says.
And we can think of one really obvious reason those fans are coming back (other than a little old thing like the immense intrigue the series dropped on us in the season finale): Harvey Specter and his impeccable suits. But he's got some competition for the title of TV's best suit-clad leading man: Don Draper. "Harvey Specter probably feels that he's way better dressed [than Don Draper]," says Macht. "When we were thinking about how we wanted to present Harvey, he sort of had that Cary Grant meets Steve McQueen thing. So, I think Don Draper leans a little bit more to that Cary Grant theme." 
So there you have it. Suits boasts a character who's cooler than Don Draper. Do they have your attention now?
Suits returns June 14 at 10 PM ET on USA.
[Image courtesy of Culture Shop NY]
More: