Summer 2012 TV: Your Ultimate Stay Indoors Guide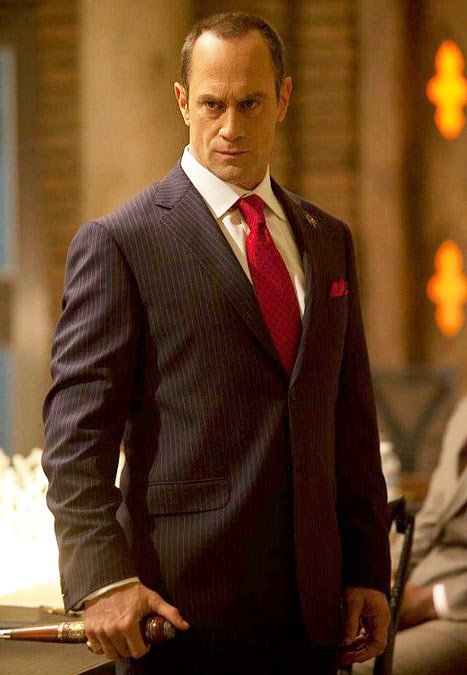 There are a few straggling TV finales left (Game of Thrones and Mad Men are sure going to keep us hanging on until the summer is really in full effect), but for all intents and purposes, we are officially in the land of Summer television. It kicks off tonight with So You Think You Can Dance and something called Duets (which I was disappointed to learn was not about the Cracker Barrel's peanut butter delicacies), but for the next few months we will find new series rolling out from May through August, and only some of it will be worth telling your friends you're allergic to barbecues so you can stay home. Some of it should not grace your screen unless you've melted to your La-Z-Boy. Lucky for you, we've figured out a handy scale to help you figure out what to watch the minute it airs, what to DVR, and what to leave running for Fido while you're at the beach.
We Would Give Up the Sun, The Ocean, and Smiling Before Giving Up These Shows
True Blood (Sunday, June 10 at 9 PM ET/PT on HBO)
Sookie may be driving us up a wall these days, but a summer without True Blood might as well be a summer without barbecues, beach days, and half-naked sexy people glistening in the sun. In other words, it would suck.
Louie (Thursday, June 28 at 10:30 PM ET/PT on FX)
This brutally honest series is one of the best "comedies" on television, though like creator/writer/star/editor Louis CK, it clearly doesn't subscribe to any genre. It's simply Louie, and while you should skip beers with the boys in order to watch it, you might want to keep a cold one in the fridge for a post episode wind-down.
Real Housewives of New York City (Monday, June 4 at 9 PM ET/PT on Bravo)
Ramona, Sonja, and the Countess are back and joined by three crazy new House Monkeys to make fun of. Who will we love, who will we hate, and who will be the first one Ramona throws a glass of Pinot at?
Breaking Bad (Sunday, July 15 at 10 PM ET/PT on AMC)
Walter White will be knocking off in the first half of the fifth and final season (which is really two seasons, but don't get us started). There's only eight episodes, so get your hit of that good blue meth until it disappears until next summer.
Dallas (Wednesday, June 13 at 9 PM ET/PT on TNT)
Oil, money, intrigue, lust, shirtless guys, Southfork Ranch: everything you loved about the king of prime-time soaps is back (even some of the creaky old stars) for a new generation. Please, don't let this whole thing be a dream.
Comedy Bang! Bang! (Friday, June 8 at 10 PM ET on IFC)
Host Scott Aukerman sits down with some of the funniest people in Hollywood (Amy Poehler, Zach Galifianakis) for this unconventional talk show. With comedian Reggie Watts on hand for musical accompaniment, this will be the funniest thing you'll see this summer. Well, besides your sunbathing neighbor.
The Newsroom (Sunday, June 24 at 10 pm ET on HBO)
At long last, Aaron Sorkin have an excuse to stay inside and not work on their tans. Think Sports Night meets CNN as Jeff Daniels plays Will McAvoy, an anchor setting out to change the face of cable news with his team (including Emily Mortimer, Alison Pill, and Dev Patel.) Can't miss, appointment television.
Political Animals (Sunday, July 15 at 10 PM ET on USA)
Talk about a break from mindless summer entertainment. This six-part miniseries features Sigourney Weaver as a no-nonsense politician whose personal life has seen its fair share of scandals. The drama also impressively features Ellen Burstyn, Carla Gugino, and James Wolk.
Next: Invited To Your Annoying Neighbor's BBQ? Watch These Instead

Invited To Your Annoying Neighbor's BBQ? Watch These Instead
So You Think You Can Dance (Thursday, May 24, at 8 PM ET/PT on Fox)
Nigel, Mary, and a revolving host of guest judges will be back to watch everyone pop, lock, breakdance, and fox trot their way to the top prize. This year there is only one episode per week, but that's still enough time for Cat Deely to win the hosting Emmy she totally deserves.
Weeds (Sunday, July 1 at 10 PM ET/PT on Showtime)
Nancy Botwin is the world's worst mother and now the Feds are after her. Or is it the Mexican cartel? Or is it Starbucks for cutting down on her coffee drinks? Well, someone wants her dead.
White Collar (Tuesday, July 10 at 9 PM ET/PT on USA)
I know you won't have gotten your fill of Matthew Bomer's abs in Magic Mike and you're gonna need your fix. Also, Kelly Kapowski!
Damages (Wednesday, July 11 at 10 PM ET/PT on DirecTV)
Glenn Close is back to playing women and an evil woman at that in the fifth season premiere on DirecTV, which no one gets. Oh, that means Season 4 must be out on DVD. We'll be watching that.
Falling Skies (Sunday, June 17 at 9 PM ET on TNT)
Season 2 of Dr. Carter Battles Space Aliens starts up this summer. Noah Wyle returns as Earthly survivor Tom Mason in this surprisingly good and shamefully underrated sci-fi drama.
Wilfred (Thursday, June 28 at 10 PM ET/PT on FX)
Sure, this show about a guy who thinks his dog is a guy in a dog suit fell below its high concept expectations, but watching Elijah Wood get stoned with his man-dog is still more interesting than Wipeout.
Boss (Friday, Aug. 17 at 10 PM ET/PT on Starz)
Put down War and Peace and slowly walk away. You know you're just going to use it to check out people at the beach and look smart at the same time. Just think of this ultra political, bookish drama about Chicago's fictional mayor (Kelsey Grammer) as your summer reading.
The Closer (Monday, July 9 at 9 PM ET on TNT)
This will be the last summer you'll get to spend with Kyra Segwick's smart, wisecracking Deputy Chief Brenda Leigh Johnson. The Golden Globe-winning series enters its seventh and final season.
Perception (Monday, July 9 at 10 PM ET on TNT)
How do you cope with coming to terms with the end of one hourlong TNT procedural (The Closer)? Why, you start watching a new hourlong TNT procedural! This one features Will and Grace's Eric McCormack as smart, wisecracking neuroscientist Dr. Daniel Pierce.
Hell on Wheels (Sunday, August 12 at 9 PM ET on AMC)
Somewhere between the brilliant Breaking Bad and the so-bad-but-we-can't-look-away Walking Dead lies Hell on Wheels, a not so wild Western featuring Anson Mount and Common. We'd have preferred Oregon Trail: the Series, but this will suffice.
Next: Cure Your Killer Sunburn with Hours of These Ridiculous Shows

Cure Your Killer Sunburn with Hours of These Ridiculous Shows
Hatfields and McCoys (Monday, May 28 at 9 PM ET/PT on History)
Kevin Costner comes to the small screen to face off with Bill Paxton as America's famous post-Civil War fueding clans. There's a Romeo and Juliet love story too, of course. And it's a mini-series. Remember those?
Pretty Little Liars (Tuesday, June 5 at 8 PM ET/PT on ABC Family)
OMG, your tween cousin is like totes psyched obvs for the season three premy (that's tween speak for premiere).
Rizzoli & Isles (Tuesday, June 5 at 9 PM ET/PT on TNT)
It's like Cagney & Lacey for the 21st century when a tough lady cop and a medical examiner team up to fight even more crimes. Your mom loves this show.
Franklin & Bash (Tuesday, June 5 at 10 PM ET/PT on TNT)
If Rizzoli & Isles were lawyers with penises they'd be Franklin & Bash.
Wipeout (Thursday, June 28 at 9 PM ET/PT on ABC)
People falling in the mud. HAHAHAHAHAHAHA…
Anger Management (Thursday, June 28 at 9 PM ET on FX)
Whether you're still shouting "winning!" at everyone or morbid curiosity will simply get the best of you, Charlie Sheen's new comedy debuts with back-to-back episode. Those tuning in will simply be dying to know: Can Sheen stay faithful to… adapting an Adam Sandler movie?!
Trust Us With Your Life (Tuesday, July 10 at 9 PM ET on ABC)
Fred Willard from Best in Show, everything, hosts this improv comedy show which will bring back Whose Line Is It Anyway? alums Wayne Brady, Greg Proops and Colin Mochrie, among others. Just remember, you can't shout suggestions from your couch.
Big Brother (Thursday, July 12 at 9 PM ET on CBS)
The guiltiest of guilty pleasures, Season 14 of televised institutionalization will put a whole new batch of attractive, certifiable people in a house together to compete and cohabitant for our enjoyment. And, of course, it features TV's best robot since Carson Daly: Zingbot.
Brand X with Russell Brand (Thursday, June 28 at 11 PM ET/PT on FX)
Russell Brand has a late night TV show. My bet is it will be very Russell Brand-y and you will either love every second of it, or you'll go running into the ocean after a mere minute of air-time. He's a bit of a polarizing guy.
Men at Work (Thursday, May 24 at 10 PM ET/PT on TBS)
Poor Danny Masterson just can't find a TV show that will stick for him. The former Steven Hyde (of That '70s Show) now joins this mansemble comedy about four friends who work at a magazine. The main goal? Get Danny Masterson laid.
The Bachelorette (Mondays at 8 PM ET/PT on ABC)
Emily Maynard famously ditched her hunky Bachelor, so she's giving it another try. I'm not saying it's boring, I'm just saying if your friend wants to drink a couple of beers on his stoop at 8 PM on a Monday, you should probably accept the offer.
Married to Jonas (Sunday, Aug. 19 at 10 PM ET/PT on E!)
What is it like being married to a Jonas brother? OMG I've wondered about that for so long – wait, it's about Kevin Jonas. Oh, stand down. Well, it will probably be kind of cute.
Next: Heat Wave. No AC. Stuck to chair. Can't reach remote.

Heat Wave. No AC. Stuck to chair. Can't reach remote.
America's Got Talent (Mondays at 8 PM ET on NBC)
Watch as shock jock Howard Stern alienates two fan bases, his own and that of America's Got Talent, by joining the popular reality competition. What will Stern say about a family that can spin plates?! Where's censorship when you need it?
Kendra On Top (Tuesday, June 5 at 10 PM ET on WEtv)
Infinitely more tolerable than yet another Kardashian spin-off, but there's only so many shows we can watch about women who are famous for being famous that are married to athletes. After all, that's what Downton Abbey is for!
Bachelor Pad (Monday, July 23 at 8 PM ET on ABC)
The television equivalent of a summer fling gone terribly awry, this Bachelor/ette spin-off puts former contestants in a house to try and find (money and) love in a hopeless place. Emphasis here on hopeless and less on love.
Duets (Thursday, May 24 at 8 PM ET/PT on ABC)
Kelly Clarkson, John Legend, Robin Thicke, and Jennifer Nettles disappoint us all in this gimmicky American Idol rip-off. Instead of standing on their own merits, our contestants will duet (heh, get it?) with one of these superstars, or Jennifer Nettles, to earn their paths to fame.
Dogs in the City (Wednesday, May 30, 8 PM ET/PT on CBS)
How many hours do you spend watching dog videos on YouTube? If you're worried you can't get an accurate count, this reality show about… well… dogs… (wait for it) who live in the city is for you.
Hell's Kitchen (Monday, June 4 at 8 PM ET/PT on Fox)
Do you like food and yelling? Is Top Chef not on? Well order up some Chinese food and hang out with the ever-irate Chef Gordon Ramsay.
Love in the Wild (Thursday, June 7 at 8 PM ET/PT on NBC)
Jenny McCarthy. Half-naked people. Dating. In the jungle. It's got to be worth at least one lazy viewing.
[Images: HBO, Fox, ABC Family, NBC]
More:
Watch This, Not That: Best of the 2012 TV Upfronts