Summer TV Picks: 'Interior Therapy', 'The Bridge', 'The Newsroom' and More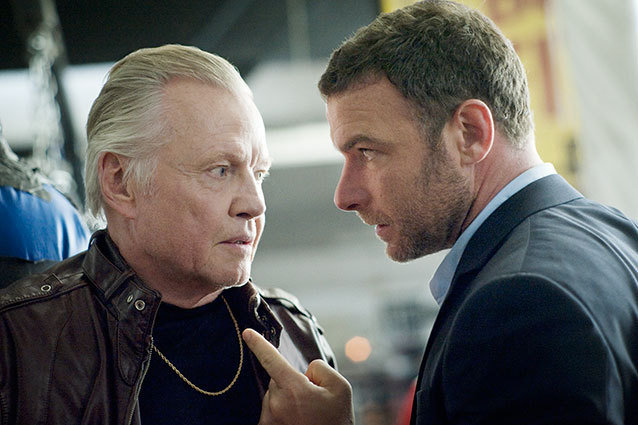 As you prepare to enjoy the 4th of July weekend, SSN gives you a preview of good TV to look out for in the coming weeks.
We hope you tuned in to Showtime last night for the final season premiere of Dexter and the premiere of Ray Donovan. Dexter is back in fine form as his sister Debra has quit the police force and is mentally going off the rails. This is the show's final season and you should be on the lookout for Charlotte Rampling in upcoming episodes as a neuro-psychiatrist who knows a lot about Dexter even though he doesn't realize who she is at first.
Ray Donovan stars Liev Schreiber as a very effective Hollywood fixer with personal problems of his own, starting with his ex-con father Mickey (Jon Voight). Ray tries to protect and take care of his family and his two brothers, Bunchy (Dash Mihok) and Terry (Eddie Marsan), but as soon as Mickey shows up in L.A., it all starts to go south. Be sure you make time each Sunday night for Dexter and Ray Donovan.
Upcoming shows we're looking forward to:
INTERIOR THERAPY WITH JEFF LEWIS SEASON PREMIERE
Tuesday – July 9th, 2013 at 9:00pm on Bravo
Reasons To Watch: Say what you will about Jeff Lewis: his OCD makes him extra-particular about everything, his eye for detail sometimes borders on the insane but the man knows how to make a home livable and beautiful. Lewis and his right-hand gal Jenni Poulos are back to help troubled couples and families with home decorating issues that also affect their relationships.
THE BRIDGE SERIES PREMIERE
Wednesday – July 10th, 2013 at 10:00pm on FX
Academy Award nominee Demian Bichir (A Better Life) and Diane Kruger star in this new drama from writers Meredith Stiehm (Homeland, Cold Case) and Elwood Reid (Hawaii Five-O, Cold Case). Based on the Danish/Swedish series Bron, which was set on the border of Denmark and Sweden, The Bridge is set on the border between El Paso and Juarez. It centers on two detectives, one from the U.S., Detective Sonya Cross (Kruger), and one from Mexico, Marco Ruiz (Bichir), who must work together to hunt down a serial killer operating on both sides of the U.S.-Mexican border. The Bridge co-stars Ted Levine, Annabeth Gish, and Thomas M. Wright. Gerardo Naranjo (Miss Bala) directed the pilot.
Reasons To Watch: Bichir never gives a bad performance. We loved him as a drug kingpin on Weeds a few seasons ago and we know he'll be equally compelling as a lawman. We also loved Stiehm's writing on Homeland, especially the pivotal season one episode "The Weekend." If The Bridge adheres to the FX drama brand, it will be worth watching.
ORANGE IS THE NEW BLACK SERIES PREMIERE
Thursday – July 11th, 2013 at 12:01am on Netflix
Reasons To Watch: Jenji Kohan (Weeds) adapted Piper Kerman's memoir of an executive's time in a minimum security women's prison for drug charges. Kohan excels at writing women in unusual circumstances and combining humor and pathos. We've seen the first two episodes and we're in for the run. Taylor Schilling is cast well as Piper Chapman, the yuppie gal who goes to prison for a crime she committed ten years ago. Jason Biggs plays her loving fiancée Larry, Laura Prepon is a woman from Piper's past (no spoilers here) and look for Kate Mulgrew in a very different kind of role.
HOLLYWOOD GAME NIGHT SERIES PREMIERE
Thursday – July 11th, 2013 at 10:00pm on NBC
Reasons To Watch: Jane Lynch and games! Jane Lynch hosts this fun, light show that has celebrities like Matthew Perry, Lisa Kudrow, Jason Alexander, Josh Gad, Kristin Chenoweth, Martin Short, Allison Hannigan, Kristen Bell, and Daniel Dae Kim teaming up with civilians to compete in party games.
THE NEWSROOM SEASON PREMIERE
Sunday – July 14th, 2013 at 10:00pm on HBO
Reasons To Watch: This Aaron-Sorkin-penned drama is far from perfect (don't get us started on how Sorkin writes female characters) but the combination of fast wordplay and Jeff Daniels make the show worth watching. We also think Thomas Sadowski and John Gallagher Jr. are great and we hope they both get meatier storylines this season. We also hope to see more of Jane Fonda, though we haven't heard how many episodes she'll turn up in during this second season.
What will you be watching? Do you have any summer TV favorites? Let us know in the comments.
More:
'The Newsroom' Season 2 Trailer Brings the Drama
'Ray Donovan' and 'Dexter' Nap Killer Ratings for Showtime
Netflix Goes to Prison With 'Orange Is the New Black'
---
From Our Partners:


What Happened to 33 Child Stars (Celebuzz)


40 Most Revealing See-Through Red Carpet Looks (Vh1)