Super Bowl: Nipplegate, Prince's Guitar Phallus and 6 Other Halftime Show Controversies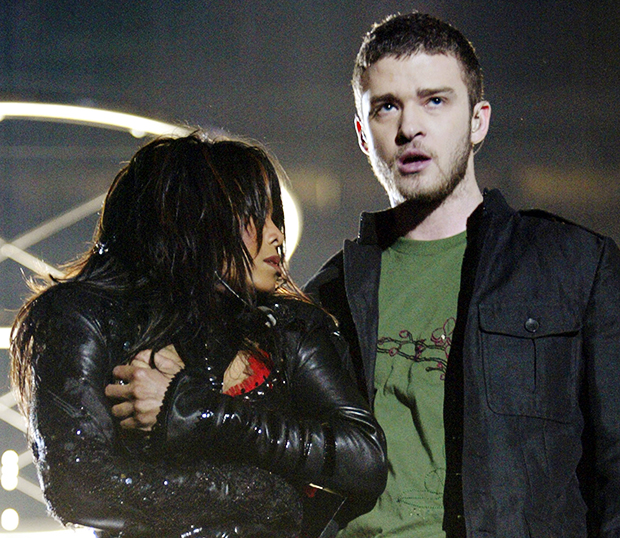 Flipped birds, exposed breasts, crotch shots, and giant shadow-puppet guitar phalluses have all been critical ingredients of Super Bowl halftime shows of the past decade. Based on this track record, you'd think that the musical break that punctuates the most-watched sporting event — nay, most watched event, period — of any given year has always courted controversy. This has not been the case. In fact, not only has the halftime show been a non-controversial affair for most of its history, its organizers didn't even really start to lure A-List musical talent until Super Bowl XXV in 1991, when New Kids on the Block took the 50-yard line stage by storm. Up until then, the 15-20 minute breather had been a venue for college marching bands, maybe a jazz legend like Al Hirt, or a Broadway songstress like Carol Channing. (Who was the gehius who thought that there would be any overlap of football fans and Carol Channing fans?) And then there were the five Super Bowl halftime shows in the '80s and '90s in which Up with People performed. Sigh.
The idea of the halftime show as in any way being fodder for tongue-wagging is indeed a relatively new concept. So with that in mind, we present to you the history of controversial Super Bowl halftime show moments.
New Kids on the Block (1991)
Believe it or not, yes, the very first time the musical interlude courted controversy was also the very first time they hired major, chart-topping pop stars. Blame a jarring shift in tone for this. The Walt Disney Co. was producing the event that year, and they began their halftime show with Mickey Mouse and friends prancing onto the field arm-in-arm singing "It's a Small World." Winnie the Pooh was even presentm dressed, oddly enough, as a Canadian Mountie. "It's a Small World" quickly morphed into "We Are the World." All sunshine and togetherness. Then New Kids on the Block jumped out and pop-n-locked their way through an arena-anthem version of "Step by Step." The older football fans in the audience didn't know who these young whippersnappers were. Neither did broadcaster ABC, which actually decided to cut away from NKOTB to give an update on Operation Desert Storm, then in full swing.
Shania Twain Feels Like a Woman (2003)
You then have to jump ahead a full 12 years to find the next mid-game concert that was in any way shocking. Throughout the '90s, Michael Jackson, Diana Ross, Gloria Estefan, Smokey Robinson, and the Temptations killed it at each of their halftime shows. The only moderately embarrassing incident was the 1999 performance of Big Bad Voodoo Daddy, but really only because that serves as a reminder of that odd late '90s swing music revival. Aerosmith, *NSYNC, and Britney Spears proved to be a lot of fun in 2001, and a year later U2 eulogized the victims of 9/11 to heartbreaking effect. But then in 2003, Shania Twain donned a diamond-studded bustier and choker and a black cape to sing "Man! I Feel Like a Woman," the most notable androgyny-courting song in country-music history. Manly football fans didn't know what hit them. How could they relate to feeling like a woman? They probably wished for a return to the more conservative country-music stylings of Clint Black, Travis Tritt, and the Judds at the 1994 halftime show.
Nipplegate (2004)
No Super Bowl controversy before or since has set the nation atwitter like Justin Timberlake ending his duet of "Rock Your Body" with Janet Jackson by reaching across her chest to rip off part of the costume she was wearing over her right breast. Since a boob grab was involved from the get-go, what exactly was supposed to happen? The world may never know. Presumably only part of Jackson's black bodice was to have ripped off, leaving her red bra/corset intact underneath. Instead, the undergarment also ripped and Jackson ended up exposing a breast that was covered by some kind of glittery pasty or a really, really uncomfortable-looking Chinese star nipple piercing. America, transfixed by nudity as if for the first time, has never really recovered from this. Even as recently as last year, the FCC was still conducting an investigation into the matter.