'Supernatural': A Trip Down Purgatory Lane Before the Winchester Brothers Return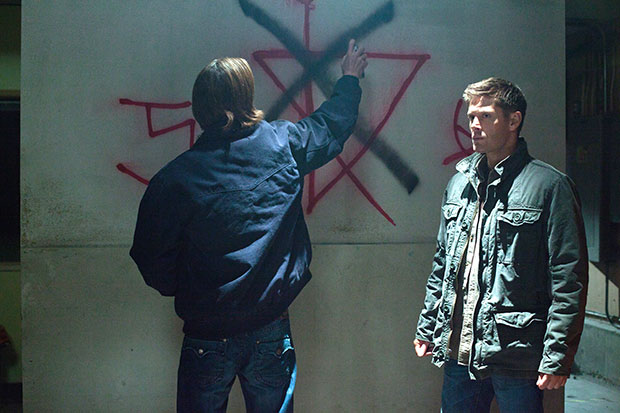 After eight seasons of a drama, it's pretty difficult to show the two main characters in a different light. And yet, the minds behind CW's long-running series Supernatural did just that, leading the Winchester brothers into a war. But instead of teaming up against demons, angels, Leviathans, Heaven, Hell, or Purgatory, they are at war with each other. Sure, in the past, Sam (Jared Padalecki) and Dean (Jensen Ackles) have fought a bit — even throwing fists here and there — but in the end they've always been brothers who love each other and are there for one other. And then, in December's midseason finale, we left the Winchesters in the darkest place they have ever been. Here, catch up on all the brotherly and supernatural drama of Season 8 before Supernatural returns tonight with "Torn and Frayed." 
Where we left off: The Winchesters have stopped fighting for each other and are now fighting with each other. In December's midseason finale, we left Sam and Dean in a place that mimiced the Season 7 finale, but in a much darker way: the brothers are separated not by space but by their choices. While we began this season with Dean trapped in Purgatory and Sam living a normal life with a girlfriend and a dog, they were still brothers who cared about each other. Now, they are enemies, both at fault for the war between them. Sam went after Benny, Dean's vampire friend, and Dean faked a 911 call from Amelia, Sam's ex. Benny survived, but the hunter Sam sent after him didn't make it out with his head attached to his body – and Benny's great-granddaughter Elizabeth saw the whole thing. Sam dropped everything and raced to Amelia, only to find her happy with her ex Don (though she did see Sam, and approached him at a bar later that night). Castiel was brought back from Purgatory by the angels to keep an eye on the Winchesters for an unknown reason – unknown to Castiel as well, since he has no recollection of his meetings with the Naomi, the angel in charge.
Biggest Jaw-Dropper of the fall: Our favorite trio – Sam, Dean, and Castiel – all made choices that drove a wedge in between the dream team. Sam didn't even try to look for/save Dean from Purgatory, Castiel refused to leave Purgatory with Dean (wanting to atone for his sins of bringing the Leviathans into the world), and Dean trusted Benny, a vampire, over his own brother and exploited Sam's feelings for Amelia to save Benny. Oh yeah, how could we forget? There's a way to close the gates of hell forever! Is this the beginning of the end for Supernatural? It does seem like the perfect way to conclude the long-running series, whether that's in a year or four years from now.
Biggest Let-Down of the fall: Amelia turned out to be kind of a snooze. They could have found someone better to play the girl who causes Sam to abandon looking for Dean and Cas, Kevin Tran, and hunting altogether.
Most Improved Character: Kevin Tran. The prophet became a total badass this season, learning to fend for himself after Sam abandoned him. He even withstood torture at the hands of Crowley.
Least Improved Character: Amelia. After the entire first half of the season, there is still nothing to her that justifies Sam quitting hunting and abandoning Dean, Cas, and Kevin.
5 Reasons You Should Keep Watching: 1. The return of Felicia Day as Charlie Bradbury! Our favorite techie/gamer returns in "LARP and the Real Girl" when two LARPers (Live Action Role Playing) turn up dead after playing a game called Moondoor, and Charlie just so happens to be the Queen of Moondoor. Get excited to see Sam and Dean in "tight, tight medieval getups," according to exec producer Jeremy Carver. 2. The return of fan-favorite, self-proclaimed "new Bobby," hunter Garth! Hollywood.com caught up with Garth's portrayer, DJ Qualls, at the red carpet premiere of his new FX comedy Legit, and while he couldn't spill the beans on details of Garth's return, he was more than happy to confirm it would happen. "Yeah, I can't really talk about it because they're super secret on that show," Qualls says. "But yeah, I'm definitely going back. It's a fun show to do!" 3. The return of King of Hell Crowley in tonight's episode, "Torn and Frayed." Crowley has kidnapped Samandiriel – or as Dean likes to call him, heaven's most adorable angel – in order to find out what makes the angel tick. You can bet the brothers won't take that lying down. 4. Sam and Dean will finally meet their paternal grandfather, Henry, played by Friday Night Lights' Gil McKinney. But how will that work if he's been dead for a long time? "That episode involves time travel and fills a void that will have great effect on the boys while opening new chapters for the show," says Carver. "And despite what their dad John told them, Grandpa is not a mechanic." Surprise, surpise, more Winchester family secrets! 5. We haven't seen the last of Ty Olsson's Benny, the vampire Dean chose over his own brother. Will he retaliate against Sam? That would definitely put Dean in an even more complicated situation than before.
What we ultimately want to see: While we are loving seeing the brothers in an entirely new situation after 8 seasons, enough is enough: we want a reconciliation. Sam and Dean have never been in such a dark place before, and the road back to brotherly love is a long one… one we definitely want to see. 
Supernatural returns with "Torn and Frayed" tonight at 9 PM ET/PT on the CW.
[Photo Credit: Liane Hentscher/The CW]
Follow Sydney on Twitter @SydneyBucksbaum
More:
'Supernatural' Midseason Finale React: Two Wrongs Did Not Make It Right
'Supernatural' Midseason Finale: Sam and Dean Have Never Been Further Apart
'Supernatural' React: What's Up Doc?

Craziest Celebrity Swimsuits (Celebuzz)