'Supernatural' Midseason Finale: Sam and Dean Have Never Been Further Apart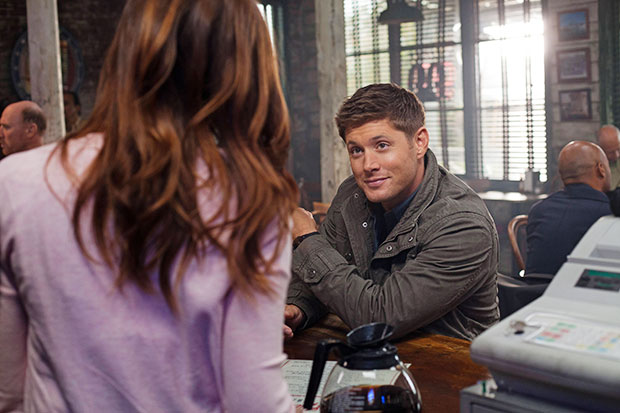 As tonight's Supernatural midseason finale begins, the Winchester brothers are not in a good place… and they're only going to drift further apart. All season long we have witnessed Sam (Jared Padalecki) and Dean (Jensen Ackles) constantly make decisions that have driven a wedge between what used to be an unshakable bond – Sam's refusal to search for Dean when he was in Purgatory as well as his desire for a normal life with Amelia vs. Dean's brotherly bond with vampire Benny (Ty Olsson). And if you were hoping to see some kind of reconciliation tonight, prepare yourself for disappointment.
Sam has made it abundantly clear that he does not approve of Dean's friendship with Benny, and we haven't even seen Sam interact with Benny since that intense handshake. So it should come as no surprise that Sam put a tracker on Benny – he asks a hunter name Martin (guest star Jon Gries) to keeps tabs on the vampire behind Dean's back.
However, this hunter Sam dispatches has the unfortunate moniker "Crazy Martin," since he has spent quite a bit of time in the loony bin. And when Martin checks in with Sam, telling him there was a vampire kill and he thinks Benny is responsible, Dean feels more than a little pissed off and betrayed. Check out a sneak peek of the emotionally charged conversation between Sam and Dean, where Dean finds out what his brother has been doing behind his back:
Dean begrudgingly knows the right thing to do is check in on the situation, and so the brothers head off to Louisiana. But when Martin decides to take things into his own hands, things get messy and Dean is forced to make a very hard decision. How bad will things get between the Winchester brothers?
The Supernatural midseason finale, "Citizen Fang," airs tonight at 9 pm ET on The CW.
Follow Sydney on Twitter @SydneyBucksbaum
[Photo Credit: Liane Hentcher/The CW]
More:
'Supernatural' React: What's Up Doc?
'Supernatural' React: A Healthy Dose of 'Southern Comfort'
'Supernatural' React: Sam, Meet Benny

Harry Styles Spotted Outside Taylor Swift's Hotel Room The Morning After Their Date Night (PHOTOS)

Fall Bikini Bodies: The Good, The Great, The OMG (GALLERY)