'Supernatural' Premiere: Jensen Ackles and Jared Padalecki on What's Tearing Them Apart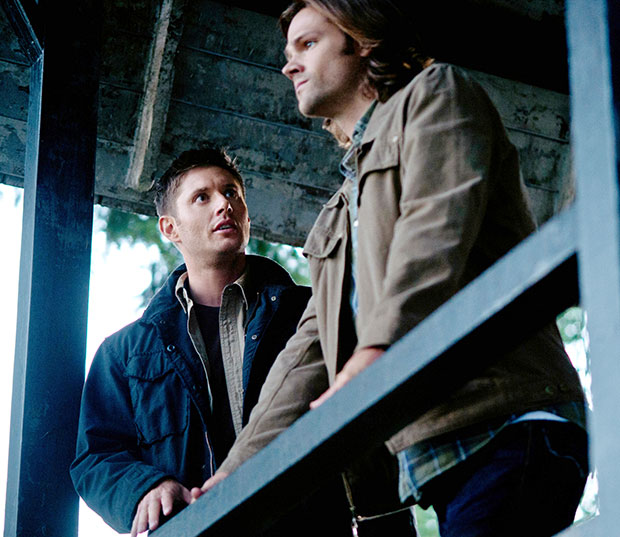 You thought 30 years in Hell were tough for Dean Winchester? Try one year in Purgatory. When Supernatural makes its return tonight, the Winchester brothers will be more fractured than ever thanks to a year that found one brother fighting the battle of a lifetime, and the other walking away from the war.
Hollywood.com paid a visit to the Supernatural set last week (thanks to our friends at Warner Brothers), and Jensen Ackles and Jared Padalecki had a lot to say about the different directions in which they're headed. There will be new, complicated relationships (hello, Amelia and Benny!) that will strain the brothers' bond, as well as a boatload of secrets from their "lost year" that will be slowly revealed throughout the season. Of course their brotherly bond will ultimately triumph over the tension, and plenty of stand-alone episodes will feature the unique Supernatural brand of humor, but both Ackles and Padalecki were clearly very excited to stretch their acting muscles over what should be a very dynamic Season 8.
It probably goes without saying that the main source of tension during tonight's premiere is based on the following logical premise: Purgatory sucks, hanging out with a girl and a dog, like Sam did, does not. Ackles said that his year down under has greatly changed Dean, and it's only natural that he would feel a rift from Sam given their polar opposite circumstances. "[Purgatory] was almost a concentrated version of what [Dean is] used to," Ackles said. "He's come back a hardened warrior, and [he's] ready to use those sharpened skills in the real world. So he's a solider that just got back from war. It's going to take him a little while to adjust to the lack of threat, and the lack of combat. It's almost like in The Hurt Locker, when Jeremy Renner's character comes back from war and he's sitting there looking at a cereal box aisle, and it's just so foreign to him. But what isn't foreign is being on the ground, fighting."
Now contrast that with Sam, who spent his year learning that there's life beyond, well, the life. "It's going to take a little bit of time [for Dean] to warm up to the relationship that he has with Sam," Ackles continued. "Dean was in this concentrated war zone, and Sam was literally just the opposite. These two brothers have really been living two different lives this past year, and now they're having to come back together and pick up where they left off. It poses a bit of a problem."
A problem that, according to Padalecki, is mostly in Dean's head. "Sam is kind of the adult in this reconciliation," he said. "He's like, 'Look I found my own thing. I love you. You're my brother, and I'm so happy you're back. I'm going to help you now, but I want out.' Sam is at a place where he wants to move on to something different. I think Dean resents Sam because Sam was living a good Christian life down in Kermit, Texas with a girl that he fell in love with and dog, and Dean was fighting for his life. There are no hard feelings on Sam's part, but certainly it's a bone of contention for Dean."
The worst part is — as we find out during the premiere — that Sam didn't even look for Dean during their separation. The premiere does feature a few scenes from Purgatory, but we won't get a full sense of how bad it was until midseason, since flashbacks will be a primary focus for at least the first 13 episodes. "We get a sense of what happened to Dean in Purgatory in flashbacks," Ackles said. "We're on episode seven now, and we're still continuing to peel that onion."
Ditto for Sam, whose onion has a much sweeter taste. His flashbacks will flesh out his relationship with Amelia (Liane Balaban), who in the premiere is revealed to be one saucy veterinarian. "We see a lot of Sam and Amelia in flashbacks," Padalecki said. "Which is nice, because we see Dean and what he did in his flashbacks, and they're very opposite sides of the coin. Sam and Amelia develop this relationship — they're both misfits, they've both gone through a loss, and they're brought together by a bizarre set of extenuating circumstances. They find each other's arms and each other's minds and say, 'You know what? This is good what we've got.'"
Which doesn't necessarily mean that Padalecki warmed up to the idea right away. "Maybe I've become like a fan girl for the show," he laughed. "I was like, 'A girl, for Sam? I mean, what's he doing?'" That's a question that Sam himself is very much struggling with — he walks away from Amelia during the premiere to be with his brother, but Padalecki said we shouldn't rule her out just yet. "We will see her in the present tense, and Sam certainly hasn't written her off," he said. 
Perhaps even more enticing is Dean's secret relationship — the one he formed with a vampire, Benny (Ty Olsson), down below. Dean has never been one to see things in shades of grey, particularly when it comes to the bad guys, so processing this new friendship will be a major hurdle throughout the season. "I'm really excited about that relationship, just on a personal level," Ackles said. "It's a foxhole relationship — he's been at war with this guy. On paper it's not the kind of character Dean would allow to live, much less team up with, but Benny really earned his stripes with Dean. He earned his trust, which is really difficult for Dean to understand, but even more difficult for Sam to understand when Dean comes back. It's a unique, odd relationship for Dean to have, after many years of fighting these things. To explain that relationship to his brother is going to pose some serious questions, and some difficult things ahead."
Supernatural premieres tonight at 9 p.m. ET/PT on The CW.
Follow Shaunna on Twitter @HWShaunna
[PHOTO CREDIT: The CW]
MORE:
'Supernatural': Five Things To Know About Wednesday's Premiere
TV Tidbits: 'Weeds,' 'Supernatural' Add Mysterious Roles
The CW Fall Schedule: 'Top Model', 'Supernatural' and 'Gossip Girl' Get New Slots