'Supernatural' React: Sam, Meet Benny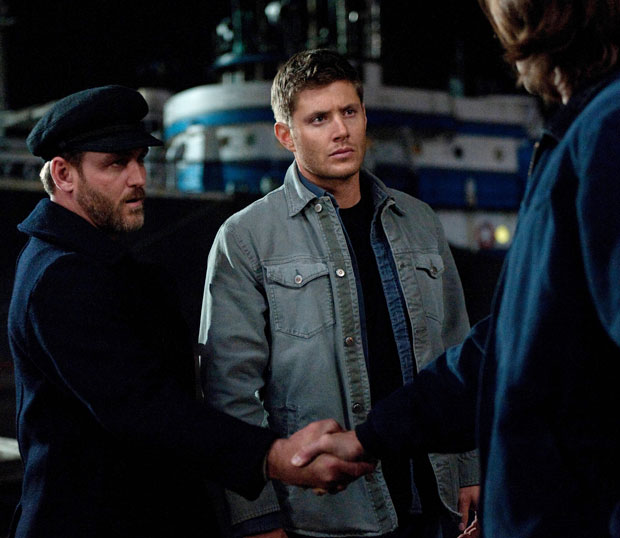 Alright Supernatural fans, raise your hands if you suffered a heart attack last night.
I'm not talking about cardiac arrest because of any vampirate (vampire-pirate) action we saw thanks to Benny's (Ty Olsson) old nest. No, I felt myself suffering from some serious heart palpitations last night courtesy of one, single handshake.
That handshake! Let's back up: Dean (Jensen Ackles) left Sam (Jared Padalecki) to take care of "personal crap" which really meant helping out his vampire friend Benny take out his old nest. Benny and Dean successfully clear out and behead all the vampires, including Benny's ex-love of his life. They boat back to shore where Sam awaits, looking pretty pissed off but quite curious as to who his brother cleaned out a nest of vamps with. And so Sam and Benny shake hands…
Sam realizes instantly what Benny is. The next 30 seconds are the most intense seconds of this entire season, and arguably one of the best scenes of Supernatural to date. Sam slowly reaches for his weapon, Benny knows exactly what he's reaching for, and Dean shakes his head ever so subtly, telling Sam to not hurt Benny. The look on Sam's face says it all. (Major kudos to Padelecki in this scene. The amount and intensity of emotions playing across his face were incredible.)
You see, up until this point, Sam had no idea Dean was friends with a vampire. For their entire lives, Dean has always been adamantly against all monsters. He killed Sam's friend because she was a werewolf. This has caused quite the problem between the brothers, and now Sam finds out Dean is friendly with a vampire. And we finally got the scene we have been waiting for ever since Dean escaped from Purgatory: Benny, meet Sam. Sam, meet the monster your brother has grown closer with than he is with you.
But of course, like I said, this exchange happened in the last 30 seconds of the episode. We were left with Benny saying, "Seems like you two have a lot to talk about." Understatement. Of. The. Season.
Supernatural returns Wednesday at 9 p.m. EST on the CW.
Follow Sydney on Twitter @SydneyBucksbaum
[Photo Credit: Diya Pera/The CW]
More:
'Arrow' React: Laurel Lance, What Are You Doing?!?
'American Horror Story' By the Numbers: A Cut Above the Rest
TV Tidbits: 'Gossip Girl' Gets a Finale, 'Common Law' Gets the Ax
MTV's 'Teen Mom 3' Cast Revealed
(Celebuzz)