'Supernatural' Spin-Off Will Feature Whole New Set of Characters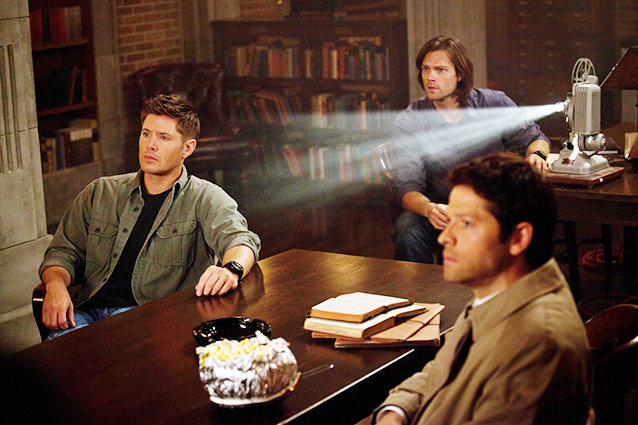 The ninth season of Supernatural returns on October 8th, but until that day gets here fans can turn their speculation to the newly announced spin-off.
Producers Jeremy Carver and Robert Singer shared some details about the show, which is scheduled to air as episode 20 of Supernatural's new season, with Entertainment Weekly. The episode will be set in Chicago, as would the spin-off if it gets picked up. It will "explore the clashing monster and human characters" living in the city, said Carver, and there will be "main characters who are both human and monsters." Singer added that those characters would include "families of monsters and families of hunters." "It's much more of an ensemble than Supernatural," Singer said.
The new show would be different than most spin-offs in that it would focus on a completely new set of characters. "Most spin-offs, you spin characters out and create a show about them," Singer said. "Jared and Jensen will be in the spin-off, but it's an entirely different cast of characters. And unlike Supernatural – which is a road show — this will take place in one place with a wider cast of characters."
One of the reasons Supernatural is so successful is because fans love the relationship between Sam and Dean Winchester (Jared Padalecki and Jensen Ackles). It's the driving force behind the show, so it's unclear whether or not fans will latch onto a new set of characters with the same devotion they have for the Winchester brothers.
"It's going to be quite a departure," Carver said, "the same world but from a whole new perspective."
Follow Jordyn on Twitter @jordynmyah | Follow Hollywood.com on Twitter @Hollywood_com
More:
'Supernatural' Season Finale Recap: Locked Out of Heaven
'Supernatural' Recap: Sam and Dean's Trip Down Memory Lane Wasn't So Happy
'Supernatural' Recap: Could Sam and Dean Really Close the Gates of Hell? Probably Not.
---
From Our Partners


Stars Pose Naked for 'Allure' (Celebuzz)


20 Grisliest TV Deaths of 2012-2013 (Vulture)