'Survivor' Winner Denise Stapley Totally Knew Blair from 'Facts of Life'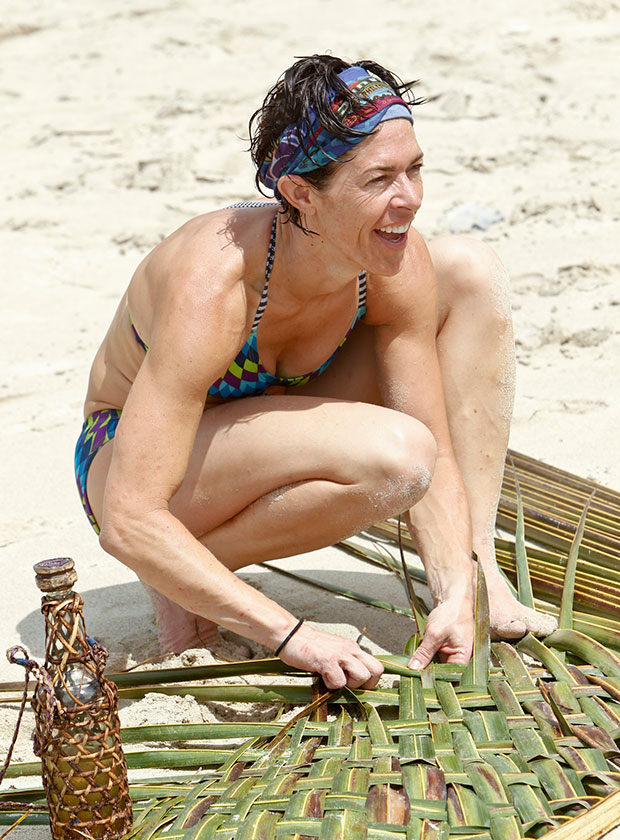 The most shocking thing to Survivor fans isn't that Denise Stapley, a 41-year-old sex therapist from Iowa, took home the $1 million prize during last night's finale. No, the most shocking thing is that she had no idea who Blair from The Facts of Life was. The way it came across on the show, only two players, returning tribesmen Michael Skupin and Jonathan Penner, figured out that fellow player Lisa Whelchel was a former teen star. But, guess what, Denise knew all along!
"I knew who she was from the minute I saw her," Stapley says. "Come on, Family Ties, Facts of Life, I loved that stuff! I knew who she was from day one. I talked to her about it during the mud ball challenge when she was pinning me in the mud for hours. I asked if everyone knew who she was and she said no and she wanted to play as long as she could as Lisa. I was thinking strategically that I might need her down the line and for me to out her would ruin that. When I got to Kalabaw I outed her to Penner. He thought he knew her from somewhere or recognized her and then it was confirmed for him."
Thank god, because we were all starting to think that Denise was totally crazy. But it wasn't nuts that she got herself all the way to the big prize. And what is she going to do with all of that money? "We're going to take several deep breaths," she says, adding that she'll talk it over with her husband. "We have a 9-year-old and some future planning for her to finish. We're not going to blow it. We're going to take a breath and we want to be good stewards of this incredible gift that Survivor literally handed to us. But maybe a trip someplace warm out of the rain first."
The crazy thing about Denise is that she was in three different tribes and went to every single tribal council during the entire season and no one ever serious talked about sending her home. "I definitely got a handful of votes when it came to those tribals, but in those conversations there was always another target," she says. Denise says that her strategy was always to provide something for each tribe she was in but to do it without being intimidating. "Maybe my stature helped," she says. Yes, maybe Denise won because she was short? Stranger things have happened.
Part of what got her so far to the end was her alliance with golden boy Malcolm. She says when she told Lisa and her ally Michael Skupin that she thought they couldn't beat Malcolm, she wasn't lying. "At the time I didn't think they would win against him, so I had to use that in my strategy. But I had that real relationship with Lisa and Michael and I wanted to be sitting there. So I used that too. It was a combination of both." Though he was upset with her on the show, she says that she and Malcolm are now good friends.
Denise was definitely a memorable player and, it so happens, a woman. The show's host and executive producer, Jeff Probst, is on the record saying that there are more memorable male characters than female, and that is why the seven returning cast members brought back in the last three seasons have all been men. "I think there are lots of strong women who have been out there," Denise says. "I think Abi will be quite memorable. There have been lots of strong women who where great for a variety of reasons and hopefully they'll get some of them back in the game, since all the guys have been returning."
Speaking of bringing people back, if they were to cast another former teen star on the show, who does Denise think will stand a good chance? Punky Brewster, of course. "I think Soleil [Moon Frye] would do a great job. She would do fantastic." Well, a winner like Denise should know.
Follow Brian Moylan on Twitter @BrianJMoylan
[Photo Credit: CBS]
More:
'Survivor: Philippines': Find Out Who Won!
'Survivor' Recap: And the Winner Is…
'Survivor' Recap: Blair Gets Justice

'The Hobbit' Cast: A Who's Who New Character Guide (Moviefone)

'Les Miserables' Unscripted: Hugh Jackman, Anne Hathaway On Singing And Being Modest