'Switched at Birth' Announces Plans for an 'Empowering' All Sign Language Episode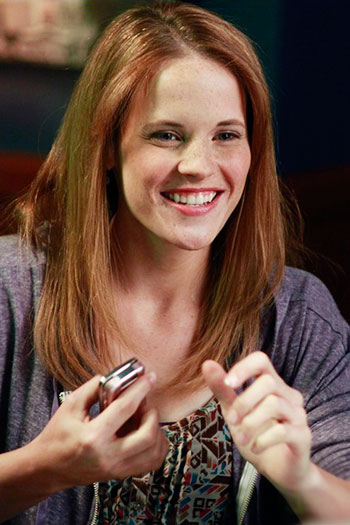 What's the sign for this is so cool!?
ABC Family announced today that their award-winning teen drama, Switched at Birth is set to air an episode told entirely with American Sign Language (ASL). Now in it's second season, this will be the first all-ASL episode the show has produced.
Series creator and executive producer Lizzy Weiss explains in a press release Friday that this is something that she's hoped to do on the show since it started. "I've been wanting to do an all-ASL episode since the series began, and the storyline we've been focusing on this season gave us the perfect opportunity."
The series stars Bay (Vanessa Marano) and Daphne, (Katie Leclerc) two girls who were switched at birth and did not find out the truth until 15 years later. Leclerc's character Daphne is a deaf teenager who attends Carlton School for the Deaf an all-ASL high school.
On Monday's all-new Switched at Birth, fans will see a new plot twist when Bay enrolls in a pilot program for hearing kids to attend Carlton. However, in order to fund this new program, the high school begins to cut back on various extra curricular activities and the deaf students feel that the hearing students are taking over the one place that is truly theirs.
The all-ASL episode — airing Monday March 4 — centers on a student uprising and will be told from the perspective of the series' multiple deaf characters – with open captions for hearing viewers. Weiss says, "It's an exciting, visual, empowering story of kids who are different fighting back, and it allows our audience to experience the world as our deaf characters do. We've been building to this for 39 episodes and we're all thrilled to be the first to try this."
You can catch Switched at Birth Mondays at 8 PM on ABC Family
Are you excited to watch an all-ASL episode of Switched at Birth? Share your thoughts in the comments below!
Follow Leanne on Twitter @LeanneAguilera
[Photo Credit: ABC Family]
MORE:
Exclusive: 'Switched at Birth' Stars Talk Summer Lovin' and "Shocking" New Episodes—Video
Exclusive: The Casts of 'Pretty Little Liars', 'Switched at Birth' and More ABC Family Shows
Leanne's Spoiler List: 'Gossip Girl' Flashbacks and Fatalities, 'Dexter' Makes His Choice

25 Risqué Miley Cyrus Stage Outfits (Celebuzz)