'Switched at Birth' Stars Vanessa Marano and Katie Leclerc Talk About Their Sexy New Love Interests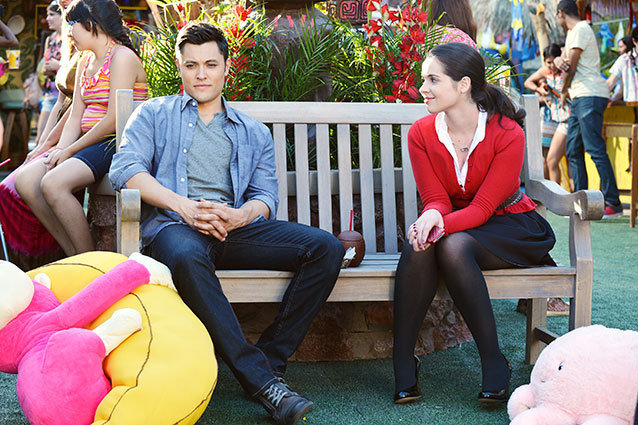 The Summer premiere of Switched at Birth is just a few hours away and fans are about to be rewarded for their months of patience during the hiatus. Rewarded with what, you ask? Get excited ABC Family fans because there are not one, but two hot fellas wooing our Switched sisters this season and we've got all the swoon-worthy details.
Hollywood.com paid a visit to the Switched a Birth set last Friday and we caught up with stars Katie Leclerc and Vanessa Marano to talk old flames and fresh faces. Read for everything you can expect from the Kennish/Vasquez girls in tonight's premiere.
Remember way back to season one when Bay had a thing for Daphne's childhood hunk of a friend Ty (Blair Redford)? Marano reveals that this fan favorite character is back from his Army tour oversees and believe it or not, he's hotter than ever. "He was Bay's, like, first love interest, he was pre-Emmett and they really had quite and unfinished love story," the actress says.
When Redford was cast in The Lying Game, the Switched writers quickly enlisted Ty into the Army and his blooming relationship with Bay was put on hold — until now. Marano says, "He got this ending that was wrapped up so quickly and we really didn't get to explore it, it almost felt like fans were being cheated out of that relationship and now they get it back."
But of course like every Bay relationship, this one will be far from easy: "He's been to war and its kind of difficult for everybody because he's having some intense issues that we'll soon learn more about." Marano says that this relationship is a bit of a role reversal for Bay. "Bay usually leans of guys and uses them in her times of hardship, so now he sort of needs someone to lean on. Bay is there and she offers up her shoulder to cry upon and it's really awesome."
While Bay aims to spend more time with Regina — and work a teen dream job at a Hawaiin-themed carnival — Daphne is fully embracing the Kennish lifestyle with club house smoothies and an internship at John's senate office. Leclerc says that Daphne starts this season with high goals and a strong work ethic.
The actress explains, "Daphne's main focus right now is to make a difference in her community. I think she made a big difference at Carlton and now I think she's going into this season with that in mind and she wants to affect some change in the state of Kansas." But there is one boy who is even more determined than Daphne — and he's got his sights set on something very special: her.
Jace (Matt Kane) is a brilliant yet intense coffee barista who aims to master a new skill each month and Daphne inspires him to learn sign language. Daphne very politely tells her new acquaintance that it's impossible to become fluent in ASL in just a month, but Jace's reply is short and confident: "Watch me. Yes it looks like Daphne has finally met her match with this one, and did we mention that in addition to Jace being incredible cute, he's also armed with an adorable British accent. Swoon!
"I think that as a person he could be my favorite love interest that I've had on this show." Leclerc gushes, "He flies and like real talk I've never met anyone who learned [ASL] as fast as this actor. His character learns it so fast but as person Matt could interpret a conversation if I needed him to."
In these first few episodes back, Switched at Birth fans will see that Bay and Daphne's relationship is filled with snarky remarks and cold shoulders. Hopefully these new fellas will be able to warm them up, so that our favorite Switched sisters can mend their severely strained relationship.
Don't miss the summer premiere of Switched at Birth tonight at 8/7c on ABC Family.
Follow Leanne on Twitter @LeanneAguilera| Follow Hollywood.com on Twitter @hollywood_com
More:
'Pretty Little Liars': Who Will Be The Next Death In Rosewood? — Vote!
The Stars Of 'The Fosters' Tease Tonight's 'Ground-breaking' Series Premiere
'Baby Daddy' Season 2: The Cast Spills 5 Reasons Why You Need To Tune In This Summer
---
From Our Partners:


Zoe Saldana Strips Down For Magazine (Celebuzz)


33 Child Stars: Where Are They Now? (Celebuzz)