'SYTYCD' Recap: America Is Silenced Once Again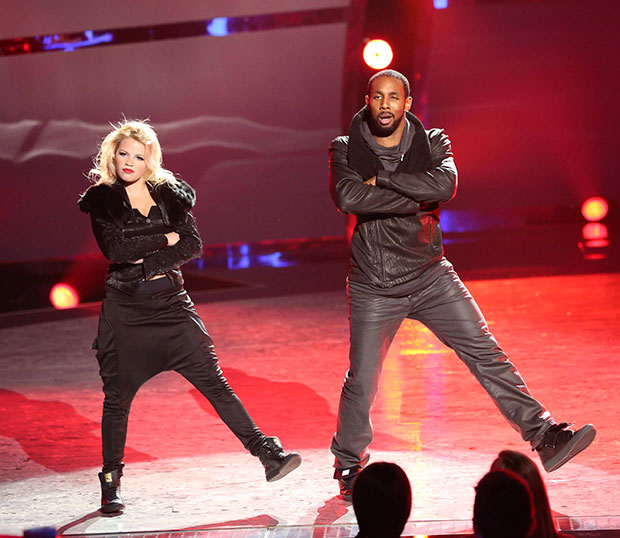 story sto On Wednesday at 8 p.m., there are eight contenders remaining for the So You Think You Can Dance title(s). A couple of weeks from now, we will have our two champions. But for now, the top eight still had some dancing to do. Pause for a moment and think: Who do you predict would be going home at the end of the night? Hold that thought. Just hold it. 
Once again, with the help of the SYTYCD all-stars, we got to see our illustrious top eight, chosen by America (and by that, I mean chosen by Nigel). But alas, that's the reality of reality television. Looking at these top four girls and thinking back to the ladies we started with in the top 20, there aren't too many surprises—except maybe for Eliana, who seemed like cannon fodder when this season first began. Now, she's Nigel's admitted favorite and hopefully a lock for the finale. 
Soon enough, we'll find out. For the first time this season, the remaining eight would dance twice, to the pleasure of this week's guest judge: fan favorite Jesse Tyler Ferguson. He doesn't know all that much about dance, but he's good for a few one-liners or three.
First up, Tiffany—performing to "I Was Here," sung by the Glee Cast (cross-promos galore!)—kicked us off with a sleepy solo. Tiffany is a fine dancer; I've just never been that excited by her. She doesn't seem to be as unique as any of the other three girls … which would seem to put her in danger. You would think. 
Next up, Witney would be the latest newbie to suffer in comparison to Twitch. Cat's question: Could a ballroom dancer from Utah handle the hip hop? As amused as I was by her booty dancing and white-girl-dancing face (and by that I mean, not amused at all), I would have to give Mary's question a resounding no. Don't get me wrong; she was far better than Audrey was last week. She has far more confidence on this stage than Audrey ever did, perhaps attributed to the fact that Nigel feels the need to constantly stroke her ego while simultaneously refusing to admit that he likes her for the same reason he once liked Lauren Alaina. 
Witney was fine in this routine. She wasn't groundbreaking. She once again made me wonder why they refuse to let Eliana dance with Twitch. And she made me really wish that we could see how good she really is without her hair-flipping. This is not So You Think You Can Be the Next Dallas Cowboys Cheerleader. Nigel's critique: "Do all 18-year-old Mormon girls dance like this?" Of course. 
Our lead judge, as usual, was thrilled by Witney's utter mediocrity. Mary called her "buck" and "everything." Jesse said she possesses a certain "sensuality" that she doesn't force upon us. Okay, Jesse. I'm sorry. I'm just so annoyed by the fact that America keeps trying to vote Witney out and Nigel insists on forcing her upon us. The end.  
Will's solo was up next, which was actually really interesting: This is the first time we've seen Will alone onstage since before the finals began, and it was funny to remember that he actually can straight-up dance, even without his gimmicks and his hamming and his reliance on his female partners. No, his lines aren't as clean as a George or a Matthew, but he's good enough, and he's more charming than both of them put together. 
Next, the producers continued their campaign to eliminate Cole by pairing him with Allison, forcing him to portray a sadistic, heartless psychopath and making him perform to Bjork. Cole did his best to defeat the producers; he's always struck me as the strongest, most consistent and most versatile male dancer here, and I also feel like he's the only dude who consistently upstages his female partner. 
I liked this routine. It was very Black Swan. Cole actually does really well when he's forced into these bizarre characterizations. Jesse compared the "insane" routine to American Horror Story. Mary said this was Allison's best-ever performance on SYTYCD and then gave some kind of convoluted prediction that Cole may or may not be in the finale. I'm honestly not sure what she said. 
Nigel appreciated Cole's unique craziness, then offered up some kind of backhanded insult in which he basically said that any male would suffer in comparison to Allison (a blatant lie, in this case). Did I sense some kind of justification, just in case our intrepid judges planned on eliminating him later in the evening?
Next up, Lindsay treated us to a pretty impressive solo. We've seen Lindsay do quite a few of these, since she's been in the bottom before, and though I've never really thought she excelled without a partner, she was pretty solid this time around. The routine was very beat-driven, and she was hitting all of her marks and working it in a way that didn't make me want to close my eyes and pray, unlike our other teenage contestant. 
Moving on. 
Of course, now that Eliana is the favorite, the judges saddled her with quickstep—aka, the most notoriously difficult style this show has to offer. But since Eliana is the best, she could do it. She and her partner were perfectly synchronized and perfectly in rhythm. Eliana never, ever misses a step; she's like a singer who never hits a bum note. My only complaint with this routine: It was too character-driven, which cheapens anything Eliana does. She doesn't need to rely on characterization to impress. 
Mary said that Eliana was spectacular and that the quickstep didn't seem to throw her at all. (Crazy that they didn't give Witney quickstep, isn't it?) Jesse called her dorky, then hit the nail on the head: He said Eliana has accessibility. She's fun to watch, and she's fun to root for, unlike virtually every other female still remaining in this competition. Nigel said her top line was the best top line he's ever seen a non-ballroom girl do, then said the routine matched her "light and frothy" personality. 
Chehon's solo featured more of the same of what he always shows us—clean lines, amazing leaps and no shirt—and this one earned a standing O from all judges except Nigel. Of course. No love for Chehon. And somehow, I still wonder how this man has ended up in the bottom so many times. 
For her duet, Lindsay got a Sonya-choreographed jazz routine, set to "Somebody That I Used to Know" (how creative!) and based on warring lovers (how creative again!). Is it just me, or has every routine ever on this show been based on warring lovers? Maybe it's just that Lindsay keeps ending up with excellent partners, or maybe it's just that her routines always have terrible lighting, but whenever I watch her, I always feel like it's hard to focus on her instead of her partner. She's like the anti-Cole. Maybe it's because her personality doesn't seem to command as much attention as some of the other females. Or maybe she's just the weakest chick left. Sometimes, when she dances, she doesn't seem to be feeling it. Her mechanics are good, as is her technique, but most of the time, there's not a whole lot of heart. 
Nigel didn't feel any sexual tension between Lindsay and her partner (shocking! Because SHE'S EIGHTEEN). Mary agreed (of course) that they had no chemistry, but she still thought there was plenty of really great dancing. Jesse felt the routine was "100 percent gold stars, A-plus-plus-plus," but he, too, felt there was no chemistry. Why did I feel like this was Lindsay's last performance? 
Will, with the help of Lauren, took on a Christopher Scott hip-hop routine that was supposed to showcase Will's serious side, if such a thing exists. Will was supposed to be a guy who was literally dancing his pain away, and once again, I felt like he was acting just a little too hard. I never feel like Will is being serious; I feel like he's just acting serious. He also doesn't seem to know how to move gracefully—which is a strange thing to say about a finalist at this stage of the competition, I know—but he couldn't hide behind his partner for this one, and it hurt him. He literally was positioned upstage of her for the entire number, and he just seemed … awkward and gangly. Or maybe it was just the fact that his "costume" was jeans and a button-down. 
Mary loved the feel and the musicality of this routine (which, BTW, didn't feel like hip hop at all), and she thought Will was meticulous and precise instead of "big" and "sloppy." Disagree. Jesse called him an adorable puppy covered in adorable puppies wearing a hat that says, "I'm an Adorable Puppy." No, I didn't make that up. Nigel thought he contained his "cheesy" personality this week. Ringing endorsements! 
Next up, Witney's solo: Another striptease to a Rihanna song about sex! How shocking! Honestly, I'm not just saying this because this girl is quite obviously not my fave: She doesn't do anything during these solos except dance like an eighth-grader at a school dance. And by that I mean, she grinds solo. This song—"Where Have You Been"—even has that awesome dubstep breakdown after the bridge, and Witney didn't do anything with it. She didn't capitalize and do something that showcased her talent. She solo-grinded. 
I'm over it.  
Cole's solo, by comparison, was like watching the Yankees play a Little League team. His music so perfectly matched his martial arts-inspired routine (and his ninja outfit, as Cat called it), and he's always so precise and so graceful with his movements. 
Next: Cyrus! The judges/producers/whomever is holding the purse strings really could not pimp this kid more if they tried. Here is what they tried this week:
1) They paired him with the most recent winner, Melanie Moore. 
2) He always seems to go somewhere close to last. 
3) He always gets the most talented partners (first Eliana, now Melanie). 
4) The judges consistently mask their "critiques" of his work with platitudes about his irresistible "heart" and "personality." 
I like Cyrus. But is he the best male dancer? Ha. Haha. Every time he jumps, every time he steps, every time he lifts, he is just so far inferior to the other three males that it is laughable. Again, I like Cyrus, so if he won, I'd be happy for him. But if this show is about finding the best dancers in America, find the best dancers. This isn't dance-X-Factor.
As expected, post-routine, the judges began with their gross exaggerations. Jesse compared Cyrus to Twitch and said he's going to be "synonymous with this show forever." 
Nigel: "Your personality…it just grabs people!" And then, as if Nigel was reading my mind: "This show was never about being the best dancer. It's about finding America's favorite dancer." Oh. Okay. 
Cyrus is like Anya, the Season 9 winner of Project Runway. She was good—for someone who didn't know how to sew. Compared with the rest of the fashion world, though, she was just … a designer who didn't know how to sew. Cyrus is good for a dancer who doesn't really know how to dance. 
In her solo bid, Eliana once again showed us all that she is the best female remaining, the end. I wonder how Eliana feels about Nigel's insistence this show isn't about finding America's best dancers. She went from a sublime quickstep routine to a flawless ballet routine within 40 minutes, and yet Cyrus gets accolades for not screwing up colossally. 
Chehon was saddled with a tango routine, despite not understanding what tango was prior to this week (his words, not mine). He was certainly dressed the part—and by that I mean, he was dressed as John Leguizamo in Moulin Rouge—but this routine was boring. 
The track was the kind of music they put on at a beauty salon while you're getting your eyebrows waxed. The choreography did not at all accentuate Chehon's strengths and instead showcased his partner, who wasn't competing for votes. Afterward, Cat mentioned that "you could hear a pin drop in the room" because the audience was "spellbound." I don't think that was it. 
The judges, though, loved it. Mary said it was amazing and that it made the hair on her arms stand up, and then, she went a step further: It was her favorite number of the night. Well, good: At least Chehon danced well enough, in their eyes, to stave off elimination. He deserves to be here. Jesse invited Chehon onto his "Hot Jalepeno Bus." Nigel once again disagreed with me and felt that Chehon was fully in his element for this number, since it emphasized his "breadth" and "strength." Those are not two words that come to mind when I think of Chehon, but okay. 
As expected, Cyrus' solo was excellent. It was pretty much the same solo we've seen countless times before, but I still enjoyed it. I love watching Cyrus in his wheelhouse; I just think it's ridiculous that the judges overlook the fact that he literally cannot compete in any other style. And then, Cyrus got the loudest applause of the night, by a landslide. We may as well cancel the final few episodes. 
Last but not least, there was Tiffany, who was more excited about her song ("The Power of Love") than the actual choreography, which was fine. I like the song, too. This routine was one of the few that actually played to the contestant's strengths: It was slow and classical and there were plenty of opportunities for her partner to toss her and lift her, and as usual, her extension was flawless and her lines were clean. She got the only full standing O of the night and was left in tears by the end of her number. Must have been the song. 
Jesse said his rotator cuffs hurt from watching the number. Mary said Tiffany was extraordinary, and this was her best performance of the season. (For once, not an overstatement.) Nigel said Tiffany was a beautiful technician, and he found her humbleness refreshing. (Interesting, coming from someone who has a strange and perverted obsession with Witney.) 
Which left me thinking: This was going to be an interesting elimination. Let's get to it.
Your Bottom Two Girls:
Witney
Lindsay?
Your Bottom Two Guys: 
Will
Cole
As soon as they announced the bottom-dwellers, I said it: If they refused to send Witney home this week, I would lose my mind. She has been in the bottom two three times now. America is clearly not into her. 
As far Will and Cole, no surprises there. We already know (from Nigel) that Cyrus will never be in danger of elimination at any point, and Cole suffered last week from a lack of connection with his partner. Will (aside from Cyrus) is the weakest guy remaining, and he's been skidding ever since his original partner, Amelia, got the ax. 
The verdict: We said goodbye to Lindsay. Of course. I don't even know why I'm surprised. Oh wait—maybe it's because Witney has been in the bottom two THREE TIMES now. And she is still here. There is no doubt in my mind that she has been the lowest vote-getter several times. I just don't understand. I feel powerless as an American. 
We also said goodbye to Will, an elimination that makes at least some sense. There is some balance in the world. If Cole had been eliminated along with his partner, it would have been a travesty. 
What did you think? Did Lindsay's elimination infuriate you as much as it did me? Or did the right dancers go home? Who are your picks to make it through to the fast-approaching finale? 
[Photo Credit: Mike Yarish/FOX]
MORE:
'So You Think You Can Dance' Recap: Top 16 Perform
'So You Think You Can Dance' Recap: Top 16 Perform