Taylor Swift is the Same as Crystal Meth, and this Video Proves It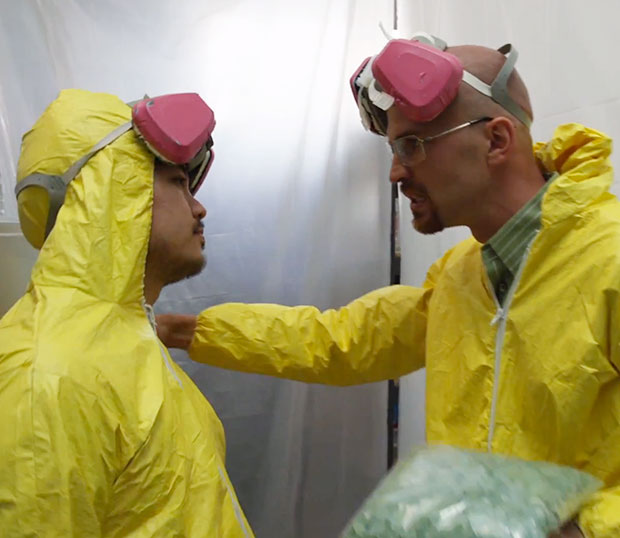 [Obligatory spoiler warning: This article mentions things that happen in Season 5 of Breaking Bad. If you're not caught up, stop reading. Go watch the show instead.]
No two things go together quite like Taylor Swift and crystal meth. I mean, really, think about all the similarities: both are shiny, produce temporary euphoria, can cause cardiovascular damage when overused, and are sometimes — on special occasion — blue. It was only a matter of time before the Internet found a way to bring such strange (and glorious) bedfellows together.
Enter "Breaking Swift," Teddy Films' brilliant parodic marriage of Taylor Swift's ode to breakups, "We Are Never Ever Getting Back Together," and AMC's hit show, Breaking Bad. The separation of Walter White and Jesse Pinkman that takes place in Season 5 is truly one of television's most heart-stopping and heart-wrenching breakups. And, as such, it is the perfect fit for Swift's angst-ridden, angry musical interpretation of the end of an on-again-off-again relationship.
Fans thought these two were meant to be together forever. Walt and Jesse, I mean, not Swift and her boy of the week. Walt wanted Jesse to apply himself, Jesse taught Walt how to be spontaneous — they really were the perfect couple. Until, that is, things went sour. But isn't that always the story? Swift thinks yes.
Going beyond the obvious thematic similarities between Swift's song and Breaking Bad's couple, this video also nails the details of Swift's original. Forlorn gazing out of an open window? Check. Dramatic telephone scene? Check. Random dancing person dressed in an animal suit? Check! (And, Breaking Bad twist, it's a pollo!) The video also features cameo appearances from our favorite characters — Walter Jr., Hank, Tio Salamanca, the gang's all here.
Oh yeah, and the song is pretty catchy.
Follow Abbey Stone on Twitter @abbeystone
More:
How to Properly Celebrate the Release of Taylor Swift's 'Red'
'Breaking Bad': An Ode to Mike
'Breaking Bad' Composer Dave Porter on Scoring Season 5, Movie Influences, and Cliffhangers
From Our Partners:

Pippa Middleton Acknowledges Her Famous Bottom in New Book: 'It's a Bit Startling to Achieve Global Recognition'
(Celebuzz)

LeAnn Rimes Sits Down With Katie Couric For First TV Interview Since Treatment For Cyber Bullying
(Celebuzz)