TCA 2012: 'Ben and Kate' Stars on Family, Comedy, and Mr. Oscar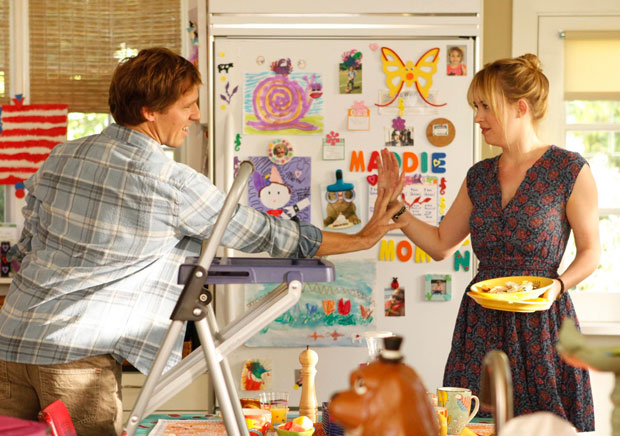 Monday morning at the Television Critics Association (TCA) press tour event at Los Angeles' Beverly Hilton, the cast and crew of Ben and Kate gathered to discuss their zany brother-and-sister duo comedy. The show, which centers on the wayward brother Ben moving in with uptight sister Kate and her daughter, Maddie, will be available starting Aug. 27th on Hulu, Yahoo, and other various online platforms.
The show stars The Groundlings comedian Nat Faxon, who booked the role of Ben the day after he won the Oscar for co-writing The Descendants (along with Community's Jim Rash, natch). "It's offered some momentum," Faxon says of his Golden trophy. "[But] I don't know that I'm going to be handed acting roles because I did something in the writing field."
Also starring as Kate is Dakota Johnson, who you may know as 2006's Miss Golden Globe. (A gig she calls "terrifying".) Growing up the daughter of Don Johnson and Melanie Griffith (and the granddaughter of Tippi Hedren) gave Johnson a head start in the industry, but Ben and Kate's producer Dana Fox says she really wants people to believe that the world on this show is real, so Johnson and Griffith probably won't make an appearance.
In fact, a more looming presence on the show is Fox's brother, Ben, whose antics as a young man inspired Fox to create her first show. "He's a really, really smart guy who intentionally does dumb things all the time," she says of her brother. "He got older and he met this amazing woman, and they had two chldren together. The thing that I noticed was that he was the world's greatest father." Because of Fox's brother's open and silly personality, he was able to talk to his children on their level. Fox says she brings this relationship dynamic to the show, as Ben interacts with Kate's daughter Maddie. Still, Fox says they keep TV's Ben grounded in reality, and ask themselves at every turn if his actions are realistic. Basically, they want men to want to be him and women to (sort of) want to be with him. "He has a bizarre logic to all of his behavior," Fox says of TV's Ben. "He might be a genius?"
This "genius" may help the uptight Kate relax and enjoy her life a little. "She is being forced by her brother to break out of the box," Fox says. "He's going to come in and smash that to pieces, then ask her to clean up after." But the relationship is reciprocal — Kate is also going to help Ben expand on his own ideas, and grow as an adult person. "Part of the reason that we retitled the show from 'Ben Fox is My Manny' is because he's really not the Manny — the concept of the show is it takes a village. Everyone is taking care of this one magnificent child so they can all help each other bumble forward."
Included in this village is British actress Lucy Punch, who, in the trailer, puts a hilariously inappropriate amount of makeup on young Maddie. Punch is having a great time working on the series, and says its a far cry from comedy over the pond. "I think British comedy tends to be darker, and meaner," she says. "I think British people enjoy not liking people, and unsympathetic characters. In the States, it's nicer. It's friendlier." Still, Punch insists that her character can be "bitchy and horrible," because people like that.
But according to Maggie Elizabeth Jones, the 8-year-old scene-stealer from We Bought a Zoo who plays Maddie, Punch's zany character isn't the funniest off-screen — that honor goes to Faxon. But Punch has a different opinion. "Maggie makes us laugh," says Punch. "She's very naturally funny, and good at improvising." Faxon agrees — he says the little actress is so adorable that he literally has to "shove her aside" to get the spotlight back.
Follow Shaunna on Twitter @HWShaunna
[PHOTO CREDIT: FOX]
MORE:
TCA 2012: 'Mindy Project' and 'Ben and Kate' to Premiere Online
Fox's 2012 Series Pickups: Kevin Bacon, Mindy Kaling, and the Mob