TCA 2012: CBS Boss Talks 'How I Met Your Mother' Will it Ever End?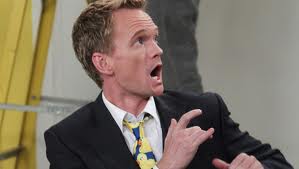 CBS Entertainment President Nina Tassler entered the reporter-packed TCA ballroom Sunday morning holding a large monkey. Although it was a stuffed animal, this unusual and giggle-worthy act was definitely a memorable kick-start to a long day of CBS panels.
Tassler tells the room with a smile, "It's been a TCA full of cell phone announcements from the stage, monkeys, Sarah Palin, renegotiations; I just couldn't resist." It's nice to know that CBS still has a great sense of humor.
Fans of the mega-hit How I Met Your Mother instantly recognized a familiar article of clothing on the CBS furry friend: Barney's (Neil Patrick Harris) ducky tie! It's the little things in life, people. Tassler didn't need to say anything further because at that point, I considered my day to be a success.
HIMYM's eighth season is set to premiere September 24, and Tassler says they're hoping for another successful season, telling the crowd, "They had an incredible year last year, and we've got a great relationship with [creators] Craig [Thomas] and Carter [Bays] and certainly they have a very strategic wrap up to the show."
The CBS boss-lady then shed some light on one of TV's biggest question: When are we finally going to meet the mother? "They know we want the show to come back next year and we're having conversations right now about extending it." Right now fans everywhere are having mixed emotions: glee for more hilarious storylines, and groans for postponing all the unanswered questions.
Let's put this into perspective, shall we? Extending the half-hour comedy for a ninth season would mean viewers won't meet the brunette with the yellow umbrella until at least May 2014. Imagine how many magic tricks Barney will perform from now until then! Tassler concludes, "We're in early conversations and we're pretty optimistic."
When we last saw Ted, aka the world's longest story-teller, he was riding off into the sunset with recently re-kindled flame Victoria. Guess we'll just have to wait patiently to see what the future has in store for this legen… wait for it… dary show!
How I Met Your Mother will premiere Monday, September 24 on CBS.
Follow Leanne on Twitter @LeanneAguilera
[Photo Credit: CBS]
More:
TCA 2012: '666 Park Avenue' Promises To Make Horror-Lovers Proud
TCA 2012: FX Announces Fourth Season for 'Louie,' Martin Sheen on 'Anger Management'
TCA 2012: 'Nashville' Stars Connie Britton and Hayden Panettiere Talk Music (City)