TCA 2012: 'Nashville' Stars Connie Britton and Hayden Panettiere Talk Music (City)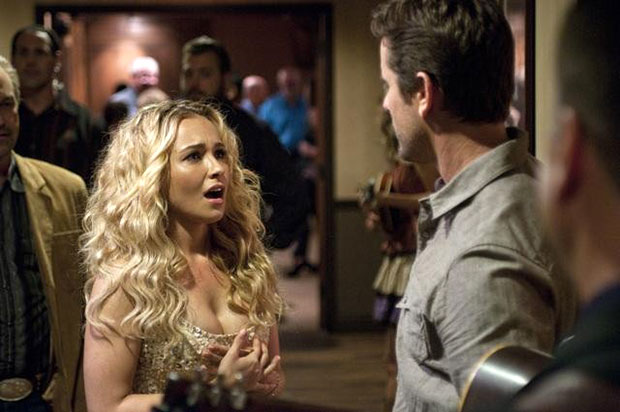 Nashville may be far from Los Angeles, but the cast behind ABC's most buzzed-about fall pilot — about a fading country superstar (Friday Night Lights' Connie Britton) who is forced to go on tour with a rising starlet (Heroes' Hayden Panettiere) — didn't let that stop them from representing the Music City at ABC's TCA panel this morning.
Britton (who received her third Emmy nomination last week for her role in American Horror Story) took the time to brag on behalf of her young co-star: "I can talk to you about Hayden because she is a great singer. She's a legitimately great singer." To which Panettiere retorted, "What Connie is not saying is that Connie has been amazing since the beginning, but I recently heard some of the newer tracks that she has recorded and they're pretty unbelievable. So she's going to be schooling us all."
Panettiere, who recorded a pop album in her younger teen years, says that country music has always been something she has wanted to pursue.
"After four or five years of recording, I said this is not me, but if I do music again, it will be country music," said the 22-year-old, who splashed onto the small screen with her pivotal role as cheerleader Claire in NBC's Heroes. "For this to come along and to get to do both of the things that I love combined on one show, it's a dream come true, really. I don't mean that in a cliché way."
Although Britton has no recorded album to her name (until the Nashville soundtrack is released at an as-yet-unannounced date), she's no stranger to portraying southern characters. "There's something about southern women that is so unique and yet so universal," she said. "I think that's why people really respond to strong southern women, because strong southern women are also allowed to be soft and feminine and have a sense of humor."
But if fans are looking to see a remake of Tami Taylor, Britton warns they'll be disappointed: "This character is actually incredibly different from Tami Taylor in Friday Night Lights. Her accent is going to be different. There probably won't be so many 'y'alls'!" (At that last bit, all of the reporters in the ballroom let out a collective gasp of shock and awe.)
Executive producer R.J. Cutler said that the team's main goal for Nashville is giving the audience an exciting show, rather than just a strictly musical one. "There's music, there's drama, there's a family story, you're in the music business world, you're in the political world," he listed. "But at the core of it are these relationships, and they drive through everything."
Before the panel ended, Cutler quelled one last rumor for fans: the appearance of big-name country artists on the program. Despite the nature of the show, Nashville has no plans to go the Glee route and pad the program with celebrity guest spots. "We're really focused on our cast of real country artists," said Cutler, rounding out the panel. "It's not a cameo driven show."
Nashville premieres on Wednesday, October 10 at 10 PM ET/PT on ABC.
Follow Leanne on Twitter @LeanneAguilera
[Photo Credit: ABC]
MORE:
Emmys 2012: 'American Horror Story' Star Connie Britton Talks Emmy Reactions, Demon Babies
Finally! ABC Fall 2012 Premiere Dates: 'Revenge,' 'Once Upon a Time,' & More