TCA 2012: Showtime Scoop on 'Dexter,' 'Weeds,' 'Homeland' and More!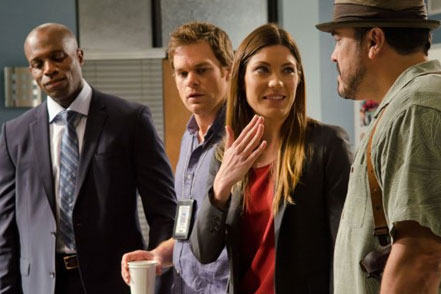 Showtime President of Entertainment David Nevins took the TCA stage Monday afternoon in Beverly Hills to spill some desperately needed details on all your favorite shows. And because we love you oh-so much, Hollywood.com has gathered all the facts and put them into one giant Showtime mega-post! You're welcome.
So what's the status on Dexter? How many more seasons of Homeland can we expect to cherish? And will we see additional episodes of Californication and Inside Comedy? Check out all the updates below!
The Big C: The Showtime Exec revealed that Laura Linney and Co. are coming back for a fourth season, but it will also be the show's last. You can check out all the details on the cancer themed drama's final season here!
The Borgias: Showtime's period drama is currently shooting their third season (set to premiere in 2013) and Nevins says a another season is very likely. He explains, "The original plan going in was four seasons." However, Nevins clarified that just because the plan was four doesn't mean the head honcho wont green-light a fifth.
Californication: How much longer can fans expect to see Californication on the air? Nevins admits, "I'm honestly not sure." He says the upcoming season has a great combination of comedy and soulfulness, but he hasn't seen any cuts yet. Luckily, he won't make any decisions until the show has aired.
Dexter: The Showtime Prez confirmed that ending the cult-hit after two more seasons is "the likely scenario." Nevins reveals, "But plans can always change. Everything has gotten rewired this [coming season] given that Deb (Jennifer Carpenter) has to deal with who her brother is. Everything changes… Every scene is fraught because you're wondering what is she going to do. What does he think she's going to do." The seventh season of Dexter premiere Sunday, September 30 at 9 p.m.
Episodes: It would be shocking to not see this critically acclaimed hit return for a third season and apparently Nevins thinks so too. "We're working on the details right now but I'm expecting Episodes to come back," said Nevins. "I think that show is irregular as opposed to some of your other shows… [And] we tend to be a little slower to get them on the air, but my intention is to keep going." Plus, Matt LeBlanc exclusively told us that a mini Friends reunion is all set on an upcoming episode.
Homeland: After boasting to the room that Homeland won a Golden Globe for Best Drama, nine Emmy nominations and a Peabody, Nevins says that the future of the freshman mega-hit is a "wide blue sky." Although he expects the show to last for many seasons, Nevins warns that does not mean that the core cast will last just as long. "Anybody can go at anytime," said Nevins. "They've made some very bold choices this year." The second season of Homeland premiere Sunday, September 30 at 10 p.m.
House of Lies: Like Homeland, Nevins is expecting this raunchy comedy to become one of the network's new flagship shows. He says the network is expecting the first-year hit to be "big" in 2013.
Inside Comedy: It's back and better than ever! David Steinberg and Steve Carell's comedy documentary is returning this fall with ten all-new episodes. Fans can expect to see comedy legends such as Ben Stiller, Tina Fey, Judd Apatow, Will Ferrell and Albert Brooks.
Nurse Jackie: Nevins didn't really mention anything about Edie Falco or the rest of her amazing ensemble, but he did however praise the dramedy's "great benefits" of changing things up and not avoiding consequences. "You better not fall into predictable patterns. As soon as you get predictable, you get boring."
Shameless: The dramedy with America's favorite dysfunctional family is currently filming their third season — episode four, to be exact. Stay tuned, because Hollywood.com has tons of exclusive Season 3 scoop from Emmy Rossum (Fiona), Shanola Hampton (Veronica) and Cameron Monaghan (Ian) coming soon. Here's a little teaser: "Shameless season three is epic," exclaimed Hampton at the CBS/CW/Showtime party Sunday night. "And we are not holding back at all!"
Weeds: Nevins admits that he has read the final episode of the long-time comedy but would not disclose any teasers. He admits with a smile, "[Creator] Jenji [Kohan] would kill me if I gave any details." However the Showtime boss adds, "It was very carefully planned towards," and it "answers a lot of questions." Nevins also said he would "love it" if Mary-Lousie Parker would return to Showtime as either an actor or a producer. Plus, we got Hunter Parrish to tell us an exclusive secret!
[Image Credit: Showtime]
Follow Leanne on Twitter @LeanneAguilera
More:
Comic-Con 2012: 'Dexter' Gang Explains How the Tables Have Turned
Showtime Will End 'The Big C' After Fourth Season