TCA: 'Justified' Spoilers and Scoop on Cold War Spy Drama 'The Americans'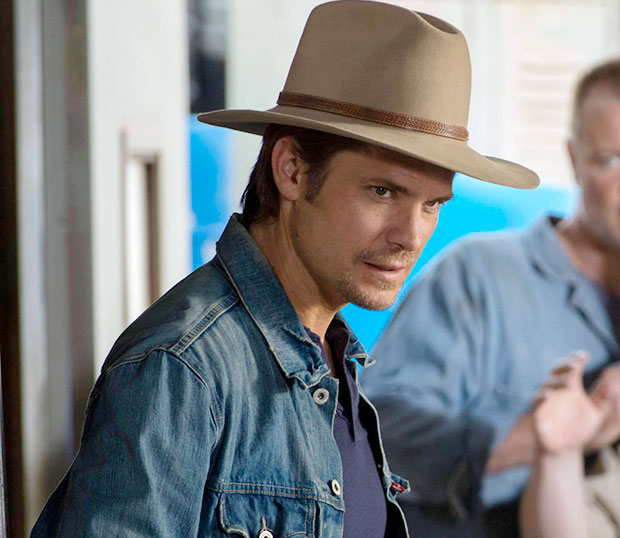 Justified kicked off its fourth season in a big way: The FX drama's Season Four premiere garnered the show's highest ratings since its series debut. What better way to celebrate a brand new group of adventures about Kentucky lawman Raylan Givens (Timothy Olyphant) than with some scoop on the upcoming year?
Executive producer Graham Yost and the cast shared some tidbits about the new season at the Television Critics Association winter press tour. Here's what we learned:
– Raylan and Boyd will come to a crossroads in their relationship when Boyd tells Raylan explicitly that he doesn't like him. "It's the first time he's ever really kind of said it that way," says star Walton Goggins. "I think over the course of their relationship Boyd has seen their friendship as one thing and Raylan has seen it as something else. But at the end of this season they may see it the same way, and that is that they don't like each other. We'll see where it goes from there."
– Although the show lost regular Natalie Zea to Fox's creepy new thriller The Following, it didn't affect the storyline. Yost says he thinks Winona was fed up with Raylan's antics anyway. "It gave us the chance to have Raylan be a ladies man. I don't understand it. The ladies like him — I don't know why," he jokes of Olyphant's good looks. Besides, Zea's deal with The Following allows her to return for three or four episodes. She'll be back for Episode Five, and "you'll see her a couple more times this season," Yost says.
– The producers reached out to Patton Oswalt to appear in Season Three after they found out he was a fan of the show, but scheduling didn't work out. They immediately thought of him when they began writing the character of the constable. "Two writers … found out about this position in the counties of Kentucky of constable. We kind of loved the idea of a guy who's a cop wannabe," Yost says. How long will he stick around? "As long as he's willing to play and he wants to, we'd love to have him," he adds.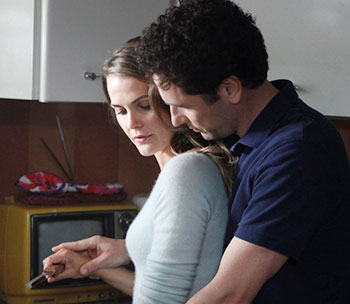 While FX's Justified follows an all-American hero as he fights bad guys, the network's new drama The Americans might make you think differently about the enemy. Set in 1981, the new show stars Keri Russell and Matthew Rhys as undercover KGB spies during the Cold War. And creator Joe Weisberg would like you to root for them.
"I know it might be a little bit difficult to believe and get used to, [but] we want you to root for the KGB," Weisberg tells journalists during the show's panel. Jokes Russell, "What do you think?!"
Considering we know how the war turns out, don't worry. You won't be considered a traitor. But you can root for the actual Americans as well. "There's an FBI side of the story that's told, and when you're with them, the hope is you'll root for them too," says executive producer Joel Fields. "It's a show about marriage, and the marriage is an allegory for international relations. The show is about international relations, and the international relations are an allegory for the marriage. You kind of root for where you are emotionally in the scenes."
Here are a few more things to know about the series before it premieres on Wednesday, Jan. 30 at 10 p.m. on FX:
– Timing was a very important factor in getting this Cold War-set show on the air. Says Weisberg, "I think if you tried to tell a story like this about Al Qaeda now I think it would be impossible." Thirty years gives added perspective.
– Weisberg's real-life CIA experience was an asset to Russell and Rhys. The CIA agent-turned-TV writer worked for the agency from 1990 to 1994, and taught the actors some of the skills he learned "down at the farm." Nothing too exciting, though. His main advice? "Don't look too sneaky."
– One of the things that affected Weisberg the most during his time in the CIA was watching the effect the job would have on families. "I think that one of the things I saw at the CIA that most affected me emotionally was how CIA officers and their families live this clandestine life," he says. They can't tell their kids what they do until they're old enough to keep a secret (usually around 14 or 15), when they have a big coming out conversation.
Follow Jean on Twitter @hijean
[PHOTO CREDIT: FX (2)]
More:
'Arrested Development' Premiere Date Confirmed
TCA: 'Arrested Development' Season 4 Scoop
'Justified' Premiere Recap: Hole in the Wall

Megan Fox's 12 Hottest Moments (Moviefone)

Ryan Gosling's 'Airbrushed' Abs: Plus 19 More Reasons We Love the Actor (Moviefone)