'Desperate Housewives' Twins Are Grown Up, Shirtless, and Gorgeous on 'Teen Wolf'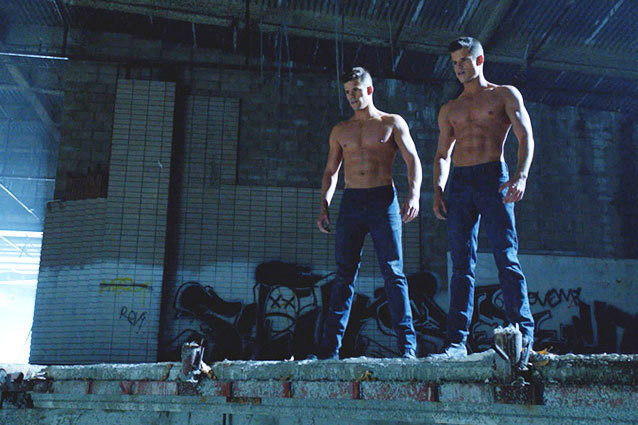 There is a new phenomenon that I would like to call the "Zac Efron Effect," where there is a child star who is innocent and adorable and then he hits puberty in the public eye. Next thing you know, he's all hot and ripped and cavorting around in his underwear while Nicole Kidman pees on him. The emotions are so conflicting — you remember him as a sweet teen who never gave you those rumblings down there, but now…now…whenever you see him the world goes into slow motion and you enter a fantasy where he's a gardener and he throws you down in the fertile soil and the two of you spin around getting dirtier and dirtier and dirtier.
RELATED: Looking at Buff Zac Efron Makes Us Feel Dirty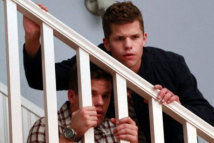 The same thing is happening with Charlie and Max Carver, the ginger twins who played Lynette's oldest sons on Desperate Housewives after the show fast forwarded into the future after Season 4 (it wasn't as stupid and shark-jumpy as it sounds now). Anyway, they were just seniors in high school, and now the two are costarring on Season 3 of MTV's Teen Wolf (which premieres this summer) and, well, they're being exploited for their hot man-bodies.
On the show's official Tumblr an MTV flack answered the question, "I heard rumors that there are going to be less shirtless guys in Season 3. Is that true?" by posting the above picture of these two boys and their 16 different prominent abdominal muscles. Than answered that question! But for us DH fans, it's so conflicting. Do we continue to love them like a baby sitter or is it time to start gobbling them up like a werewolf would a rare steak? I believe it's the latter, oh boy, do I ever. For all of you too young or disinterested to remember these two from their past work – keep your hands off. We were here first!
Follow Brian Moylan on Twitter @BrianJMoylan
[Photo credit: MTV, ABC]
---
From Our Partners:

'SI's 25 Sexiest Swimsuit Covers of All Time (Vh1)

Pregnant Kate Middleton Bikini Pics Spark Palace Anger (Celebuzz)