Celebrities Who Made 'Funny' the Word of the Day on 'Sesame Street'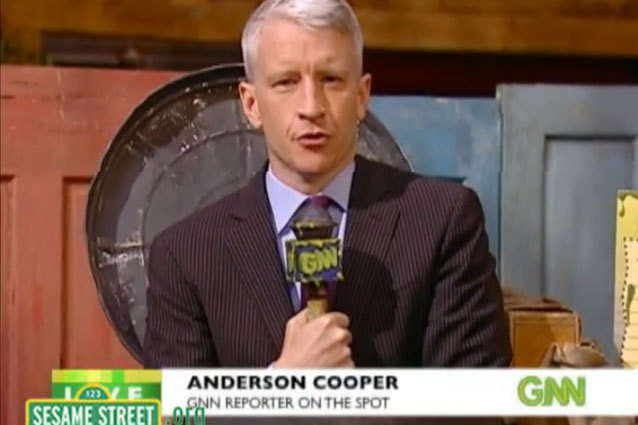 We all think of Sesame Street as a show for kids. It primarily is… but the writers love to add a good amount of humor to keep the adults sane while watching 45,000 hours' worth of the same episodes. They love to make any celebrities appearing on the show a foil – and the celebs don't mind! 
1. Anderson Cooper
First it's Cooper's earnestly propping himself up in Oscar the Grouch's trashcan, then his interviewing the two Grouches, that makes this hilarious. I'm sure that kids don't even know who Walter Cronkite and Dan Rather really were. Just great. 
2. Ricky Gervais
The interaction between Elmo and Gervais is what makes it, especially the beginning when Elmo mentions Brad Pitt. Then, Kevin Clash is able to give Elmo so much expression for a puppet with ping pong balls for eyes.  
3. Jimmy Fallon
 It's not just  Fallon's goofy send-up of Bear Grylls, but also Sesame Street regular Alan Murakaoka who sells this. Murakaoka's eye-rolling comments in the background are just as funny as Fallon's earnestness. 
4. Brian Williams
This is available for download on YouTube for $3.99 on Sesame Street's official channel, on Amazon Streaming and it's often on On Demand on Sprout. Watching the normally buttoned down Williams jump up and down and also chase a chicken who keeps taking his microphone are only a couple of the highlights.
 5. Will Arnett
Arnett is great as this pompous magician who thinks he can fool children by doing simple addition and subtraction tricks without even attempting any real sleight of hand. Watching Sesame Street regular Chris pop his bubble is great. 
6. Andy Samberg
PBS is constantly running this episode, called "Shape-O-Bots." Samberg dons a few very poor disguises to enlist the help of the Shape-O-Bots, and the results are hilarious. 
7. Bo Jackson
The message behind this is great, but it's just so funny seeing Jackson in both football and baseball uniforms stopping and solemnly doing these kids things. Bo Diddley in the background is just the cherry on top of this sundae.
8. Patrick Stewart
Stewart lends a gravitas towards explaining the letter B…but the whole Shakespearean setting just makes it funny. Imagine if Ian McKellan had joined in? 
9. Marisa Tomei
Tomei channels her My Cousin Vinny voice here for this act, and nails it. Of course, my son has never seen the movie – he's only three. I can't wait for him to see it someday.
10. The New York Jets
The funny thing about this clip is that two years later, none of them were with the team. Coach Eric Mangini was let go and Chad Pennington and the others were also gone. Ah football. Here today, on another team tomorrow.
More:
---
From Our Partners


Stars Pose Naked for 'Allure' (Celebuzz)


20 Grisliest TV Deaths of 2012-2013 (Vulture)