'Terra Nova' Joining 'Arrested Development' in Netflix's Recycled Lineup?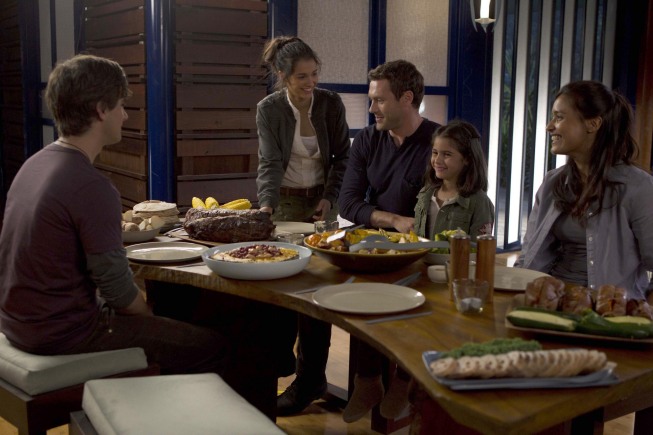 Following some controversial business strategies in 2011, Netflix decided to redeem itself by producing original content, rather than just a distributor of feature films and other networks' series. However, Netflix is pioneering a very unique strategy in programming: scavenging shows that have already been canceled. Earlier today it was announced that Netflix was interested in picking up Terra Nova, the all-too-anticipated science-fiction series that was canceled by Fox just two days ago (and has been shopping for a new home ever since).
Terra Nova
's dismissal from the Fox network came after a season of modest ratings. The 13-episode run kicked off with a great deal of hype, due to its engaging concept and the fact that
Steven Spielberg
was producing, but failed to live up to the promise. It's curious then why Netflix might opt to pick up
Terra Nova
, although this isn't the first of Fox's discarded shows that the company is snatching up.
This past fall,
Netflix signed on to take Arrested Development
, the highly acclaimed sitcom whose dedicated audience has been vying for a revival since it went off the air in 2006. Like
Terra Nova
,
Arrested Development
 suffered from low ratings during its run on Fox, but, critical reverence combined with the cult phenomenon status lent to Netflix's decision to take on the long-awaited final season (
complete with the entire original cast
), which will lead up to the movie. However, one still wonders how large a viewership
AD
might pull at its Netflix home.
The streaming service does have some original programming in the works, like
House of Cards starring Kevin Spacey and produced by David Fincher
, and
Orange Is the New Black
 from
Weeds
 creator Jenji Kohan. However, it seems like the network is building a reputation of scavenging dismissed shows (from Fox) to build up its roster. What other discarded Fox series might Netflix pick up?
Firefly
?
Tru Calling
?
Greg the Bunny
? Be on the lookout! 
Source: EW