The 15 Most Memorable Shirtless Videos of 2012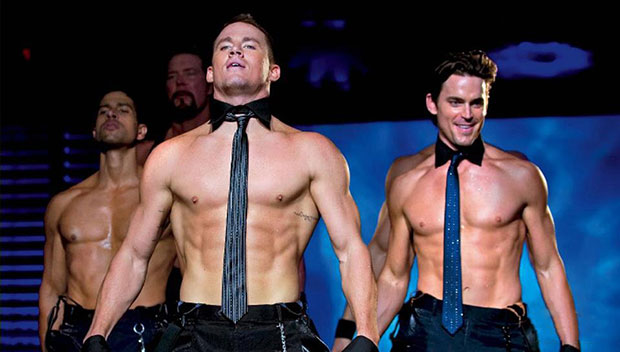 Sure, there have been a lot of things that happened this year, but of all the moments from TV shows and movies and other celebrity-driven detritus do you remember where everyone was fully clothed. Not many, I bet. If you're as pervy as I am, then when you look back at 2012 all you'll really want to think about are all the times when guys took their shirts off. Well, lucky for you, I put all of my sexiest memories all in one place. Now, let me walk you through all these great moments, one six pack at a time.
Next:
Maybe it's because of Magic Mike that we have so much mainstream manflesh these days. Who cares? Even after all the trailers, the red band trailer, the movie, and the DVD bonus strip clips, we still can't get enough.
Next:
Joseph Gordon Levitt was in every single movie of 2012 and in each of them he never took his shirt off. Not even once. That's like having the world's biggest diamond ring and always keeping it in a drawer. Finally he paid us back on Saturday Night Live
Next:
Alcide's storyline on True Blood was dumber and more forgettable than ever, but Magic Mike star Joe Manganiello's shirtless training scene was his most memorable naked moment yet.
Next:
There was only one good part of John Carter: the fact that there doesn't seem to be shirts for Taylor Kitsch to wear on Mars.
Next:
There's nothing like a good love scene to get everyone naked, but Savages was notable for getting Aaron Johnson's shirt off while Blake Lively's stayed on. Oh, and a bath tub.
Next:
Tom Cruise ripped off his top in Rock of Ages. Hey, I didn't say they were all good, just that they were all memorable.
Next:
Crushing on Zac Efron all grown up is kinda creepy, but not as creepy as some of his scenes in The Paperboy. Don't worry, this isn't the one where Nicole Kidman pees on him.
Next:
The CW always has plenty of topless guys, but Arrow was the first time we were told to watch a show just because there would be naked guys on it.
Next:
Speaking of shows only worth watching because of the shirtlessness: Chicago Fire!
Next:
The best thing about the Summer Olympics was all the skimpy uniforms for the men. And as much as we loved ogling Ryan Lochte when he did unintentionally hilarious things (that grill, everything having to do with "Jeah!"), it was when he stripped down and was funny on purpose on Fashion Police that we liked him best.
Next:
There are always some hotties on Survivor but it seems like Malcolm (who might even win the whole thing) traded in his shirt for an immunity idol.
Next:
Magic Mike made Chippendales cool (kinda) and The Amazing Race capitalize casting two of their dancers, James and Jaymes, who almost trotted away with the top prize.
Next:
David Beckham Underwear Commercial. (Insert Homer Simpson drooling noise.)
Next:
Finally vampire drama Twilight has released its last movie, which just gives us one more chance to celebrate all it's shirtlessness.
Next:
Here's the shirtless horse head jogger from Hurricane Sandy. Remember, I didn't say they were all pretty.
Follow Brian Moylan on Twitter @BrianJMoylan
[Photo Credit: Warner Bros]
More:
Watch All of the 'Twilight Saga' Shirtless Scenes at Once
All the Shirtless Actors on the Premiere of 'Chicago Fire'
How to See the Avengers Shirtless
You Might Also Like:

'The Hobbit': Making Sense of Kili, the Hot Dwarf