The 2010 Television Report Card
Network television isn't "dead" per se, but the manner which its content is managed, distributed, promoted and rewarded is changing so dramatically that you can consider many of the old practices "deceased." The days of a family sitting around the television and watching a single channel for three straight hours are gone. Hell, the days of a family sitting around watching TV together are gone. With Hulu, Netflix, TiVo and TV on DVD, there are so many ways to watch a program at our convenience. We personally haven't watched a show in real time in ages!
Today, we aren't ranking our favorite shows. Those lists are all across the internet. Instead, we're offering our general recommendations for shows you should see, shows you should avoid and how the networks compared to one another based on the shows they air. Here's how our rating system works:
Yay = Watch. It's awesome.
Eh = It's okay. You might like it. You might not.
Nah = For the love of God, don't watch it. In fact, if the show comes on your television set, you should either a.) run or b.) throw your TV out the window.
NBC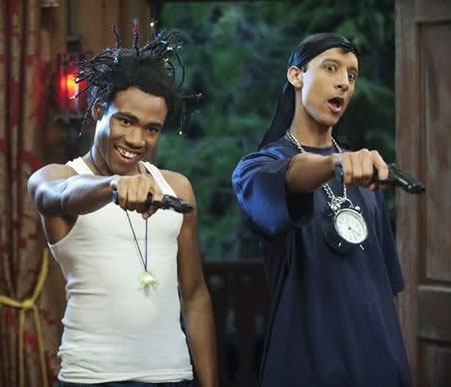 –Community (yay)
    Great writing, directing, acting. What else do you need?
–Parks And Recreation (yay)
    Stellar second season, why bench it to mid season?
–The Office (eh)
    Growing old, but still some steam left in the engine.
–30 Rock (eh)
    Consistent laughs but nostalgia makes it seem worse.
–Outsourced (eh)
    NBC swears it isn't racist, but…
–Chuck (eh)
    A fun, nerdy, guilty pleasure, but there are better things to watch.
–Parenthood (eh)
    Surprisingly delightful, if a little boring.
–The Event (nah)
    cough LOST cough
–Law and Orders (nah)
    It's Law and Order. What else is there to say?
–Undercovers (eh)
    Could've been so much better, but still fun while it lasted.
–Chase (eh)
    How many police shows can we have?
Overall Rating: Eh
NBC is the most frustrating network on television. It airs some of the best shows but handles them so terribly we're starting to think the company is run by a spinning wheel that's spun by an alcoholic lizard (but with Jeff Zucker recently let go, that could change). We believe Community is the best show on television right now (regardless of genre) and yet the Peacock still refuses to give it a decent lead-in, which means its ratings aren't great. Parks and Recreation turned out to be one of last year's funniest shows, but in 2010 it was relegated to mid-season and we got the unremarkable Outsourced instead. Granted, NBC is developing a three hour comedy block on Thursdays, but 2010 was still the year that comedy could not get a decent audience.
And don't even get us started on the whole late night fiasco.
Looking beyond Thursday night comedies, NBC hasn't done very well outside of reality programing and football. Undercovers — from LOST mastermind JJ Abrams — failed to deliver an exciting premise and find an audience despite the talents behind it. No matter how hard it tried to make The Event the next LOST, it just wasn't as engrossing. NBC: you can't force an "event" like LOST, you have to let it be. Well, you can't just let it be: you have to create something worthy of "being" an "event" and, yes, we just discovered "quotation marks."
CBS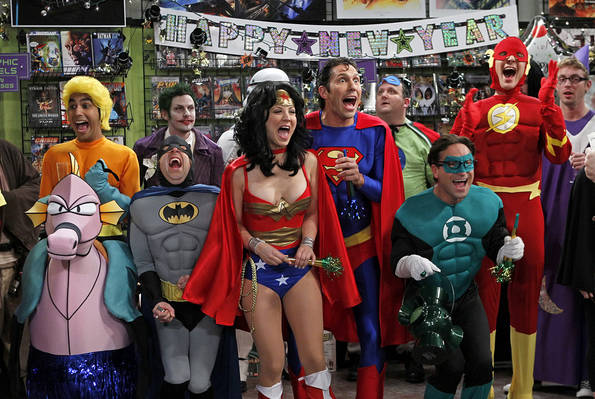 –Hawaii Five O (eh)
    Looks great in HD. Too bad the writing doesn't.
–How I Met Your Mother (eh)
    Getting back into the groove as we get ready to meet the mother.
–Two and A Half Men (nah)
    May this show burn in hell. Does great things for CBS, but may it burn to the ground.
-Mike and Molly (nah)
    Fat jokes? You'd think CBS' audience would be offended.
–The Big Bang Theory (eh)
    Alas, our noble geeks have fallen off their high horse. But sometimes doable.
–The Good Wife (yay)
    A stand-out leading actress gives CBS a bright spot in its lineup.
–Shit My Dad Says (nah)
    Pure shit. Your dad would be disappointed.
-Blue Bloods (eh)
    We only watch for Tom Selleck's mustache.
–The Mentalist (nah)
    Poor writing and acting hurt its otherwise interesting concept.
Overall Rating: Nah
It doesn't really matter what we say about CBS. It will continue on its juggernaut course of middle-of-the-road, lowest common denominator programming. There are only three shows that we might recommend to any person (H5O, BBT, and HIMYM) and even then we'd add the caveat that their respective quality varies week to week. Still, it's hard to hate CBS. It has its demographic (although we're still trying to figure who actually watches these shows) that keeps coming back for more each week. The Eye knows which shows work and which ones don't and the network is successful — financially, at least. Here's the question: should we be mad at CBS for bad content that performs well or should we be mad at the American public that keeps watching it?
ABC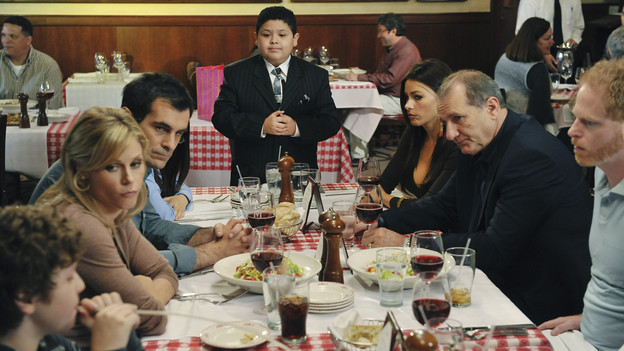 –Modern Family (yay)
    Getting predictable and sentimental, but still one of the funniest shows on TV.
–Cougar Town (eh)
    Courteney Cox will forever be a sitcom star. Nothing more.
–Castle (eh)
    Nathan Fillion? Nathan Fillion.
-No Ordinary Family (eh)
    It's like Heroes
-My Generation (nah)
    Booooooooooooooring.
–Desperate Housewives (nah)
    Starting to struggle with original concepts.
–Grey's Anatomy (nah)
    Should've ended a long, long time ago.
–LOST (yay)
    There might never be another show quite like this one. Enjoyed it while it lasted.
-Private Practice (nah)
    The Grey's Anatomy spin-off makes us want to watch Grey's Anatomy.
-V (eh)
    Compelling concept, but poorly executed. Still a guilty pleasure we indulge in each week.
-The Middle (nah)
    Even a solid cast can't save this generic writing.
Overall Rating: Eh
Every show that ABC airs seems to have this glossy shine to it. They all seem bright and bold and while they do get dramatic, they never seem gritty. That's what happens when your parent company is Disney. ABC mustered some great highlights in 2010, especially from Modern Family — a show that somehow managed to make the family sitcom funny again while still hitting the big sociopolitical points (a gay couple with a child on network television!). LOST, of course, with its big finale, was a huge event that either under-performed or was THE BEST THING ON TELEVISION (depending on who you ask). Of course that wasn't ABC's fault. It promoted the hell out of "The End" and gave it its due.
ABC should also get credit for creating some of the better female oriented programs on television with Cougar Town and Desperate Housewives. It also gets a bump for Castle, a better than average procedural that stars Nathan Fillion, but then again we'd give anything with Fillion a bump. That guy rules.
FOX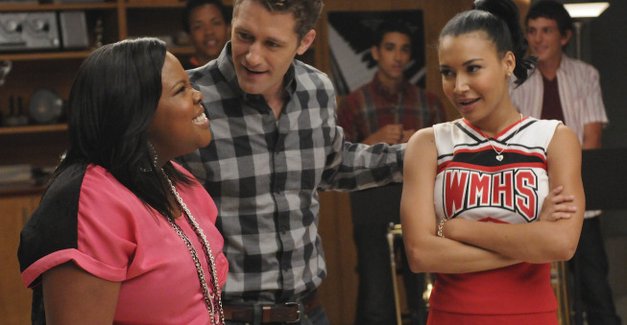 -Running Wilde (eh)
    Like Arrested Development but not as funny.
-Lone Star (eh)
    Good writing, solid direction, adequate performances. Taken off too soon.
–The Simpsons (eh)
    Still going relatively strong.
–Family Guy (eh)
    Kinda weird how randomness can be stale, but its getting there.
-Raising Hope (nah)
    Fairly funny, but Running Wilde was funnier
–Glee (eh)
    Horrible writing, but the songs are fun! Too bad that doesn't make a good show.
–House (eh)
    Dr. Gregory House is still saving lives, but the weekly premises are getting redundant.
-The Good Guys (eh)
    Canceled after one season, probably due to it being a cop show from the '70s.
–The Cleveland Show (eh)
    An extension of Family Guy without the funny stuff.
–American Dad (eh)
    Just like Family Guy, except with a talking alien instead of dog.
–Fringe (eh)
    This got pretty deep and dark this year, starkly contrasting anything else on TV. Hopefully it will survive on Fridays.
Overall Rating: Eh
Ugh, here's our beef with Fox: it rewards the programs that garner instant returns/ratings. But if a show doesn't do anything special in the short term, it pretends it doesn't exist. For instance, Glee was one of the biggest new shows of 2009 and throughout 2010 it continued on its course despite becoming one of the worst-written shows (seriously: the writing, while never good, has simply become atrocious) on air. Fox continues to promote the hell out of it (understandably), but when it has something good on its hands that isn't an overnight success, it gets dropped like a congressional candidate with a penchant for Thai boys.
Lone Star was one of the most promising new shows of 2010 and wasn't given a finger of help. It was ultimately canceled after two episodes. Running Wilde was expected to be the next Arrested Development considering Mitch Hurwitz and Will Arnett were behind it. Just like AD, however, it was canned before its first season concluded (at least Arrested Development got three seasons). Then they put Fringe in the Friday night death spot, practically sealing its fate. Look Fox: you have an amazing ability to select good shows (we're really looking forward to Bob's Burgers next year) but you have to let them grow. They can't all be The Simpsons, American Idol or Glee. Have some faith and the audience will follow.
HBO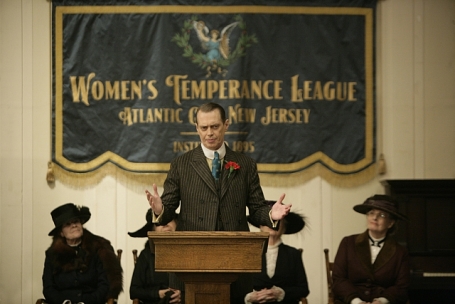 –Boardwalk Empire (eh)
    Slow at times, bad-ass at others.
–True Blood (yay)
    Like pure sugar: You know its bad, but you suck it down anyway.
–Hung (yay)
    For a show about a guy with a big dick, this show has a lot of heart.
-Treme (eh)
    Great music, but it's not The Wire.
–Entourage (nah)
    An improvement from its previous season, but the show has run its course.
–Bored to Death (yay)
    Fun, light and a perfect counter balance to Eastbound and Down.
–Eastbound and Down (yay)
    This past season doesn't compare to the first, but Kenny Powers is one of the greatest TV characters of the past twenty years.
–In Treatment (eh)
    Strong writing and performances, but gets a little too melodramatic to really catch fire.
–How to Make it in America (eh)
Overall Rating: Yay
When it comes to content, HBO has a major perk being a premium cable channel: F-bombs and boobs. And boy, do they take advantage of it.
Boardwalk Empire takes the very best of The Sopranos and sets it in 1920's Atlantic City. Eastbound and Down has one of the loudest and funniest characters to ever grace the small screen. Jason Schwartzman found the role he's been looking for his entire life in Bored to Death (having Zach Galifianakis and Ted Danson helps). Not to mention True Blood, which is one of the guiltiest pleasures around. As long as HBO keeps making these high quality shows, it'll continue to be worth the extra few bucks a month on your bill.
Showtime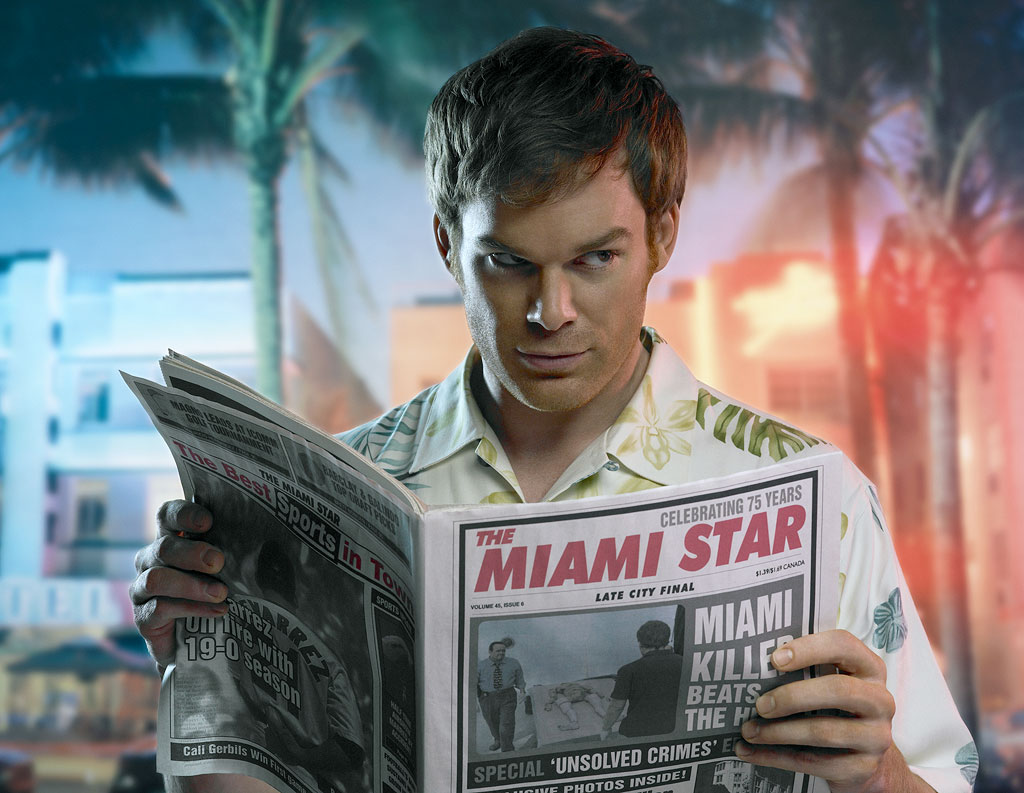 –Dexter (eh)
    After a few stellar seasons, it may be losing steam.
–Weeds (eh)
    Nancy finally faces the consequences of her actions and the show comes around.
-The Big C (eh)
    Laura Linney is strong, but the writing suffers.
–Nurse Jackie (eh)
    Clever writing with a strong lead actress, who sometimes tries too hard.
–Californication (eh)
    Dramatic season finale, but overall, the writing (about a writer) feels forced.
Overall Rating: Eh
Any other year, Showtime would be a stellar addition to your television roster, but 2010? Not so much. That's not to say it wasn't a good year for the premium channel: it just wasn't great. Dexter had an off year following a tremendous exit at the end of season 4 and while Weeds picked up steam during its sixth season, it was still just taking two steps forward after taking six steps back. We still can't believe Nurse Jackie and The Big C are getting all these award nominations. Eh, Showtime must know how to woo voters.
Our message to Showtime: don't get cocky. You're not as good as you think you are.
Comedy Central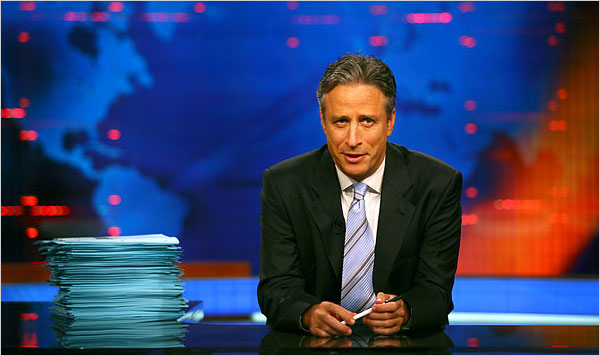 –South Park (eh)
    Foul mouthed cartoons continue to have the sharpest satire on television.
–The Daily Show (yay)
    Jon Stewart and Co. are the smartest writers in the business.
–The Colbert Report (yay)
    We would, in all honesty, vote for him for President.
-Ugly Americans (eh)
    Filled with typical humor, but the monstrous premise is wacky enough to carry it.
-Tosh.0 (eh)
    Pretty funny, but Tosh's sarcasm gets old after a while.
-Futurama (yay)
    Great to see it back on the air.
-Nick Swardson's Pretend Time (nah)
    Funny comedian, but as with these type of shows, the jokes get stale.
Overall Rating: Eh
Comedy Central continued on its merry way with South Park, The Colbert Report, and The Daily Show but struggled with its other original programming. The channel still doesn't seem to know what type of comedy it wants to present. However, the recently redesigned logo suggests big changes in 2011.
FX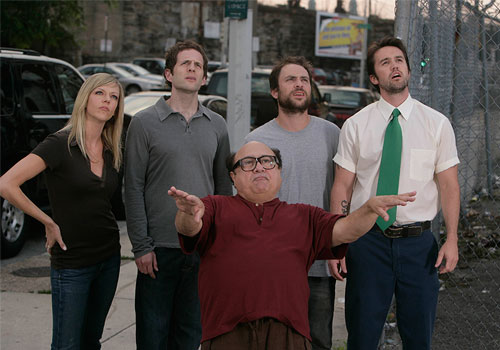 -Louie (yay)
    Louis CK can do no wrong with this show.
-Archer (yay)
    The funniest animated program, period. One of the funniest shows on TV, period.
–Terriers (yay)
    Alas, another one cut short. At least we got to see the full season.
–The League (yay)
    Great acting. It really came into its own during the second season.
–Sons of Anarchy (yay)
    Brutal, gritty, dark and heavy. And those aren't bad. At all.
–It's Always Sunny of Philadelphia (yay)
    They've found their formula for success and keep riding it.
–Rescue Me (eh)
    Dennis Leary manages not to be grating. That's saying something.
Overall Rating: Yay
FX has produced some of the best comedies of the past decade and 2010 was no different. Additionally, it provided some of the grittiest, hardest and meanest dramas around — but mostly made us laugh our asses off.
No, for real, we're being serious. Louie and Archer are two of the funniest shows (if not the funniest) on the air. They're bold, unpredictable and oh-my-god-you-have-to-see-this hilarious. There's brilliant writing all around but special mention goes to Louie's poker scene revolving around the word "faggot." Despite being a comedy, in that scene the show delivered more truth, love and laughs than CBS' entire year of programming. Don't forget about FX's staple comedy It's Always Sunny in Philadelphia. The gang is currently coming off of, perhaps, their best season ever and that's saying something.
FX rarely gets love during awards season despite being adored by critics and a small (but loyal) audience. Still, I think the "F" in FX stands for "Fuck 'Em" because we know what's good and we don't need a trophy to tell us.
AMC
–Mad Men (yay)
    How can you sum up one of television's pinnacles in one sentence?
–Breaking Bad (yay)
    This show will kick your ass. And you'll love it.
–The Walking Dead (yay)
    Zombies done well. The end.
-Rubicon (yay)
    Slow at times, but with amazing writing and well-rounded characters, is incredibly rewarding. We'll miss this one.
Overall rating: Yay
We proudly declare AMC the best channel on television. Who would've thought five years ago that AMC — the channel you turned to only on sleepless nights at 3AM because there's never anything else on — would be producing the best programs of television? Take a look at the list above. Every show that AMC has EVER aired has been of the highest quality. Hell, its only speed bump, Rubicon, was still above average but too slow to keep an audience. Enough laurels have been tossed to Mad Men and Breaking Bad (deservedly so); we don't need to repeat them except to say that it's not just hype – they are that good. The Walking Dead turned out to be its highest rated show, proving that Zombies are a big draw (as long as the writing is good).
Bottom line: It's nice to see a channel that boasts the slogan "Story Matters Here" take itself seriously.
HONORABLE MENTIONS
Starz – Goddamit, how do you cancel something as brilliant as Party Down right as people were starting to notice? Have some faith Starz.
CW – Gossip Girl and Vampire Diaries. This is them trying? Well, whatever.
ABC Family – Its original programming isn't that great, aside from the now-canceled Huge, but hey! Harry Potter marathon!
USA – Royal Pains and Burn Notice are just two reasons why this channel is one of the best providers of content on cable.
TLC – Cake, midgets, tons of kids, hoarders, and oh yeah, Sarah Palin. Welcome to the freak show channel.