The 2013 Puppy Bowl Looks Pawesome — PHOTOS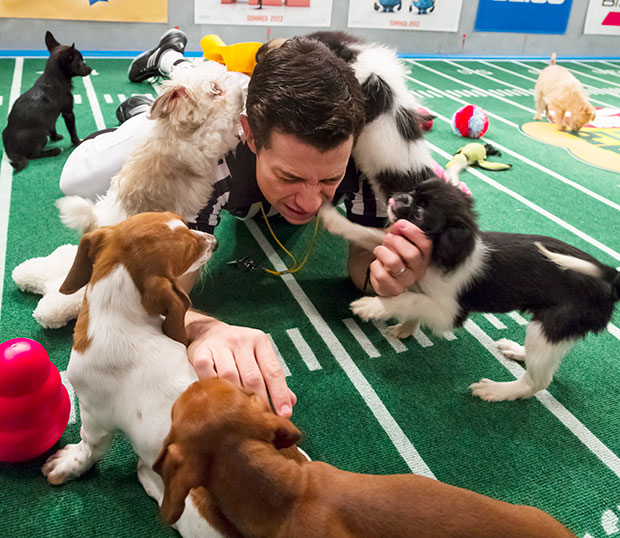 Let it be known: there is nothing greater in the universe than baby animals acting like adult humans. Or playing. Or barking. Or just generally existing in their perpetual state of cuteness.
And with that in mind, Animal Planet is bringing us mere mortals its annual Puppy Bowl, featuring the rookie talents of man's best friend — with some help from a couple kittens and even an hedgehog or two. The world is a beautiful place when seen through the eyes of a puppy, America.
Forget the pigskin and the touchdowns, and embrace the wagging tails, whiskered faces and tiny creatures that make up America's most-beloved ball game.
RELATED: 7 Super Bowl Commercials That Will Make You Bawl
Whatever your reason for watching the Puppy Bowl (it's far superiority to that other bowl game), one thing we can all agree on is its superior fuzzy, cuddly, furry-ness is something for the ages. The starting line-up is always excited to charge the field (whether for a million bucks OR a million bones — actually they prefer the bones).
Don't worry so much about MVPs, but instead watch the ref flag for "excessive cuteness" in situations of three or more puppies. And Internet favorite — the kitty halftime show — may not have the moves of Beyoncé, but something tells us it'll be far more captivating.
And, lest we forget, the addition of hedgehog cheerleaders may cause your heart to explode, so viewer discretion is advised. Check out the below clip for a tease of what's to come.
So in preparation for tomorrow's big day, we've got a couple of brain-explodingly cute pictures to whet your appetite before the main event.
RELATED: Super Bowl Advertising: How Would 'Men Men' Do It?
So grab your kibble, your water bowl, (and some catnip if you're feelin' groovy) and check out this year's precious pooches, charming kittens, and handsome hedgehogs in the gallery below. It's not like there's anything better to watch on a Sunday, anyway!
The 2013 Puppy Bowl: 17 Photos from the Cutest Game on Television
Puppy Bowl IX premieres at 3PM ET on Animal Planet, but if some weirdo, actual football game gets in your way, have no fear! It will be replaying for the remainder of the day. Phew!
All the poocherific participants in the 2013 Puppy Bowl are adoptable! Click here to get more information on how you can adopt this year's MVP (Most Valuable Puppies)!
[Photo Credit: Discovery]
Follow Alicia on Twitter @alicialutes
---
From Our Partners:

Oops, Britney Spears Goes Braless Again — PHOTOS (Celebuzz)

30 Hottest Lingerie Scenes From the Past 30 Years — PHOTOS (Celebuzz)