The Absolute Worst Moments of Lindsay Lohan in 'Liz & Dick'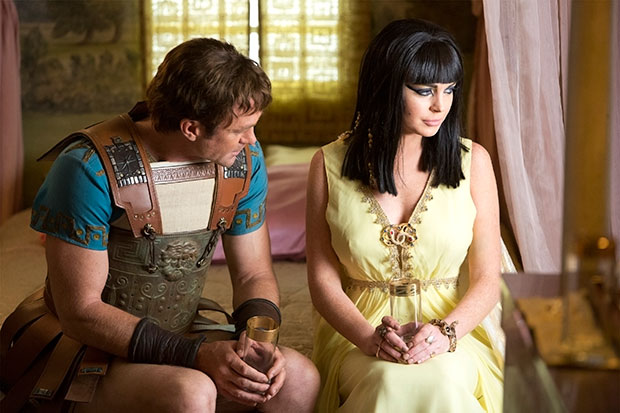 It's official: everyone watched Liz & Dick last night. The name of Lifetime's fifth grade book report about the life and times of Elizabeth Taylor and Richard Burton was trending on Twitter last night when the movie aired and catty chatter about it was as inescapable as the White Diamonds perfume ads in the '80s. It was probably because everyone was waiting to see just how awful Lindsay Lohan as the violet-eyed legend would be. While we wait for the official ratings to come (and they're probably going to be as big as one of Liz's caftans) let's talk about some of the movie's worst moments.
Yes, they were all pretty bad, but I have to say a highlight for me was when Lindsay, as Liz, screams from her chaise lounge in the backyard of her compound in Gstaad, "I'm bored. I'm so bored," with a flatness that can be only likened to cardboard that has been run over by a steamroller. Oh, no, wait. The worst was when Richard (played gamely by Grant Bowler) gets all mad at Liz on the set of Cleopatra and then she goes in her dressing room and cries and Richard walks up behind her and says, "Don't hate me," and she replies, "I don't hate you. I loathe you." Um, Lindz, aren't those the same thing?
There are so many silly moments to enumerate: Liz flashing the paparazzi her ass, her opining "I want more. I want more!," or the "Cleo-Fat-Ra" headlines when Liz's waistline doesn't change once in the whole movie. Oh, what about when the couple gets in a huge fight and Lindsay tries to make up by going into her partner's bedroom and mewing, "Elizabeth wants to play." That was pretty awful. OH! Or what about the scene where the purser from the hotel comes in to ask if they need one room or two and their banter involves a pun which likens Burton's performance of Hamlet to his penis. And then when we see his Hamlet (not his penis, him actually playing the part) it is as dull as a rusty knife. OH, and then there is a curtain call and there are no women on the stage, even though there are female characters in the play, and Dick makes Liz come up on stage and I crawled into myself so far that I actually inverted like a human Popple.
Those are some of my favorite bad moments of the movie. What about yours? Let us know. Misery loves company, and I think we're in good company thinking this was absolutely miserable.
Follow Brian Moylan on Twitter @BrianJMoylan
[Photo Credit: Lifetime]
More:
'Liz & Dick' Is Bad in the Worst Possible Way
New 'Liz & Dick' Trailer Offers Little New Footage, Is Still Hilarious
Lindsay Lohan in the 'Liz & Dick' Trailer: 'They Drink, They Fight, They Fornicate'

Jennifer Lawrence Bikinis in Hawaii: Her 15 Sexiest Pics

Remembering Larry Hagman, 'Dallas' Star Dead at 81