'The Amazing Race' Winners Bates and Anthony Battaglia: 'We're Just Gonna Party'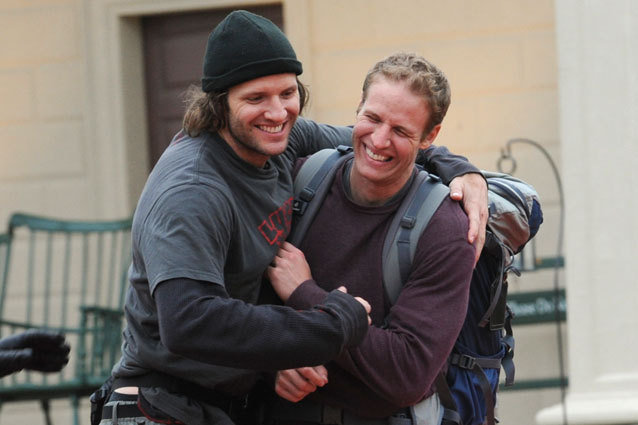 Bates and Anthony Battaglia had such a lead as they headed to the Amazing Race 22 finish line that they almost didn't believe they were about to win $1 million. "We got to the mat and we were like, 'We did something wrong,'" the brothers tell Hollywood.com the morning after their victory.
Luckily for the two hockey-playing siblings, that arched eyebrow from Phil Keoghan that awaited them was a symbol of their victory. Not that it was a surprise that they won — as the race went on, the brothers held court in the top three for most of the competition. Although the Battaglias handily completed the physical challenges, the thing that trips up most strength-based teams is the knowledge-based challenge at the end. But Bates and Anthony kept a meticulous record of their trip, breezing through the last task before any other teams got there.
"We're good with the physical activities, when it comes down to getting the flights and stuff like that, it's pretty difficult," Anthony says. Finding balls with the countries they visited inside an adult-sized ball pit wasn't as hard as it was tedious. "It wasn't too difficult but it was time-consuming to go through all the balls! I actually was pretty calm about it because there were no other teams [there]."
Plus, it was kind of funny. "It was the first time I'd seen so many balls in my life," Bates jokes.
Besides, after the hard time they had in Ireland, it was pretty easy. Their worst challenge of the season was definitely the Titanic food service/stair-running exercise from Northern Ireland. "That was the first time you were mad at me the whole race," Anthony tells his brother. There's one benefit: He's fully aware of the color chartreuse. "I know what color that is now!"
Although there were clear alliances, the brothers say they consciously tried to project a positive image. "We tried to be friends with everybody. We didn't want to be the team that everybody hated," they say. "We worked together and we had fun just hanging out with each other."
Now that the Battaglias are in possession of a cool $1 million, they have to figure out how to spend it. "I think we're still trying to figure it out," Anthony says. "We're pretty laid back. We just wanted to have a good time [and weren't thinking about the money]."
Bates offers up one suggestion: "We're just gonna party," he jokes.
Did the right team win? Who were you rooting for?
More:
And 'The Amazing Race' Winners Are…
'The Amazing Race' Recap: Scotland Blows (Bagpipes)
'The Amazing Race' Recap: Berlinsanity
Follow Jean on Twitter @hijean
---
From Our Partners:


Watch Justin Bieber Attacked in Dubai (Celebuzz)


33 Child Stars: Where Are They Now? (Celebuzz)