'The Amazing Race' Recap: One Swiss Mistake for Chuck and Wynona Sends Them Home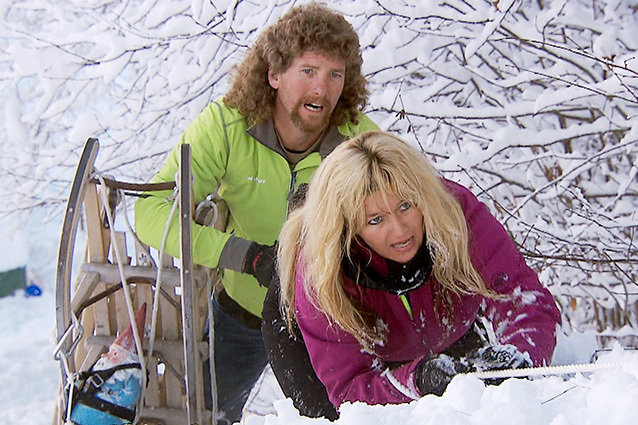 This episode had everything. Beethoven dogs. Cheese wheels. A place named for a dark wizard from the Harry Potter series…
You can usually tell in the first 10 or so minutes of any Amazing Race episode who's being eliminated (or, similarly, who is being reprieved for one more leg). One team gets just a bit more screen time, or a very telling talking head. The editing seems to want you to know exactly where they are compared to everyone else, and what obstacles they might need to overcome. It's classic narrative storytelling in a reality shell, no different than you'd see on an episode of The Americans (watch "Safe House" for a very clear example) or The Walking Dead. And it is sort of boring in all cases!
Chuck & Wynona, it will surprise no one, were that team tonight. For more than a few legs they'd held on to last or second-to-last place, and they've been the recipients of two non-elimination legs and even Dave & Connor's exit, if I'm remembering correctly. The Devil couldn't seem to catch them to save his life! But in snowbound Grindelwald, Switzerland, the mullet and his wife finally succumbed to the forces dogging them the entire race.
"Chuck's mad that I'm 12 seconds behind everybody else." "He treats the dog better than me." "I'm losing strength." Just a few of Wynona's quotes in these latest 42 minutes, and emblematic of most of what we learned about her and Chuck. I would never go so far as to suggest they were a bad team — no bad team gets this far — but one you could clearly see they were never truly comfortable, or accomplishing tasks with ease. Bates & Anthony? Smooth as a Swiss-made Ricola throat lozenge. They even three-peated with another first-place finish this leg, or what is known as a "hat trick" in hockey parlance. Minimal if any friction between those guys — just teamwork, good communication, and a strong sense they're having fun with the whole thing (which, obviously — easier to do when you're in the lead). Our Alabama duo, however, just never found their groove. Ultimately it was misreading a clue that did them in, but that sort of mistake speaks to larger problems they'd had on the race. The writing was on the wall more than a few episodes ago.
So it's nice that, even knowing a team is bound to hit the road (and thus negating most of the competitive drama that makes up the episode) we've still got such lovely scenery to get us there. And I've got to say, with nothing to back me up: this was one of the most stunningly beautiful legs the show has ever done. Did you see that snow? Just down comforting what felt like the entire country of Switzerland. Even the more terrifying vistas on display, like the Eiger, just radiated majestic serenity. If I had to die? I'd do it in the shadow of Mount Eiger, snow billowing into the valley as I fell 6000 feet. All the way down I'd think "wow, Switzerland is really something else. You could learn something here, New Zealand." Maybe one of those St. Bernard rescue dogs would find my broken body and nurse me back to health. I'd like that.
The rest of the episode split its time between sprinting through a series of James Bond sets and, you know, an update to the cheese wheel challenge that featured so prominently a few years ago (the Mike White season?). On the former: HI-TECH SNOW TRAINS EVERYWHERE, STATIONS CARVED OUT OF SHEER CLIFF FACES. Maybe it's just the shock of exiting a place like Botswana, where the closest thing to the Internet was a mason jar with a scorpion inside, but so much of Switzerland felt hyper-modern and techy. Anyone here been there? DISH Hopper guy? Really seems like my kind of place.
"Cheese wheel" is precisely what you're imagining, both as an inanimate object and a challenge, which called for teams to roll four 50 pound wheels down a steep, snow-covered hill. Once again, I have to question the integrity of this so-called "local custom" — using small toboggans to transport massive cheese rolls across the countryside? When, given what we just saw and discussed above, your country is Verizon FiOs from peak to snowy peak? I don't buy it, man! Would never accuse you or any country/province of lying — not when Phil's challenge descriptions are always so entertaining, anyway — but don't try to pull the wool over our eyes.
Rolling into the Pit Stop (Bodmi Snowboard & Ski School, "renowned for its gentle slopes and family friendly environment"), in order:
1) Bates & Anthony
2) Mona & Beth
3) Max & Katie
4) Caroline & Jennifer
5) Joey & Meghan
Team YouTube high-pitch hollered their way just past Chuck & Wynona, serving the last minutes of their penalty. And there it was — five teams left, one team finally chased down by the Devil who'd been after them for so, so long. We'll miss your redneck Revolutionary Road bantering!
Next week: strobe lights! See you then!
Follow Henning on Twitter @HenningFog
MORE:
'The Amazing Race' Recap: Pam & Winnie's Off-Day Costs Them
'The Amazing Race' Recap: Listen to the Burning Bush(Men)
'The Amazing Race' Recap: Devil in the Details
---
From Our Partners


Jessica Alba Bikinis in St. Barts (Celebuzz)


Which Game of Thrones Actor Looks Least Like His On-Screen Character? (Vulture)