'The Amazing Race' Recap: Adventures in Aquaphobia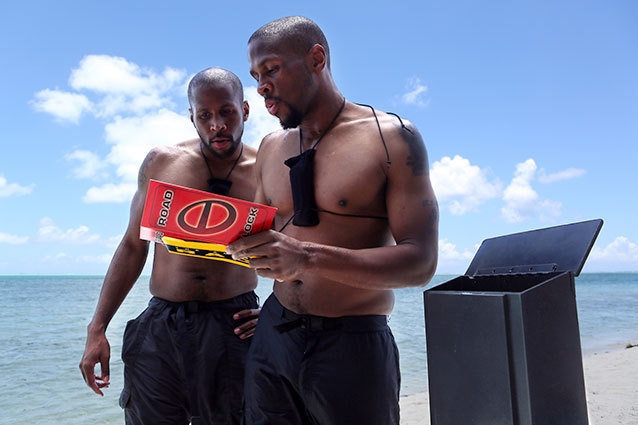 One probable reason The Amazing Race has lasted as long as it has (22 seasons, and it doesn't look a day over 14!) is its clarity of purpose. Something like a thousand reality shows have come and gone in the decade Race has been on the air — mental challenges, romance marathons, athletic competitions — each of which had their moment in the sun then fizzled out. What were they missing? We have it hardwired into our brains the idea that character is all. And it is…so much so that any lesser programs live and die by the contestants/competitors featured each season. Ever watched one of The Real World's truly OFF seasons? Or follow one of the less-than dynamic Bachelors they've had over the years? Even Survivor — the all-time reality champ — has floundered in installments that drew a bum casting hand. Admittedly, I don't watch a ton of reality television. But I can say with confidence that Racestands apart from the rest.
RELATED: 'Amazing Race' Recap: Building Sandcastles in the Sand
Why? LOCATION, LOCATION, LOCATION. The level of research and cultural exploration invested in each new world tour is frankly staggering. And in 22 seasons, it remains the unshakeable bedrock of the show. Boring racers this go-around? First of all, the stress of travel makes even the Ward Cleavers out there come alive. But even forgetting that — you're still rickshaw-ing through a Budapest back alley, or fire-dancing in some remote Cambodian village. Last week Racers sky-dived in Bora Bora! That's friggin' awesome! Race offers a dependable (and often educational) travelogue unmatched anywhere on television, even on the Travel Channel if that's a thing. People doing things, experiencingthings. It's not always — okay, it's rarely — the most dramatically rich show on television, but it's consistently a hell of a lot of fun to watch.
And I fully expect this season to see, if not bear-baiting at an illegal Moscow circus, at least ice-fishing in the Taiga.
Man, I hope they go to the Taiga.
While the rest of you were watching the Oscars last night like the warm-blooded American TV audience you are, the Race ran on. Though not far, as we continued the premiere's exploration of the place screensavers are born: Bora Bora. Where last week navigated the sky and sand, this week took us underwaterwith two Detours that tested racers' tolerance of the deep. For some, this was NOT MUCH.
Sidebar: how do you audition for and then be picked to race on this show while nursing a pretty blatant fear of water? Or any topographical concern, for that matter?! You've got time to prepare — condition your body for water, heat, cold, all the natural possibilities. It's highly likely you're going to see all of them! Ultimately Idries & Jamil, our two near-aquaphobes, were able to overcome their dislike of the open sea and finish the Detour. But, you know, not in time to prevent them from being eliminated. So we say again, future contestants: get comfortable with the ocean. These issues can be so easily avoided.
Not to be outdone on the "fundamental skills that could stand a refresher course" scale, BFFs Pam & Wynnie breezed through the Detour, hopped on their jet skis bound for the island of Motu Tapu…then spent the next hour driving far into the open ocean. The near poetic comedy of watching their jet ski grow smaller and smaller against an expanding ocean is something I won't soon forget.
Some possible trouble at the mat for Connor, who claimed to have ruptured his Achilles (like all professional amateur athletes, he seemed to know right away exactly what trauma he'd caused his body) just as he and son Dave claimed second place this leg. Will this affect them in upcoming episodes? One thing's for sure — if John & Jessica weren't likely to give them the Express Pass before, it's highly unlikely they're going to do so now. "We need to think strategically about who this goes to," John told us, sort of reneging on the deal he and Jessica had struck with four other teams in the airport last week. In their minds, Connor and Dave (who came in second place, satisfying the agreement their group had settled on…or so they thought) probably won't be around much longer. So why offer an express pass to a team for whom you're just forestalling the inevitable? Not even the major Polynesian honey with Phil at the Pit Stop seemed to be able to heal Connor's body.
And think: all this bodily injury and white flag-waving and jet ski mishandling from a two episode vacation to Bora Bora, where the hardest challenge was "search these sandcastles for a yellow clue." (You guys just are not ready for the Taiga!) But on you'll trudge and fly through many and diverse legs to come. And we'll be there every step of the way to gently mock and pretend like we'd act any different in your shoes. To the next leg!
[PHOTO CREDIT: Robert Voets/CBS]
---
From Our Partners:


25 Most Scandalous Celeb Twitpics (Vh1)


33 Child Stars: Where Are They Now? (Celebuzz)