'The Amazing Race' Recap: In Mother Russia, Passport Lose You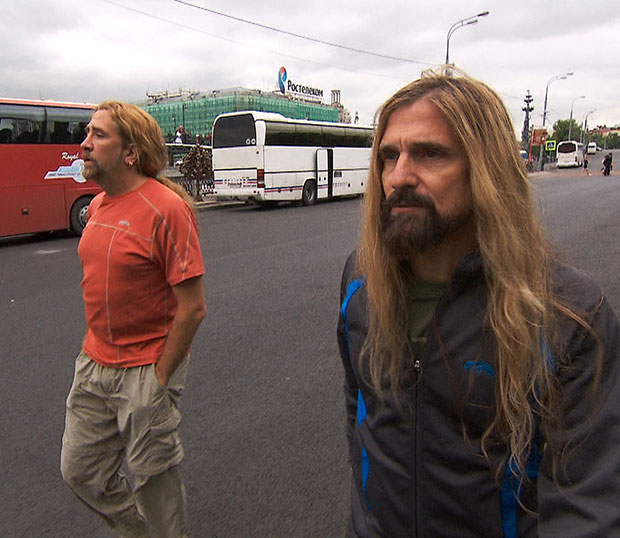 You thought we were done with it last week. How could they revisit the same well over two subsequent episodes? What benefit opening up old wounds and being forced to experience once more the pain and frustration we felt so acutely in the last hour we spent in Russia? Bertram van MONSTER and Co. just couldn't help themselves, though. And so we were treated again to the synchronized pool's stereo, and what sounded like the Eastern European rendition of Bruno Mars' "Grenade."
Oh, plus, James and Abba and all that mess. Last week the Rockers found themselves down a passport (not to mention their bags) when their cab driver pulled away during a challenge. Unable to actually check in at the leg's Pit Stop without two passports, they began their (let's say our) fruitless search for the cab that got away.
One "To Be Continued!" ending later, the Rockers were in very much the same position: last place, sans documentation, and subject to elimination. Still, their persistence was something to admire. Hotel concierges. Police officers. The US Embassy. James and Abba left no stone unturned in pursuit of that passport, hungry to find any available avenue by which they might have continued.
Meanwhile, Josh and Brent's synchronized swimming routine seemed to get worse and worse, to the point where the coach doling out Clues called time and passed them (with a time deduction) anyway. Very shrewd, Beakman Boys! With Abbie and Ryan at their side, they flew through the Lock challenge to follow. And, without any Rockers to claim their spots, the two teams finished fifth and sixth. Not eliminated.
Finally accepting how futile their attempt to find the passport was, James and Abba trudged back to the Pit Stop mat. And were summarily NOT eliminated. Without a passport that could get them, like, out of the country and facing a Speed Bump in the next leg and several hours behind every other team, sure, but still in it! "You're alive," Phil offered, speaking ancient wisdom to a situation he'd foreseen many thousands of years ago in his collapsed timeline view of human life. "And that's all you need." Well, not really! But we'll GET THERE.
Onto the new leg, another jaunt through Moscow that often tested teams' brain power more than their physical prowess. First on the Brain Quest tour: the nearby Agricultural Academy. One racer from each team had to quickly scan a map of Russia before answering a time zone quiz about various cities. First up were Jaymes and Lexi, who struggled to jot down enough info before the slides changed over. Four, five, six quizzes passed before the two of them decided they'd be better served teaming up. Another three to four quizzes later, they realized that when using Moscow (+4 UTC) as a starting point, one doesn't need to add 6 hours for the +6 UTC cities… but 2. "I'm so smart to have seen this early!" I told myself as I watched, thinking nothing of the pressure. I am also a Jepoardy! champion in the comfort of my living room!
Of all the racers, self-proclaimed "numbers guy" Ryan had the most trouble. Where other teams struggled to figure out the +4 UTC Moscow discrepancy, Ryan was so convinced his quizzes — all 24 of them, before his moment of clarity — were right. "It got to the point where I thought there was a glitch in the Matrix." The very committed actor hired to play the challenge's Wacky Russian Professor broke character to get Ryan to calm down. "I'm on your side!" Excruciating! But eventually he figured out his mistake. Brent, it must be noted, finished his quiz in just one round.
At the Detour, teams decided (you too can sound like Phil!) between "Movers" and "Shakers" — the former simply memorizing and performing an enthusiastic Russian soldier dance, the latter a quick "identify this famous Russian!" game. Nearly everyone chose to dance. Which made sense! Lexi was a cheerleader, the Twins have natural girl dancing ability, Abbie is in fact a dance instructor. And Chippendales? Despite a sprain he'd started developing a few legs ago, James powered through and helped lead his team to their first first-place finish. Everyone else made it through with relative ease. No small feat, I'll say, in a country that according to two weeks of Race challenges is almost completely obsessed with synchronization. And Russian coaches do NOT CARE FOR YOUR IMPRECISION OF MOVEMENT.
Only Josh and Brent tackled "Shakers," finishing in what felt like two and a half minutes ("There's Stalin! There's Lenin!" Ivan Drago remained conspicuously absent) and solidifying their moving-on position at the Pit Stop. Major letdown this week in Pit Stop location, by the way! Phil hung out at some abandoned performance stage in Sokolniki Park with barely a marching band or stunningly beautiful Sri Lankan princess by his side.
On the other hand: a perfect backdrop to a depressing end for James and Abba. Thankfully, the producers didn't pull one of those "Hey guys… we're not going to let you finish this challenge, because there's no way you'll win!" force outs, so our guys were able to end their journey in dignity. But minus a passport, overloaded with Detours, and many hours behind everyone else? You almost wish they'd never been given that non-elimination reprieve in the first place. At a certain point you want to just end it. So goodbye, Rockers! Hopefully you got your money back from the Twins at the season wrap party.
[Image Credit: CBS]More:
Amazing Race Recap: To Be Continued?!
Amazing Race Recap: The Rat Race (Literally!) Continues
Amazing Race Recap: 'Selamat Tingaal!'
From Our Partners:

Best (and Worst!) Movie Plot Twists Ever
(Moviefone)

'Twilight: Breaking Dawn 2' Scores a HUGE Win
(Moviefone)