'The Amazing Race' Recap: Listen to the Burning Bush(men)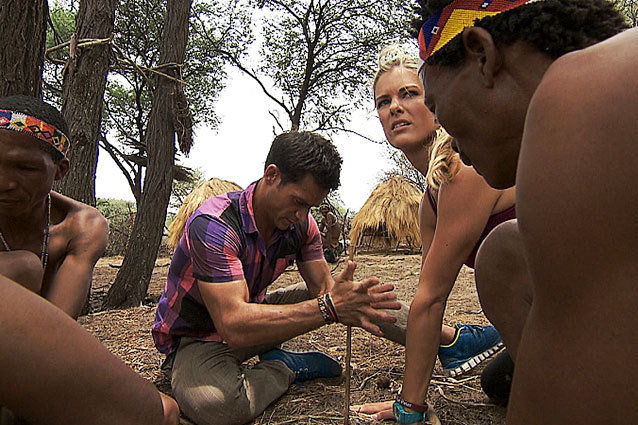 As would befit a show about traveling the world, The Amazing Race has taken us (and of course its contestants) to a number of very cool places in its 22 seasons. Relatively unexplored regions of Southeast Asia. The Australian Outback. But I have to say that last night's expedition to the Kalahari Desert bordering Botswana, has to rank with the coolest legs the show has ever produced. For one thing: BUSHMEN. For another: BUSHMEN LULLING SCORPIONS TO SLEEP WITH THEIR MOUTHS. I already know, with six days to go, that the sight of that will be the most rewarding thing I see on TV this week.
Before teams could start debating whether it was spelled "desert" or "dessert," though, they had to get the hell out of Vietnam. Where fifty years ago this would have been achieved via airlift, everyone instead made their way to a travel agent who secured their 6000 mile flight to Maun, Botswana. Sensing a boring segment here, producers had added a wrinkle to the clue — teams needed to identify where, exactly, the city of Maun was located before they could enter the travel agency. But smartphones or, in this case, Internet cafes have rendered obstacles like this meaningless. In the end it was just an excuse to play Country Bumpkin Music Cue #3 while Chuck & Wynona took turns guessing at Maun's country. "Kenya? Turkey? The Czech Republic?" Family Guywould have kept them reciting country names for another five minutes, but thankfully the twosome soon settled on Botswana. And with that? All teams were off on the same flight.
RELATED: 'Amazing Race' Recap: Devil in the Details
A few puddle jumpers waited in Maun to carry everyone, and their Lion King jokes, to an airfield in the Kalahari. The small plane size meant just two teams could fit on each (three on the third), which offered a brief but welcome look at who thinks what of who at this point in the game. Bates & Anthony? All over Caroline & Jennifer, or in Bates' words "12s out of 10." Not even Spinal Tap offers that high a rating! The country singers, in turn, admitted to crushes on their hockey playing travel companions. Newlyweds Max & Katie were not feeling the same way about flight-mates Meghan and Joey, who they'd hoped would be "literally anyone else." But that's every odd-couple pairing. Eventually they have to love each other, Joey's maniacal need for attention and Katie's weirdo desire to keep her intelligence a secret just a hurdle to overcome.
Then the Bushmen showed up and turned what was hovering at a solid "B" into "A++ would recommend your services to anyone." It all started nonchalantly enough. Teams had thrown their stuff into seven waiting FORD ESCAPEs, barreling into the desert. But what should appear, like a loin-clothed mirage? Bushmen, of all shapes and sizes, lined up for what we could only hope was more than just window dressing. They stood patiently while teams read their clues. And those clues said we were getting a BUSHMEN TEAM TAGALONG. You know when you've wanted something all your life without being able to articulate or even identify what that something was? For me it's Bushmen piled into the back of a product-placed Ford. But we'll get to that.
First, one representative from each team traipsed off into the desert with a team of Bushmen to dig for and capture a scorpion. Which, minus the inherent freakiness in handling that particular insect, isn't much of a challenge. But that's missing the sand-filled forest for the acacia trees — NONE of this episode was about "challenge" or "competition." No, the Kalahari leg was about cultural exchange. For instance: the Bushmen see a lion stalking just outside their camp perimeter. What do they do? Jump into a tree with the skill of an indigenous Mario brother, while a totally confused Caroline tries to understand what's going on below. Or take the traditional method for calming an agitated, strike-ready scorpion: cradling the thing just inside your mouth while you run it back and forth like a harmonica. By what process of trial and error the Bushmen arrived at this particular trick is question for another day.
Once teams had successfully trapped their scorpion, they were off to the Detour. But not without their trio of Bush Bros, who hopped in the backseat like they were being carpooled to peewee soccer. "Yes, we're probably undoing almost 20,000 years of delicate environmental conditioning," van Munster thought to himself, "but it's seriously going to be funny as hell." Anyway, they offered much-needed support for the two Detour routes: "Fire" in which teams — you guessed it! — started a fire; and "Fowl," where teams had to construct a trap meant for the local guinea fowl. Of which we didn't see any, come to think. Maybe that lion (king) ate them all?
Standard fare for a non-dramatic leg. Bates & Anthony, Jennifer & Caroline, Joey & Meghan, and even Chuck & Wynona fairly well mowed down their chosen Detour. Only Max (did we learn before he was a cigar salesman? There is such a thing as too perfect a job) & Katie really struggled to make fire. Maybe they'd never seen an episode of Race's more raw sister show, Survivor? Eventually they gave up and hopped over to "Fowl," where Mona & Beth were similarly behind. One team seemed to surge. Then another. Editing would suggest they finished at roughly the same time, and that Mona & Beth momentarily doomed themselves when they went back to their car (instead of running to the finish line) but this was a false cut — they were always ahead.
Tired, too smart, lacking cigars, Max & Katie made their way to the Pit Stop (here the Meno a Kwena Safari) in seventh place. But wait. Could that be a glint in the all-seeing eye of Phil Keoghan? YES! For the second episode in a row the last place team was not eliminated, but left to race another day. "Honeymoon in Africa!" crowed an elated Max. "That tent's gonna be rockin'." Dude, we were doing so well there for a second and you just killed it forever.
[Photo Credit: CBS]
Follow Henning on Twitter @HenningFog
---
You Might Also Like:


Topanga's Revealing Lingerie Shoot: Hello '90s!


25 Stars Before They Were Famous