'The Amazing Race' Recap: Berlinsanity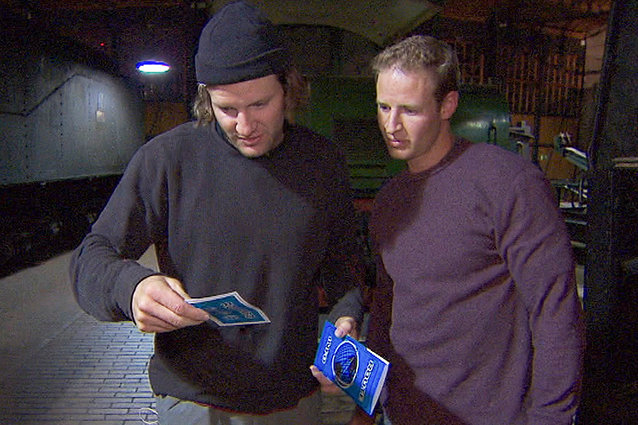 I don't know about you guys, but I just really want to drive a 2013 Ford Fusion right now. For starters? It has a turbo-charged eco-boost engine that gives you power AND great mileage. Usually you get one of those, but two — pinch me, I'm dreaming! And we haven't even talked about the media console, which handles navigation, incoming texts, and music selection. You so often hear the expression "the future is now" without knowing exactly what it means, but I get it when I consider it in light of the Ford Fusion. Why, I'd race extra hard on a leg that featured one of these killer automobiles as a prize…
Still with us? Sorry about that — these recaps have to make money for Hollywood.com somehow. Last night's leg of The Amazing Race saw teams bopping around Berlin, Germany, as they did very German things and tried to remember super-easy trivia questions. That was about it! No one got hurt. No one fell too far behind. No one was even eliminated (Mona and Beth benefited from a non-elimination round). Life was good in Berlin, Phil's proclaimed "hippest city in the world." So let's ease into it with the cool composure you'd expect from the biggest collection of David Hasselhoff fans on the planet.
Hotheads almost never make it all the way on this show. Sure, rampant aggression gets some teams very, very far…but it's always pretty unsustainable, weaving misery for the people behind it and sometimes causing some unsavory (and costly) blowups or mistakes. I say this to highlight what a great time Anthony and Bates are — two guys who played, ironically, one of the more agro sports out there but have so far taken a pretty measured approach to Race. Bates, the overgrown puppy dog of the two, somehow had his bag stolen on the train. Did he flip out? (I would have!) Sink into depression? No — dude laughed it off, accounted for his passport, and moved on. (And in the process got to flirt more with Caroline. "Do you want some women's underwear?" she asked. Cool it sister, you guys aren't even in Berlin yet.)
That same "what will be, will be" attitude got the duo through an off leg, two, as they were forced to scrap their chosen Detour and start over with the other. "Font Follies," the more blindingly European of the two tasks, involved carrying a giant neon letter from a city square to the Museum of Letters. All the letters were there — a, b, c, d, e, f, g, and so on — in what gave the impression of a futuristic glowing letter garden, neon red and yellow pulsating in the darkness. UNTZ UNTZ UNTZ. Pretty straight-forward task that literally just required teams to walk from point A to point B, albeit awkwardly, but any damage to your letter forced a restart. Bates was too busy chatting up Caroline when his hit the ground and chipped.
Off to the other Detour: "Train Trials," in which teams had to assemble a toy train track and successfully guide their train through one full lap. Joey and Meghan had little trouble with it. Bates and Anthony on the other hand took 7, 8, 9 attempts to get through. Hopefully they were treated to the same "crashing train" graphic that us viewers at home got every time things went awry!
Last week's previews would have had you believe that modified base-jumping from the roof of the Park Inn Hotel was this week's BIG CHALLENGE, but please — those dizzying heights were just a smokescreen for the real thing. Let me ask you a question: do you like tiny rooms filled with skulls? Dolls staring at you with or without eyes? Garbage? Discordant electronic music? Claustrophobia? Grimm's fairy tales art designed like a Saw movie? Then man, you're in LUCK watching the Road Block teams faced: navigating a truly unnerving labyrinth/fun house to find a clue buried within. "It's like Legends of the Hidden Temple, but bad," noted Katie. Hard to say whether psychotropic drugs would have rendered the maze more or less palatable. Can you imagine Phil saying "contestants will now drop a predetermined amount of ecstasy in order to navigate a horrific real-world nightmare-scape." I already watch this show, but I'd really watch that show.
Like we noted above, everybody made it through. Max & Katie quicker than anyone, the first to arrive at the Pit Stop. Bates & Anthony and Mona & Beth brought up the rear. Physically, Bates & Anthony are arguably the biggest threat remaining — in a foot race, as we saw last night, they'd easily take down any of the other teams. But the five teams still racing each seem to (mostly) have it together, any one of them capable of winning the million dollars. Which, if they're smart, they'd spend on a pair of 2013 Ford Focuses. $$$$
Follow Henning on Twitter @HenningFog
MORE:
'The Amazing Race' Recap: One Swiss Mistake for Chuck and Wynona
'The Amazing Race' Recap: Pam and Winnie's Off-Day Costs Them
'The Amazing Race' Recap: Listen to the Burning Bush(Men)
---
From Our Partners


Stars Pose Naked for 'Allure' (Celebuzz)


Which Game of Thrones Actor Looks Least Like His Character? (Vulture)