'The Amazing Race' Recap: The Devil in the Details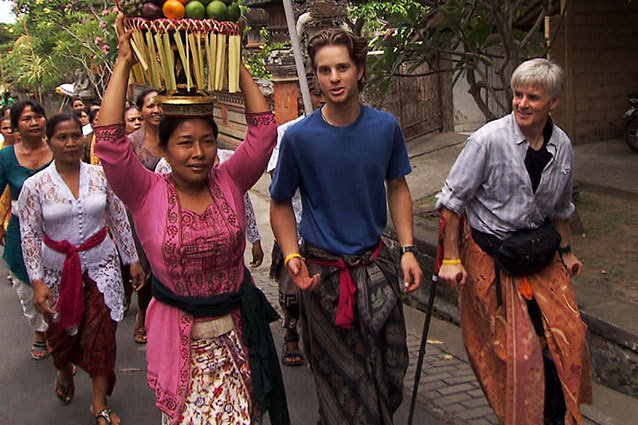 Seppuku is the Japanese tradition of ritual disembowelment, reserved for samurai who would die a warrior's death rather than fall into the enemy's hands. With a quick stabbing and slicing, the samurai literally falls on his sword — removed from the world entirely on his own terms, not by those of another lesser soul.
And so it was that Dave & Connor, on the advice of Dave's doctor, decided to "self-eliminate" at the onset of the Hanoi leg rather than continue on and be 1) eliminated on account of their enfeebled state or 2) potentially worsen Dave's ruptured Achilles further. It's the latter we should talk about for at least a second. Feels like so often on reality shows — competition-based or otherwise — the prevailing wisdom is to "power through" injuries or physical setbacks, ignoring the pain because IT'S A _____ DOLLARS, STUPID or WHAT AM I, A PANSY? or for some other stupid reason. Another version of Dave & Connor absolutely would have continued, and fallen prey to either of the two possibilities above. Probably the latter. But the two instead made a rational, adult decision… and ceremonially killed themselves in front of their samurai master, Phil.
"He's my best friend. He's my hero. He's a hard guy and he wouldn't stop," Connor explained. Then, turning to face Dad directly: "I would rather run four legs with you than win a million dollars with anybody else." Sure we could poke fun at these two perpetual-crying-machines for queuing up the waterworks one more time, but then I'd have to make fun of myself too. Because it was Niagara Falls over here, fam.
HERRRRMMMM. HERRRRRRMMMMMMMMM.
Okay. I'm good.
Teams arrived last night in HANOI, VIETNAM to a closed-til-morning challenge, which gave all seven remaining teams a chance to catch up and unwindulax in a local hotel. I'll tell you what: I love these moments. Episodes are usually so GO GO GO (this one no exception) that we rarely get the opportunity to catch teams casually interacting, making awkward chit-chat. "What do you have there?" Katie asked Pam, who was clearly unfolding one of those thermal emergency blankets. "It's one of those thermal emergency blankets!" Pam happily replied. Where you're from. What you do. And of course that eminent source of human bonding, making fun of other people who aren't you. After Max offered an imitation of the recently eliminated John (of John & Jessica fame), Wynnie redacted her earlier negative opinion of the guy. And now they're best friends!
Mona & Beth and Joey & Meghan, meanwhile, hung their heads to realize that one corner of their triple alliance had folded. I'd tell them right now not to worry so much about these so-called "alliances," but the fact is these seasons are taped month in advance. There's nothing any of us can say to the teams at this point.
GLORIOUS SUNNY LAND OF TRUTH ROAD BLOCK! Vietnam, as you may know, had something of a big fling with communism around roughly the same time The Beach Boy's 'Pet Sounds' was released. While tempered today by economic policies that have grown increasingly capitalist, Vietnam retains the same basic love of all things socialist. (Hence its official name, "The Socialist Republic of Vietnam.") Last night's Road Block celebrated this special relationship in the most appropriate way possible: propaganda in the form of pop music, which fed into a detail-heavy game of memory. While teams weren't allowed to take notes on the performance, I was. Here are some of the lyrics I was able to write down:
— "Vietnam Communist party is glorious."
— "Our land does not forget the truth in your name."
— "Socialism is growing more beautiful with time."
— "We are going to the century of light."
It's really no different than the Star-Spangled banner when you think about it. Or more accurately for the performance we saw, "It's a Small World" stuck entirely in the land of Vietnamese-brand socialism.
Most everyone required a few attempts to match the quote they were supposed to find ("Glory to our Young Generation") to the posters they had to sift through, but Pam and Wynnie blasted through the challenge in minutes. Pam, you'll remember, is a Hollywood set designer with an "eye for detail." Except now we have to remove the quotes, because she actually does have a real eye for detail!
One ceremonial bamboo dance later (I feel like I'm always typing this), Pam's eye was validated once more when both Detour paths, "Make Your Move" and "Make Your Meal," required teams to, like, pay close attention to stuff. In the former, a bunch of Hanoians who I hope don't spend all of their time like this posed as human chess pieces to be moved around a model board. In the latter, teams were given a recipe from which they needed to gather exactly the right ingredients for Pho, then make it themselves.
Pam and Wynnie opted for "Make Your Move" and finished in thirty seconds before hitting the Double U-Turn and U-Turning Meghan & Joey then finishing first this leg and winning a trip for two to Whistler (with a sleigh ride for two!), but ENOUGH ABOUT THEM. How'd Caroline & Jennifer fare? Anthony & Bates?
Both fine! Although Caroline struggled at first to grasp the rules of the human chess game much like she did the surfboard search last week, she and Jennifer were able to course-correct without crying. Anthony & Bates just…you know, completed the challenge. There is really not so much to say about either of their work this episode.
Chuck & Wynona, by comparison, cut a much more interesting figure. It was obvious from their first voiceover ("Chuck and I have grown apart a little bit in the past year…") that elimination was at the very least a possibility for the taxidermist and his wife. And then, when they were U-Turned by Meghan & Joey (who had likewise been U-Turned by Pam & Wynnie), the writing seemed even more on the wall. Their confusion in that instance, thinking it was Meghan & Joey who had done them in (when this particular setup was totally anonymous) just added some more words there. Does NO ONE READ THE CLUES?
They finally stepped onto the Pit Stop mat fully conscious of their last place finish. And yet unbeknownst to Chuck & Wynona… our two Livestrong samurais, Dave & Connor, had earned them a reprieve. I mean we're educated viewers here — we can all agree that Chuck had cleared the show's "likability threshold" to ensure a non-elimination leg as needed. And considering the way things went down in Hanoi… there's still every chance Chuck & Wynona could take advantage of that down the road. They will probably need it!
That's five episodes down, everybody; six more to go. Will we learn anything more about Bates & Anthony between now and the end, or will they remain a mystery to non-hockey fans? Can we expect Mona & Beth to at some point take advantage of their roller derby skills, or is that wishful thinking? Can someone please send Joey & Meghan a Flip cam so they can get a YouTube video or two out of their system? These questions and more, answered or not, on next week's Race. 'Til then!
Follow Henning on Twitter @HenningFog
[Photo Credit: CBS]
---
You Might Also Like:


15 Oscar-Winning Nude Scenes


Topanga's Revealing Lingerie Shoot: Hello '90s!