'The Amazing Race' Season Finale React: A Record Breaking Episode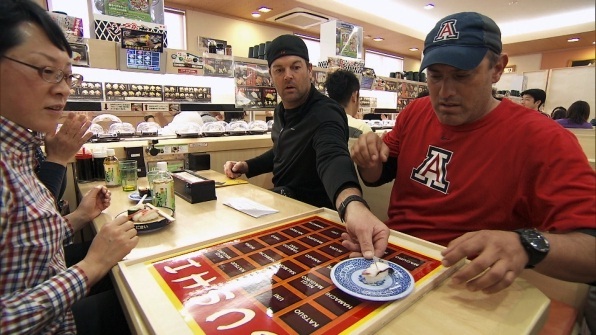 The twentieth season finale of The Amazing Race marks an impressive record in the series' history: The winning team holds claim to the greatest number of Amazing Race episode victories. Another record might exist in the amount of verbal profanities traded between teammates, but the necessary data on that has yet to be collected.
At the beginning of the episode, the remaining teams include married couple Dave and Rachel Brown, fiancées Rachel Reilly and Brendon Villegas, border patrol agents Art Velez and J.J. Carell, and boyfriend-girlfriend Ralph Kelley and Vanessa Macias. Their travels in the finale take them through metropolitan Japan and waterside Hawaii.
The episode begins with the teams scrambling to decipher Japan's public transportation system despite the language barrier. Frequent champions Dave and Rachel are left behind as the three other teams proceed to the first Roadblock challenge: "Bring that Chicken Home!" A Japanese game show-style competition forces the players to gather three hanging rubber chickens while maintaining balance on a fast-paced treadmill. Art and JJ are the first team to accomplish the goal; Ralph and Vanessa are forced to forfeit due to the latter's injured ankle.
Following this, the teams choose from two options of competition: photographing passersby behind sumo wrestler cutouts (which Dave and Rachel choose) and identifying different types of sushi and correctly placing them on a bingo board (which the three other teams choose). Despite getting off to a rocky start with their task, Dave and Rachel manage to reach their goal and arrive at Phil Keoghan's checkpoint first, followed by Art/JJ and Rachel/Brendon. Ralph and Vanessa are eliminated from the program. Onto Hawaii.
Hawaii brings one of the biggest challenges yet: the teams must first locate and then actually scale, Ghost Protocol style, a gigantic beachside skyscraper… and then rappel down, face first. From there, the teams race to a checkpoint that has them engage in an ice-shaving contest — not quite the most invigorating of tasks, but actor Taylor Wily is a fun surprise guest for Hawaii Five-0 or Forgetting Sarah Marshall fans.
Dave and Rachel win the competition, but somehow misread their instructions and wind up skipping a Roadblock. They are informed of this when they arrive at the finish line, and must double-back to the point at hand: the competition involves sledding down a grassy hill and tossing a small disk into a just-as-small goal. Despite being thrown off course, they manage to beat both rival teams at the competition, and arrive again at the finish line first. Not too shabby.
This marks Dave and Rachel's eighth episode victory — an Amazing Race record. More importantly, it marks the couple's acceptance of a million dollar prize and a trip to New Zealand. After having to spend a portion of their married life separated due to Dave's military career, it's encouraging to know that this pair will have the luxury of an opportunity to enjoy one another's company in a relaxing, romantic setting.
More:
The Voice Recap: Tears for Fears
DWTS Recap: Classical Night Delivers the First Perfect Score of the Season
[Image: CBS]