'The Americans' Season Finale: Poised for Season 2, the Stakes Are Higher Than Ever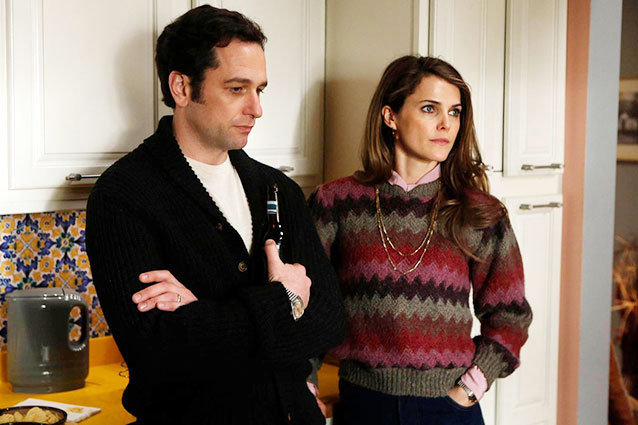 Maximiliano Hernandez (better known as the dearly departed Agent Chris Amador) said of The Americans, "The Americans for me is analogue. There's a texture to it, you can hear it." And in Wednesday's Season 1 finale, "The Colonel," all the gears and cogs — of Directorate S, the FBI, and the Jennings' marriage — are laid bare to suspenseful, poignant effect. 
The Americans has walked the line between camp and drama all season, using moments of levity (such as chuckle-worthy fashion choices and antiquated — yet period-appropriate — technology) to add lightness to what would be an otherwise very, very dark show. By including just the right amount of kitsch, we are able to continue to root for characters — namely Keri Russell's Elizabeth and Matthew Rhys' Phillip — who rack up quite the body count. And in "The Colonel," when the stakes are higher than ever, your allegiances lie firmly with the Jennings. 
The main action of "The Colonel" obviously hinges on the bait-and-switch of the trap the FBI has set for the Directorate S illegals (who we know to be the Jennings). As Elizabeth prepares to meet the colonel — and then when Phillip actually does, after he goes rogue — the audience knows that the real danger lies in picking up the surveillance tapes. And therefore the moments in which Elizabeth approaches the vehicle while Phillip tries to intercept her are the most suspenseful of the episode. Although, the car chase that follows ain't bad, either (I personally loved the vintage feel and old school car stunts). 
The emotional high point of the episode, however, is of course the touching final scene between Elizabeth and Phillip. When Elizabeth asks Phillip in Russian to "come home," you feel the cathartic release as a season full of back-and-forth rushes away. It's obvious these two love one another and, after the heartbreaking scene in "Covert War" during which Phillip rebuffs (or is oblivious to) Elizabeth's attempt at reconciliation, this moment of tender forgiveness seems long overdo. And I, for one, can't wait to see how their relationship progresses going forward, especially with the new specter of Phillip/Clark's marriage to Martha haunting them. 
Speaking of Martha, the secondary characters really came into their own in the season's final few episodes. Martha, played with incredible earnestness and care by Alison Wright, is pitiful, yes, but you can't help but love her. She's not so blinded by her love for Clark that she fails to exert her own convictions — she was, after all, able to convince Clark to let her tell her parents about their relationship as well as move up the wedding date — and that's appealing. Wright has created a layered, nuanced character where it would be so easy to fall back on caricature. And it was a surprise to all that she was able to survive the season — although I doubt she'll be so lucky in Season 2. 
The other big surprise of the season was Nina's (Annet Mahendru) new role as a double agent. Nina transformed from the victim to a force to be reckoned with, and could very well be Stan's (Noah Emmerich) downfall. Stan and Nina are, in a way, foils for one another. As Nina gains strength and grows stronger in her convictions, Stan is reduced to nearly a shell of a man. He lost his partner, he is well on his way to destroying his marriage, and his big professional moment was a bust. Nina has taken control of her fate while Stan has become victim to his — and that makes me want to root for Nina and Directorate S. Team Nina! 
So, where do we go from here? When Season 2 begins, we will once again have a unified Jennings family and Directorate S will once again have an upper hand on the FBI (thanks to Nina's double agent status and the colonel's new intel) — but that doesn't mean we have returned to square one. While Elizabeth and Phillip's relationship seems stronger than ever, how will they keep the Martha ruse going? It will surely tear Elizabeth apart to watch Clark return to Martha's (soon to be redecorated) apartment night after night. 
Also within the Jennings family, we have Paige's growing suspicion to deal with. Is Paige's curiosity simply reflective of your normal teen rebellion and tendency to delve into one's parents' past? Or will Paige become a real threat to her parents' secret identity? Furthermore, if Paige does discover her parents' true lives, how will she take it?
The other huge question mark is Claudia's (Margo Martindale) fate on the show. In the final episode, the audience was given a look at Claudia's true loyalties — which, contrary to the Jennings' belief — lie firmly with the agents in her care. And yet, Claudia may be out of the picture come Season 2. Unfortunately, Grannie's future on The Americans  may be determined by outside forces; she has a starring role in the pilot for Will Arnett's new comedy, which is currently awaiting pickup by CBS. If her new show gets a green light, we might unfortunately lose Claudia. And what a loss it would be.
Bigger picture questions I have going forward involve the spy aspect of the show, rather than the familial one. How long can the FBI and Directorate S continue to play this game of cat and mouse without it wearing thin? And will Phillip and Elizabeth continue to be given one-off missions that don't forward the overall arc of the show? These seem to truncate the action without advancing the characters in noteworthy ways. Furthermore, how do we progress in the Cold War without rewriting history? In order to keep things accurate it seems we have to shy away from big, international moves. They can't actually assassinate Reagan or drastically change the space program… can they?
The show is ripe with possibilities for Nina's advancement as well as the Martha/Clark storyline, and I'd love to learn more about Sandra (Susan Misner), Stan's cuckolded wife with an impressive amount of backbone, so hopefully we see those progressed in a second season. Ultimately, I feel in good hands with Joseph Weisberg and Joel Fields at the helm; I can't wait to see where they take us. 
Follow Abbey On Twitter @AbbeyStone
More:
Maximiliano Hernández on His 'What the F**k' Moment
'The Americans' Should Be Your New TV Obsession
Keri Russell Would 'Kick the S**t' Out of Aliens 
---
From Our Partners:


Nina Dobrev, Julianne Hough Bikini in Miami (Celebuzz)


33 Child Stars: Where Are They Now? (Celebuzz)