'The Annoying Orange' Web Series Picked Up for TV Show Because the World is Evil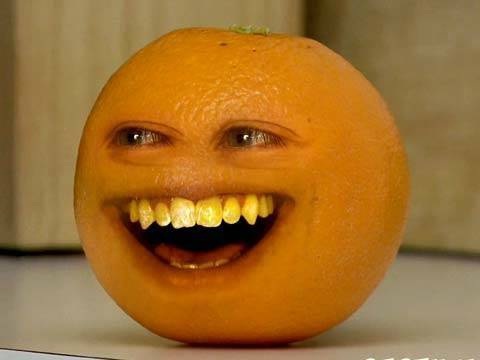 I'm going to level with you. What you're about to read is going to be hard to get through. So…brace yourselves.
As you are probably at least marginally aware, there is a web series, created about two years ago, called The Annoying Orange, which is about an orange with an eyes and mouth that says really stupid, really annoying things to other fruits/vegetables/humans/whatever comes off the top of creator Dane Boedigheimer's head. I'm not even bothering to deliver the synopsis with more distinguished diction, because there's really no reason to. Anyway, the series—which consists of over a hundred episodes, just about all of which have many millions of YouTube views—has recently been picked up by Cartoon Network for a TV show. Developing the series are Boedigheimer and Pinky and the Brain writer Tom Sheppard, who I'm shaking my head at right now. I trusted you, Tom.
Now, this news alone is…grating. But the reason it hits extra hard is that it comes in the very same week that we learned that NBC is putting Community on the bench for the upcoming spring season. Community is the absolute best, most well-crafted, ingeniously written and acted, and truly emotionally dense (not to mention laugh-out-loud funny) show on television. The catch: it requires brain-power. It requires people to allow themselves to get involved intellectually and emotionally with the characters. It requires its viewers to dissect what's going on on the surface to understand what the creators and writers are really trying to say about television and about humanity/interpersonal relationships. And though Community's very dedicated fans are clearly on board with investing themselves to this degree in the show, the benching of the series and the adapting of The Annoying Orange indicate a sad fact: so many people are distinctly complacent not enriching themselves with entertainment of intellectual merit.
And I know I'm coming across a bit rough, and probably pretty arrogant. But it's significantly saddening to me that a work of art so fueled by originality, so arduously perfected, and so instilled with a love of cinema and a really sincere appreciation for what makes people people, is being cast aside as something unimportant and unworthy of a slot on television, when an orange with a mouth shouting annoying things is being eagerly pursued as a viable source of entertainment for American viewers.
To all of you Community fans reading this, I highly recommend this excellent recap of last night's excellent episode, "Documentary Filmmaking Redux." 
Source: Deadline