The Ax Factor: 'Animal Practice' Closes Its Doors, 'Nashville' Sings a Sad Note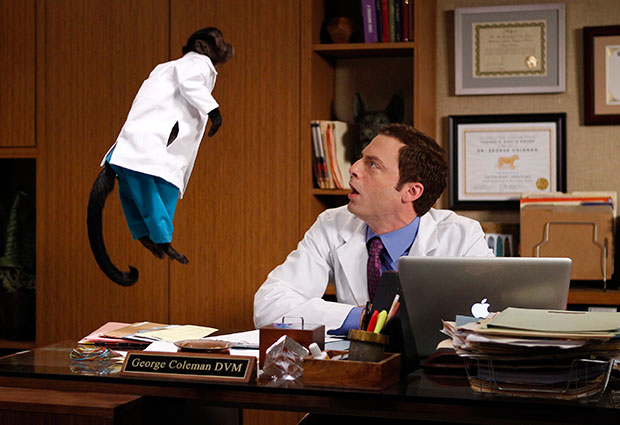 It's tough out there for a new TV show. Creators put their hearts and souls into pilots, introducing their baby bird-like new series into the big, harsh world, all the while, hoping and praying their baby can fly. Well, as you know, some shows flourish and some shows plummet. Others glide along, barely getting by or delaying the inevitable: cancellation. It's a cruel, swift death we often call The Ax. Each week during Fall Premiere Season, we'll take a look at the ratings for fall's new crop of shows and tell you which ones are flapping their baby wings just hard enough, which ones are flying, and which ones sadly, will be a victim of the Ax Factor. This week, Animal Practice became fall's second victim, while Nashville took a tumble, and Arrow continued to hit its mark.
Hit the Vegas Jackpot
Translation:
Safe!
Revolution (NBC, Mondays at 10 PM ET): Things keep getting worse for the poor, iPhone-less souls on Revolution, but the show's ratings are getting better and better. It was safe anyway since the drama received a full-season order weeks ago, but this week's 13 percent bump to 8.8 million viewers and a 3.4 rating is cause for celebration. 
Go On (NBC, Tuesdays at 9 PM ET): Picked up for the season, aired a repeat. 
The New Normal (NBC, Tuesdays at 9:30 PM ET): See above.
Ben and Kate (Fox, Tuesdays at 8:30 PM ET): Ben and Kate experienced another dip this week, down to 2.91 million and a 1.2 in its demo. The show has already been picked up, but Fox should start sweating if the numbers don't swell soon. 
The Mindy Project (Fox, Tuesdays at 9:30 PM ET): Mindy aired a repeat this week due to baseball playoffs, and she probably wasn't happy when Fox pushed Wednesday night's installment of The X Factor to her timeslot for next week. Mindy and New Girl will both be postponed another week, which is never fun for ratings. Still, she's safe for the rest of the season, so the news isn't all bad. 
Vegas (CBS, Tuesdays at 10 PM ET): Vegas has been hitting the ratings jackpot week after week, so this Tuesday's repeat shouldn't cause any damage. We expect big numbers on its Oct. 23 return.
Elementary (CBS, Thursdays at 10 PM ET): The Sherlock Holmes-inspired series may have dipped 8 percent this week — scoring 10.84 million viewers — but its No. 1 finish in the 10 PM timeslot should have CBS investigating a full-season pick-up.
Arrow (The CW, Wednesdays at 8 PM ET): It's official: Arrow has hit his mark. The CW's newest hero maintained his demo rating, and only dropped from 4 million to 3.5 million viewers week two. Keep working on that salmon ladder, Arrow — I see a back nine coming very soon.
About as Safe as Choosing Mindy as Your OBGYN
Translation: Only Time Will Tell
The Neighbors (ABC, Wednesdays at 8:30 PM ET): The Neighbors experienced a slight bump this week — gaining about 200,000 viewers — but 6.5 million still doesn't merit a spot with behemoth Modern Family, which hovers around 12 million.
Nashville (ABC, Wednesdays at 10 PM ET): Holy Moses, y'all: This critical darling, which had a grand ole opening last week, fell a whopping 29 percent its second week, to 6.8 million viewers. The folks over at FX — whose sophomore season of American Horror Story (Nashville star Connie Britton's old show) opened to huge numbers — are having the last laugh. The last scare? Either way, bad news for Nashville.
Last Resort (ABC, Thursdays at 8 PM
): Shawn Ryan's new series might have scored a touchdown this week — up 6 percent with 7.32 million viewers — but TV refs might call it differently. After all, ABC's San Francisco affiliate boosted
Last Resort
's numbers by airing Thursday Night Football. Hopefully the promising series doesn't take a dive next week. 
666 Park Avenue: (ABC, Sundays at 10 PM ET): The posh real estate is pretty much the only thing the 666 residents have going for them — the show dropped another another 12 percent, to 4.9 million viewers and a 1.5 in the demo. They haven't gone to Hell quite yet, but they're definitely starting to feel the flames…
Chicago Fire (NBC, Wednesdays at 10 PM ET): This show is also burning, but not in "oooh, it's hot!" kind of way. Chicago dropped 21 percent this week to 5.9 million viewers, and a 1.5 in its demo. If the numbers keep dropping, so will its placement on this list. Sorry, boys.
Beauty and the Beast (The CW, Thursdays at 9 PM ET): 
The ratings for the second episode of the 
Kristin Kreuk
-starring series were not so super (RIP
Smallville
), plummeting 42 percent from its premiere and attracting just 2 million eyes. That said, CW's cult favorite
The Secret Circle
 posted similar numbers, during its first season run, so could
Beauty
 repeat
Circle
's success tale (as old as time)?
As Screwed as the Guys on Arrow's List
Translation: Fear the Reaper
Partners (CBS, Mondays at 8:30 PM ET): Partners received its first bit of good news this week, as Monday's episode jumped from last week's 1.9 to a 2.1 in its demo, drawing in 6.2 million viewers. Still… drop the ax, already.
The Mob Doctor (Fox, Mondays at 8 PM ET): Oh, this is still on? Well, not really — the show is on baseball hiatus until Nov. 5, and due to its crappy ratings, we don't see it lasting much longer.
Emily Owens, M.D. (The CW, Tuesdays at 9 PM ET): Yikes. Obama and Romney's shouting match trounced poor Emily Owens, who only managed to draw 1.7 million viewers and a 0.5 rating in the adult demo. CW dramas don't need CBS-style numbers (See: Hart of Dixie, a full year of Ringer), but we think Emily could be DOA if her vitals keep dropping.
Guys With Kids (NBC, Wednesdays at 8:30 PM ET): Guys With Kids has performed slightly better than its now former partner Animal Practice, but 4.3 million viewers (up from 4.2 last week) and a 1.4 in the demo shouldn't be enough to keep this one afloat. Also — where's Community, already?!?!
Deader Than That Chick From 'Revolution'
Translation:
Canceled 
Made In Jersey (CBS, Fridays at 9 PM ET): Two episodes was all it took for CBS to pull the plug. We hardly knew ye.
Animal Practice (NBC, Wednesdays at 8 PM ET): Animal Practice became Fall TV's second victim on Thursday, when NBC announced that it would be replacing the failing sitcom with Whitney, which was previously supposed to air on Friday's with Community. Still no word on the latter, though the show's die-hard fan base has been quite vocal about its return.