The Ax Factor: 'Made in Jersey' Bombs, Three NBC Shows To 'Go On,' Fuhgeddaboud 'Mob Doctor'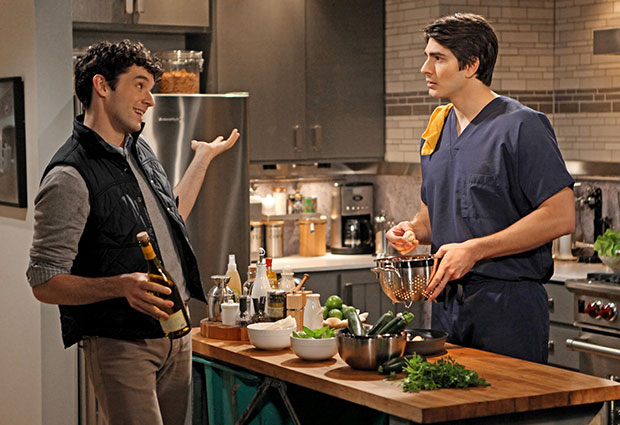 It's tough out there for a new TV show. Creators put their hearts and souls into pilots, introducing their baby bird-like new series into the big, harsh world, all the while, hoping and praying their baby can fly. Well, as you know, some shows flourish and some shows plummet. Others glide along, barely getting by or delaying the inevitable: cancellation. It's a cruel, swift death we often call The Ax. Each week during Fall Premiere Season, we'll take a look at the ratings for fall's new crop of shows and tell you which ones are flapping their baby wings just hard enough, which ones are flying, and which ones sadly, will be a victim of the Ax Factor. This week, The Neighbors fell to the "maybe" list, while CBS and Fox are (again) in danger of claiming their first victims.
The Lights Won't Be Turned Off For These Bad Boys
Translation:
Safe!
Revolution (NBC, Mondays at 10 PM ET): Revolution drew 8.4 million viewers this week — a bit down from last week, but these numbers were still powerful enough (HAH!) to garner a full-season pick-up for the J.J. Abrams and Jon Favreau-backed show.
Go On (NBC, Tuesdays at 9 PM ET): Despite a 19 percent drop, it looks like Matthew Perry's group therapy sitcom will go on for at least the rest of the television year after NBC picked up the series for a full season — could you *be* any more excited about the order, Matt? 
The New Normal (NBC, Tuesdays at 9:30 PM ET): This just goes to show that buzz can create miracles: Despite still-declining ratings (down 15 percent this week, with only 4.6 million viewers) the Ryan Murphy sitcom was the third peacock show to receive a full season order this week. 
Vegas (CBS, Tuesdays at 10 PM ET): Luckily for fans of Dennis Quaid and Michael Chiklis in cowboy hats, Vegas survived this week's Terrible Tuesday. Ratings were down for pretty much everyone, but CBS still won the night, and Vegas won the 10 p.m. hour with 12.1 million viewers. Let's hit the casinos, shall we?
Elementary (CBS, Thursdays at 10 PM ET): Lucy Liu's modern incarnation of Watson might be slightly troubled by their 16 percent drop from last week, but CBS still won the night by a long shot, so this series' current safety is no big mystery.
Last Resort (ABC, Thursdays at 8 PM): Could this Scott Speedman-led drama be sinking ship? Last Resort lost over a million viewers this week — about 18 percent of their premiere audience. Still, despite losing to The X Factor behemoth and CBS's unsinkable comedy hour, it bested NBC's comedy block by a long shot.
These Guys' Futures Are About As Secure As The Renegade Crew of the USS Colorado 
Translation: Only Time Will Tell
Ben and Kate (Fox, Tuesdays at 8:30 PM ET): Ay yi yi. We love this adorable brother-sister (and a baby!) comedy, so we were sad to learn that its ratings continued to decline. In fact, only returning champion New Girl was safe last Tuesday night, which found Fox in third place behind CBS and NBC. Ben and Kate drew in 3.3 million viewers, down 24 percent from last week.
The Mindy Project (Fox, Tuesdays at 9:30 PM ET): Mindy had similar luck as her friends Benjamin and Kate. The Mindy Project was down 21 percent from its premiere, booking only 3.7 viewers for an appointment with Kaling-style laughter. The show is buzzworthy enough to stay afloat, but we're slightly concerned about its chances down the line.
Guys With Kids (NBC, Wednesdays at 8:30 PM ET): This week brought some good news for the guys who just so happen to have kids: The show was up by 13 percent with a 1.8 rating and 5.5 million viewers. Not too shabby for an NBC-com — just ask its Thursday night counterparts. Still, it hasn't received a full season pick-up from the Peacock, and we're not entirely sure that it will.
Animal Practice (NBC, Wednesdays at 8 PM ET): Animal Practice
fared better this week, but
Justin Kirk
's grumpy vet with a pet monkey-com is still on the brink of trouble. It went up by 7 percent with a 1.5 rating and 5.22 million viewers, but that's not necessarily enough to justify a pick-up.
The Neighbors (ABC, Wednesdays at 8:30 PM ET): Critics must have been dancing for joy when they learned that this heavily panned comedy fell 38 percent in its demo, to a 2.0 rating with 6.61 million viewers.
666 Park Avenue: (ABC, Sundays at 10 PM ET): Apparently, big-name stars like Terry O'Quinn and Vanessa Williams and a Once Upon A Time/Revenge lead-in weren't enough to scare up some serious numbers for this supposedly promising new drama. 666 Park drew in 7 million viewers — not bad, but not as deviously delicious as it could have been.
These Ones Could Soon Go the Way of a Date With Dr. Mindy Lahiri
Translation: Fear the Reaper
Partners (CBS, Mondays at 8:30 PM ET): Despite the success of that other network comedy that stars a bunch of gay characters, Partners is floundering. This week it only found 5.7 million viewers — down, again, from last week. Those numbers would add up to a hit on Fox, or a blockbuster on NBC, but for CBS — where neighboring comedies How I Met Your Mother, 2 Broke Girls, and Mike & Molly clock in 8.2, 9, and 8.5 million viewers respectively — it's a sign of bad things to come.
The Mob Doctor (Fox, Mondays at 8 PM ET):
It's looking more and more likely that
The Mob Doctor
will be the first fall show to get whacked. Which we're sort of okay with, since we'd love to see
Jordana Spiro
and
Zach Gilford
on better shows. This week's episode fell another 23 percent to 3.5 million viewers, and a 1.0 rating in the adult demographic. Ouch! Someone call the… well, Mob Doctor. Or don't. She's terrible.
Made In Jersey (CBS, Fridays at 9 PM ET): The critically panned drama did terribly on CBS standards: It opened to 7.7 million viewers, and a grim 1.1 rating among adults 18-49. I guess turning Snooki into a big-shot Manhattan lawyer wasn't such a good idea, after all. 
But, wait! There's more. These new shows have yet to premiere:
Chicago Fire, NBC (Oct. 10)
Nashville, ABC (Oct. 10)
Arrow, CW (Oct. 10)
Beauty and the Beast, CW (Oct. 11)
Emily Owens, M.D., CW (Oct. 16)