The Ax Factor: 'Made in Jersey' Gets Unmade, Say YeeHaw to 'Nashville'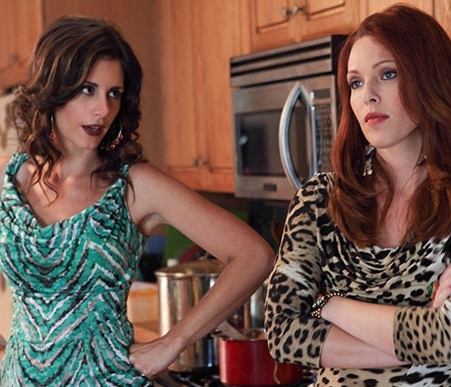 It's tough out there for a new TV show. Creators put their hearts and souls into pilots, introducing their baby bird-like new series into the big, harsh world, all the while, hoping and praying their baby can fly. Well, as you know, some shows flourish and some shows plummet. Others glide along, barely getting by or delaying the inevitable: cancellation. It's a cruel, swift death we often call The Ax. Each week during Fall Premiere Season, we'll take a look at the ratings for fall's new crop of shows and tell you which ones are flapping their baby wings just hard enough, which ones are flying, and which ones sadly, will be a victim of the Ax Factor. This week, Made in Jersey became fall's first victim, while Nashville and Arrow hit the bullseye.
This Group Hit the Fall TV Bullseye 
Translation:
Safe!
Revolution (NBC, Mondays at 10 PM ET): This week, Revolution continued its run as NBC's most successful drama in years. The series — which has already received a full-season pick-up — won the 10 PM timeslot for the peacock, and brought in a strong 3.1 rating in its demographic. Now, if only they could figure out how to turn those damn lights on…
Go On (NBC, Tuesdays at 9 PM ET): Apparently, the hearts of the viewers will Go On — the show hit a three week high this Tuesday, and it's already been picked up. 7 million viewers ain't too shabby.
The New Normal (NBC, Tuesdays at 9:30 PM ET): It was good news for The New Normal folks, too — the mixed family comedy was up this week, earning a 2.0 rating (last week drew 1.7) and 5 million viewers. 
Ben and Kate (Fox, Tuesdays at 8:30 PM ET): Fox apparently knows that good reviews and positive fan response can sometimes trump middling ratings (hello, Fringe!), which led to good news for Ben and Kate this week. Congrats on your full season order, you crazy kids! You did drop to 3.3 million viewers, but Hollywood.com likes to focus on the positive. 
The Mindy Project (Fox, Tuesdays at 9:30 PM ET): … Same goes for The Mindy Project. Fox ordered an additional nine half-hours of Mindy, the season's number one new comedy amongst adults 18-34. 3.6 million viewers isn't great, but it's enough to keep the project rolling.
Vegas (CBS, Tuesdays at 10 PM ET): This one's about as safe as your likelihood to go home with a headache after a wild night at the Bellagio. 11.8 million viewers will keep this ship afloat. It'll get picked up soon.
Elementary (CBS, Thursdays at 10 PM ET): Elementary didn't air a new episode this week, but we suspect that after last week's 11-ish million viewers, Lucy Liu and Jonny Lee Miller will continue to do pretty damn okay.
Arrow (The CW, Wednesdays at 8 PM ET): 4 million viewers wouldn't be a bullseye on another network, but this marks The CW's biggest premiere since The Vampire Diaries took its first bite in 2009. We think this one will stick around for awhile — like, Smallville levels of awhile. 
Nashville (ABC, Wednesdays at 10 PM ET): Critics have been singing the praises of the new Connie Britton/Hayden Panettiere drama, and it paid off. 9 million viewers tuned in to hear their tunes, winning the 10 p.m. hour in the adult demo.
Beauty and the Beast (The CW, Thursdays at 9 PM ET): We have to admit, we were more than a little surprised that this critically panned Kristen Kreuk drama did so well, but having The Vampire Diaries as a lead-in ain't too shabby. 3.1 millions viewers for a CW show equals safe — for now.
These Guys are About as Safe as a Child Hanging out With Ben From 'Ben and Kate'
Translation: Only Time Will Tell
Guys With Kids (NBC, Wednesdays at 8:30 PM ET): Guys With Kids has fared slightly better than Animal Practice, but its numbers are still nothing to write home about. The dudes took a 13 percent loss and drew in 4.2 million viewers.
Animal Practice (NBC, Wednesdays at 8 PM ET): The ridiculously cute monkey hasn't been enough to maintain viewers. Animal Practice took another 15 percent dip, with 3.9 million tuning in.
The Neighbors (ABC, Wednesdays at 8:30 PM ET): After taking a major hit last week, Neighbors remained steady. That's relatively good news for the quirky comedy, but its numbers (6.3 million) aren't nearly high enough to justify a Modern Family partnership. At this point, it's 50-50.
Last Resort (ABC, Thursdays at 8 PM
): The
Last Resort
pilot was a smash, but the Shawn Ryan drama has been a sinking ship ever since. The news was bad again this week, as the show endured another drop (16 percent), with only 6.9 million viewers and a fourth place finish for ABC.
666 Park Avenue: (ABC, Sundays at 10 PM ET): Apparently, 666 Park's ratings are scarier than Terry O'Quinn. The show has failed to draw in new viewers, dropping a frightening 19 percent this week with 5.1 million viewers. This one might drop to the next category next week, unfortunately. 
Chicago Fire (NBC, Wednesdays at 10 PM ET):
Bad reviews and the competitive performance from 
Nashville
 smothered this fire. Hot shirtless firefighters weren't enough to draw in big numbers, leading to a disappointing 6.4 million debut.
These Guys are as Screwed as the Residents of 666 Park
Translation: Fear the Reaper
Partners (CBS, Mondays at 8:30 PM ET): Partners came in third place in its timeslot this week, and while 6.3 million viewers would be great on, say, NBC, CBS might be better off airing some Two and a Half Men reruns.
The Mob Doctor (Fox, Mondays at 8 PM ET):
The Mob Doctor
folks are probably loving
Made in Jersey
this week, but not being the first show cancelled is the only victory the show won this week. The show came in fourth place, with a measly 1.0/2 in its demo and 3.4 million viewers. The doctor may be in, but the viewers have officially peaced out. 
Deader Than Country Singer Rayna James' Career
Translation:
Cancelled 
Made In Jersey (CBS, Fridays at 9 PM ET): Everyone who had Mob Doctor as first to go in their TV pool, pay up: CBS cancelled Made in Jersey after only two episodes this week, making this cheesy drama fall TV's first victim.
But, wait! There's more. These new shows have yet to premiere:
Emily Owens, M.D., CW (Oct. 16)