The Ax Factor: 'Vegas' Is Lucky, 'Go On' Is Going Strong, & 'Mob Doctor' May Get Whacked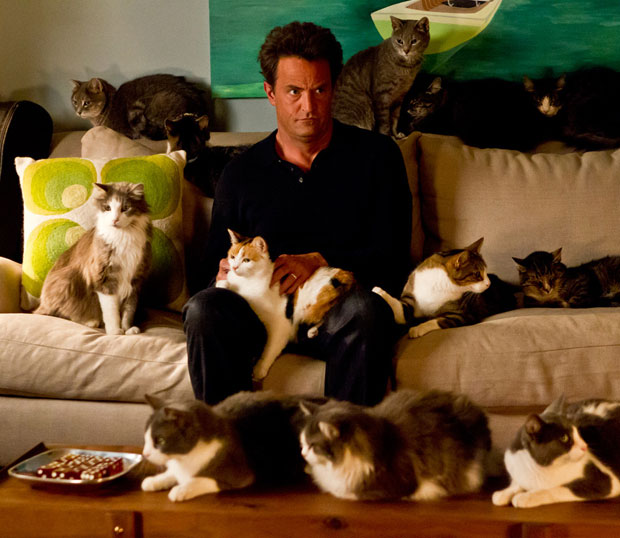 It's tough out there for a new TV show. Creators put their hearts and souls into pilots, introducing their baby bird-like new series into the big, harsh world, all the while, hoping and praying their baby can fly. Well, as you know, some shows flourish and some shows plummet. Others glide along, barely getting by or delaying the inevitable: cancellation. It's a cruel, swift death we often call The Ax. Each week during Fall Premiere Season, we'll take a look at the ratings for fall's new crop of shows and tell you which ones are flapping their baby wings just hard enough, which ones are flying, and which ones sadly, will be a victim of the Ax Factor. This week, CBS and Fox are in danger of claiming their first victims. 
These Guys Are Flyer Than Dennis Quaid in a Cowboy Hat
Translation: Safe!
Go On (NBC, Tuesdays at 9 PM ET): This Matthew Perry grief-counseling sitcom has warmed more than a few hearts, so much so that it's even beating out the beloved New Girl over on Fox, hitting 7 million viewers this past week. These numbers may average elsewhere, but at NBC, these are the kinds of figures that bring out tears of joy. 
Revolution (NBC, Mondays at 10 PM ET): Perhaps it's the presence of terrifying former Breaking Bad villain Giancarlo Esposito on this J.J. Abrams and Jon Favreau-backed show forcing folks to tune in in mass quantities, but no matter what the reason, the drama is besting both big Monday night dramas, Castle and Hawaii Five-0, in the coveted 18-49 demo. 
The Neighbors (ABC, Wednesdays at 8:30 PM ET): What's better than an evening of family comedies on ABC? An evening of family comedies, with an alien society wild card thrown in, of course. At that's what the numbers for ABC's new Honey We Moved In Next Door to Aliens show. It debuted at just over 9 million viewers, and that'll do. 
Vegas (CBS, Tuesdays at 10 PM ET): Dennis Quaid and Michael Chiklis in cowboy hats facing off in the desert paradise of sin known as Las Vegas in the 1960s? Yep, that'll nab you 14 million viewers, no problem. 
Elementary (CBS, Thursdays at 10 PM ET): (CBS + Crime + the Familiar dynamic of Sherlock Homes and Watson – stuffy Victorian garb and magnifying glasses) x (Lucy Liu + Attractive Brit) = ratings. It's so simple. You could even say it's… elementary. 
Last Resort (ABC, Thursdays at 8 PM): This show about a submarine crew rebelling against the amoral actions of their own country wrangled a decent audience in its first television voyage… and in one of the toughest slots in prime time, to boot! Nine million viewers when you're facing The Big Bang Theory and Two and a Half Men is nothing to balk at. 
These Folks Are Less Certain of Their Futures Than a Grown Woman With a Hookup Buddy
Translation: Only Time Will Tell
Ben and Kate (Fox, Tuesdays at 8:30 PM ET): This show is so cute and lovable, you'd think it could subsist on its own brand of brother-sister sunshine. But it can't. It needs ratings, and right now, it's in the 4 million viewer chasm. Will Fox give it a chance anyway (like it continues to do with Raising Hope)? 
The Mindy Project (Fox, Tuesdays at 9:30 PM ET): Oh, Mindy. How you love your romantic comedies! Maybe this is just that first part of every sugary love story. You know, the part where you're down and out (ratings are kinda low). If all goes to plan, soon you'll get a makeover (higher ratings) and live happily ever after (get a full season order). If not, this will be one of the annoying dark romantic comedies that aim to correct all our notions of fairy tale romance (you'll get the dreaded cancellation ax). 
Guys With Kids (NBC, Wednesdays at 8:30 PM ET): What's better than three men with three babies? Ratings above 4.8 million. Still, can't quite ring the death knell, NBC gives their shows a little room to grow. 
Animal Practice (NBC, Wednesdays at 8 PM ET): Justin Kirk? An adorable monkey? Solving medical mysteries? And hating… humans. Oh. That's why this middling sitcom only wooed a grand total of 5.2 million viewers. 
The New Normal (NBC, Tuesdays at 9:30 PM ET): This buzzworthy Ryan Murphy creation may have ratings as bad as Animal Practice, but it has one thing the monkey doctor show can't manage: people are actually talking about it. 
These Ones Could Soon Be Sleeping With the Fishes
Translation: Outlook is Grim
Partners (CBS, Mondays at 8:30 PM ET): With the equivalent of a CBS F at a measly 6 million and change, Partners needs a pick-me-up. Either that, or this Will & Grace knock off is going to be sent to an early death. 
The Mob Doctor (Fox, Mondays at 8 PM ET): Hey doctor, you're looking a little anemic over there with a measly 3.9 million viewers during your last episode. Jordana Spiro's Chicago doctor may be working on paying down her brother's mob debt, but if she doesn't churn out some bigger audiences (and fast) her show may be the first of the season to get whacked. 
But, wait! There's more. These new shows have yet to premiere:
Made in Jersey, CBS (Sept. 28)
666 Park Avenue, ABC (Sept. 30)
Chicago Fire, NBC (Oct. 10)
Nashville, ABC (Oct. 10)
Arrow, CW (Oct. 10)
Beauty and the Beast, CW (Oct. 11)
Emily Owens, M.D., CW (Oct. 16)
How's your favorite show doing? Do you have a plea to keep your favorite scrappy doctor on TV? Let us hear it!
[Photo Credits: NBC]