'The Bachelor' Recap: Sean Tells All (or Nothing)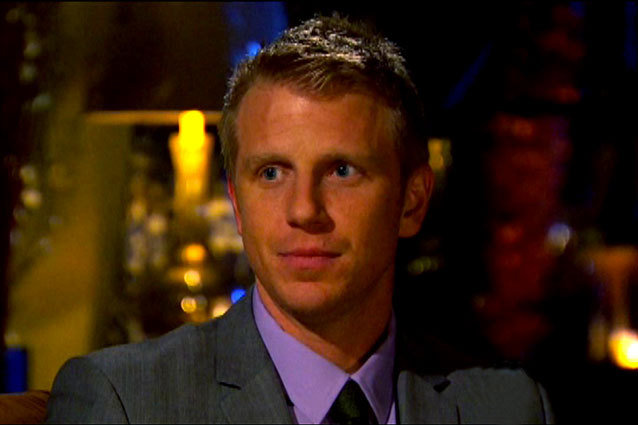 Finally — the world now knows the kind of man Sean Lowe really is when he has a shirt on. Answer? A sort of gossip-y one! But only if your idea of gossiping is saying 'oh bless her heart!' after church while hearing a fellow parishioner talk about their troubled teen. Secret side, oh how you've revealed yourself! Chris Harrison wrangled The Bachelor  into a shirt and chair in order to talk shop about the girls and gripes from his very Tierrable season. Sure, we got some good insight into the world of Tierra the Hun, but we had to wait (impatiently!) through a lot of talk about the other ladies that we care about far, far less. Let's see what Sean had to say about these lasses of yore, shall we?
Desiree — Sean's most recent victim was first up. Mostly, Sean just talked about how Turtle Jr. (aka her brother) had one of the world's most punchable faces. He's right up there with Pete Campbell from Mad Men. But the idea of our fair Sean engaging in fisticuffs?! Never, I say! Only he claims he did want to put his fist against Turtle Jr.'s face. Not only because of the stupid things he said, but also because Turtle Jr. actually did a 180 — TWIST! That's right, apparently Turtle Jr. was the first bro on the scene (like always), and he made sure to tell Sean that he "kinda" liked him after a bit of a heart-to-heart. So what the audience saw was actually a second conversation between two bros. Tricky, tricky, ABC! We still don't care though because ultimately Turtle Jr. was right and his sister was sent home. Maybe she wouldn't have if he hadn't been so awful, but he was awful so here we are.
RELATED: 'The Bachelor' Recap: Home Is Where The Boring Is
Sarah — Sean talked about one of the more likeable ladies for about two seconds. He hopes she finds love. The end. We'd like to extend this idea to ABC & NZK: if you just Have to go with another pretty blonde person for The Bachelorette (ugh), at least go with this pretty blonde person, because she's more than just a (you guessed it!) pretty blonde person.
Selma — Also known as the Next Great Arie-ian Conquest, Sean and Chris pretty much just talked about how badly Sean wanted to get it in with Selma. Only he would NEVER because he's a born-again virgin! Which, can someone tell Sean there's no take-backsies on sexual encounters? Sex isn't a present you can take back to Macy's for a store credit later. I'm questioning that whole "born-again" bit more and more. Anyway, Selma and Sean couldn't put their mouths on each other because of modesty or something, so instead they deduced that since kissing involves to mouths touching, hastily touching a few other (read: less sexual) body parts together will totally work just as well! Those parts included noses, probably elbows, maybe a couple fibulas, definitely maybe an earlobe or two, and eyelashes. EYELASHES! Do you know how weird it is to look at two people trying to touch spindly eye hairs together? Answer: REALLY F**KING WEIRD! The CREEPIEST. F**k anyone who's down with a "butterfly kiss," man. (I can't even believe I'm typing those words out loud, please forgive me.) Promptly check yourselves into Fairytale Romance Rehab if you're down with these sort of shenanigans.
Lesley M — Kissing! Lots and lots of kissing! Also, not a lot of love-talking. And apparently by not telling Sean she loved him, she totally lost her chance. There was an additional moment of awkward when a cut scene with a brownie and "dirty talk" was shown. Sometimes I can't help but think that these people want to be some weird hybrid of adult and baby or something. It's weird. Anyway, Lesley's a fan favorite! Will she be in the running to be the next Bachelorette? I'm on team Anyone But AshLee Because I'm A D**k, so sure, she can have the job if she wants it. Still vanilla as hell, though, guys.
RELATED: 'The Bachelor' Recap: Never Let Them See You Sparkle
And then there was…dun dun dun: Tierrable! That's right, Tierra the Hun, conqueror of Sean Lowe's northern borders, she almost made her way to Rome (his heart), but was turned away and defeated near the gates. But it was a long, long way to get there, and it certainly wasn't easy. In fact, Sean makes a point to let America in on a secret: "Being The Bachelor is not easy. In fact it's really hard sometimes!" You're right! How cruel we've been! Poor Sean, forced to live a life of shirtlessness over the course of weeks while he travels the globe with a harem of ladies just wanting to please his body and his soul. On camera for the whole world to see and for him and ABC to profit off! The horror. We are just monsters, aren't we? Your life sounds very difficult Sean. I'm sorry.
Anyway, back to Tierrable, aka the only reason anyone cared about this season. When Sean watches it back he thinks, "Man, I was such a fool." Don't be so hard on yourself, Sean! You said it yourself: being The Bachelor is really hard sometimes. It's hard to see the crazy from the hot trees, isn't it? In the end he believes "Tierra never should have come on the show. She's not suited for this show." and that "she's a woman that simply can't get along with her peers" because she was "getting into arguments with the best, sweetest girls in the house." "In hindsight, I wish I would've kept Jackie on the two on one," he stated (which I'm sure Jackie is so happy to hear!) But Sean knew that it was time to cut the Tierrable cord when the attention when from me me me to her her her: "Every girl was focusing on Tierra and not me!"
One fun fact we learned is that the seemingly nonsensical, confusingly stupid fight between Robyn and Tierra went on for hours and got really heated. Slowly the rest of the women started jumping on board this hate parade as it literally traveled from room to room. It was probably the only thing in that house that could've lasted all night (as it did). Who says wind energy isn't a viable option for our nations' energy independence?!
RELATED: Winter Is Coming. And It Is Tierrable.
One of the last girls he spoke about (other than Ashley P. aka the drunk 50 Shades Of Greymesspile) was Catherine. Because Catherine is totally going to win this thing, you guys! Look at the way he spoke about her: that was a s**t-eating grin if ever I've seen one. They spoke of Catherine's little love notes that she frequently passed him throughout filming. Often these contained cute declarations coupled with an off-guard sense of humor, which Sean finds endearing. Also? "The girl is very flexible." She's a contortionist! Once Sean gets that girl into their marital bed, man he's going to love pretending that he could last long enough to swing it with a real sexual contortionist!
Until that night of wedded bliss takes place, all us viewers will just have to survive on the scraps of next week's overnight dates. Ooh la la! Don't worry folks. This is Sean Lowe: there will be shirtlessness, but there won't be hanky-panky.
What did you think of Sean "telling all?" Is that what you would call this? Let us know in the comments!
[Photo Credit: ABC]
Follow Alicia On Twitter @Alicialutes