'The Bachelor' Recap: Week 6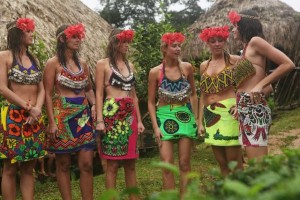 S16E6: Every episode of The Bachelor is intriguing for various reasons although most center around girlish catfights. But tonight's show was particularly interesting because two (un)lucky ladies were picked to go on the infamous two-on-one date where only one of them will get to stay and the other will be sent packing. No pressure, right? Yes, it was a night of awkward moments all the way across the board, including some surprising send offs along the way. But that's what makes shows like this so fun to watch, so let's see what these girls had in store for us this week.
"I'm the first person to get a second one-on-one." – Kacie B.
Tonight, Ben took the nine remaining girls to Panama City and it was an absolutely beautiful location. Seriously, I just can't stop thinking how lucky these girls are to go to exotic places and drink wine all the time. Forget all the judgements I've had about this show, because I totally want to hop on this bandwagon. Anyway, Ben chose Kacie B. for the one-on-one date and took her away to a private island for the day where they were left completely stranded with only a few supplies. Ben felt this would be a great way to see how well they worked together as a team since that's a pretty important concept in marriage. They went fishing, drank from actual coconuts, and even made a fire. All-in-all Ben thought it was a lot of fun, but he wanted to see how dinner went so they could delve even further into the relationship by opening up to each other more. So when Ben asked her what sort of events happened to her in her life to make her the strong person she is today, she confessed that she used to have an eating disorder. She was both anorexic and bulimic for a year in high school, but was able to recover from it and came out a stronger person. It was pretty deep stuff to get into, but Ben appreciated her honesty and found that he liked her even more now knowing some of the obstacles she's had to accomplish in her life so far. She's a survivor and he liked that. Of course, she got a rose.
"I don't do anything half-ass." – Ben
On the group date, Ben took six of the ladies on a canoe trip on the river where they soon encountered a little village. So, naturally, they stopped by to visit and take part in the whole cultural experience. Ben stripped down into a loin cloth and the girls changed into beaded garments, which were pretty see through, so they all decided to keep their bathing suits on underneath…well, everyone except Courtney. She proceeded to shake her boobs and draw as much attention to them as possible so that Ben would notice, which, of course, he did (he's a guy). So the better part of the day was spent watching Courtney steal Ben away constantly for some one-on-one time while all the other girls sat there and watched. I don't like her, but you have to give her credit for her initiative. I just wish the other girls would step up and not let her get away with it.
At the cocktail portion of the evening, Emily apologized to Courtney about the whole talking-about-her-to-Ben thing, but she reacted the same way we would think: badly. She blatantly said that they'll never be friends and she can never forgive someone who disrespects her like Emily did, basically reminding all the girls just how awful she really is. But Courtney's reign of terror didn't stop at just that. She also distracted Ben during his alone time with Jamie (who still hasn't even kissed him yet) by laying around in a skimpy bikini right in range of their conversation, completely killing the mood so Jamie STILL couldn't get that kiss. Rude much? Additionally, Courtney took Ben aside and made an offer for him to stop by her room later that night, thinking they could get some special, unprecedented alone time together like they did during their little skinny dipping rendezvous. However, all her efforts were for naught because Lindzi ended up with the group date rose and he never showed up to her room.
"Two girls, one rose. One stays, one goes." – Ben's date card
Then it was time for the most awkward date ever: the two-on-one date. Good for Ben, but awful for Rachel and Blakeley since that meant one of them would be going home by the end of the night. And while Rachel was nervous like any proper human being would be, Blakeley acted extremely excited and confident about the whole thing, saying she couldn't wait to get some private time with Ben…well, semi-private at least. So with both women on his arm, Ben took them to a Latin dance bar where they received private salsa lessons. This was to show Ben which girl he had better chemistry with both on and off the dance floor. Blakeley was definitely the better dancer of the two and used her promiscuous moves to try and sway Ben into picking her. Rachel, however, found that approach to be ultimately tacky and just hoped that Ben wouldn't confuse Blakeley's seduction for an actual connection. So at the end of an unavoidably awkward dinner that lasted for a total of 2 minutes, Ben decided to give the rose to Rachel, inevitably sending Blakeley home. I was actually a little surprised by the decision, especially since Blakeley's been so open and honest with him lately. She even showed him a book she'd been making about the two of them (which could be seen as mildly creepy), but nevertheless the heart wants what it whats and apparently he just wasn't feeling a connection with her as much as Rachel. So after some major crying that I thought would never end, Blakeley left, which allowed the creepy bag guy to stop by the girls' place and silently remove her luggage. On a side note, is that guy not allowed to talk to them? Is it supposed to make the act seem more dramatic? Somebody explain this please!
As part of an interesting side story, Chris Harrison showed up the following day and asked to talk to Kasie S. privately. And since we all know Chris pretty much does nothing on this show, we knew his mere presence meant something big was about to go down – and it was. It turned out that Kasie S. was still very much in love with another man before even coming onto the show. Chris even talked to the alleged guy himself and he gave off the impression that they were still seeing each other. Kasie denied that was true, but did admit that she still loves him, but knows it can never work since he never wants to get married. So basically, she's in love with him, but doesn't want to be in love with him because the relationship won't ever go where she wants it to. Chris then suggested that she go talk to Ben about this and sort it all out. Once she explained everything, Ben said that he wished she had been more honest with him right from the start since he's sent other girls home that he knew really wanted to be there. For what it's worth, I think he appreciated her honesty with him, but in the end he told her she should go home since she's not fully invested in the falling in love…not with him at least. So another one bites the dust.
"Damn, I'm a prude." – Jamie
After hearing about what happened with Kasie, all the girls are set on proving that they're in this for the right reasons. Jamie even decided to try her hand at being assertive for a change at the final cocktail party, although it doesn't go exactly how she planned. For one, she straddled Ben and it was awkward. Then she couldn't stop giggling while they kissed. And then she proceeded to give him instructions about how they were going to make out and OH MY GOD it was awful. Seriously, I couldn't handle it and neither could Ben apparently because she was the one to be sent home at the rose ceremony. Talk about the kiss of death. Next week, they're all off to Belize!
So what did you think of tonight's episode? Were you surprised by Kasie S.'s departure? Do you think Ben made the right choice in sending Blakeley home? How awful was Jamie's first kiss? Sound off in the comments below!