'The Bachelor' Returns: Everything's Coming Up Roses for Sean Lowe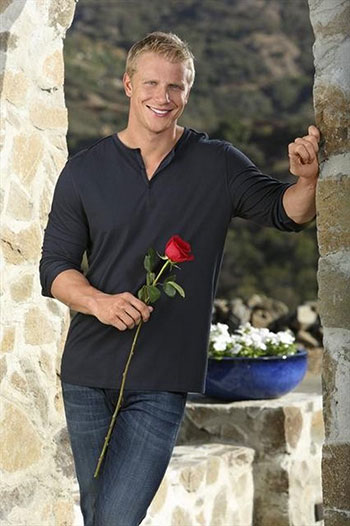 True love! It's just a remote control away, America. At least, that's what the folks at ABC's The Bachelor and The Bachelorette will have you believe. So they're back for another season of tears, fears, love, loss, and downright crazy—this time featuring Emily Maynard's sloppy seconds, Sean Lowe. Unfamiliar with the turf on which you may want to tread tonight? Read up on what you've missed, what we want to see, and what could happen on this season of The Bachelor, premiering tonight on ABC at 8PM ET/PT.
The Bachelor
Where We Left Off: After having his heart broken by Bachelorette star Emily Maynard, third place beau Sean Lowe is here to get his romance on in the spin-off series' original iteration. Ladies from across all over the United States (plenty of whom likely have head-shots filed over at Central Casting) turn to the one place to find true love in the history of the word: television. Here, they will mentally and emotionally battle it out for the chance to lay claim on Lowe's lonely Texas heart. There are rumors of wedding dresses, crazy fights, and all the bleeding heart love you've come to expect from the series.
You'll Like It If: You're more invested in other people's relationships than your own. If you feel like true love can be found over the course of several weeks of a highly-structured filming schedule. You like to watch girls cry after totally falling in love over the course of 30 minutes. If you like blonde people, then you'll definitely want to watch this show. So many blondes, so little time!
Top 5 Reasons You Might Want to Watch: 5.) If you need a bit more mediocrity in your life. 4.) You're more obsessed with finding love than Lady Edith on Downton Abbey. 3.) Chris Harrison! 2.) Fancy dates in exotic locations, sometimes with surprise mid-level musical guests. 1.) To gleefully squawk with your friends about The Crazy One, The Drunk One, The Clear Favorite, and the Total Weirdo.
5 Reasons You Might NOT Want to Watch: 5.) If you have standards/shame. 4.) If you have a social life that in any way involves you putting your mouth on another person's mouth. 3.) You've grown tired, after thousands of years, of watching the wrong people end up together for the 1 month or so these couples generally stay "so in love." 2.) You find Sean Lowe to be as interesting and engaging as a fitted sheet. 1.) You live a perfectly fulfilling and happy life filled with an endless amount of love, happiness, and hilariously over-the-top drama courtesy of other people.
5 Reasons You Should Keep Watching: 5.) Because the girls always end up being ridiculous. 4.) Chris Harrison! 3.) You find joy in the sadness of others. 2.) It'll make you feel better about yourself! 1.) What else do you have to do on a Monday night, really?
What We Ultimately Want To See: More of the same, really. This is one show where you know you're getting some lowest-common-denominator type-stuff, which is what makes it so enjoyable to watch. You roll your eyes, laugh, and thank goodness that your love life is nothing like this. Sean Lowe was an interesting choice for The Bachelor—he wasn't the hot, dangerous one (that was Arie), and he was just so nice. (Too nice, if you ask me.) We'd love to see Sean go the way of former Bachelor Ben Flajnik and surprise us by getting a bit egotisical and jerky. No one will see that coming! Can television change Sean?
What Would Make Us Turn Our Backs: If nothing happens. If Sean takes the logical, methodical approach to dating that others tend to do in the real world. If the dates are boring. If the women aren't crazy enough. If Courtney Robertson shows up again now that she's broken up with both Ben and Arie—boy that would be the worst.
Do you watch The Bachelor? Excited for tonight's premiere? Let us know in the comments and tune in tonight for our recap!
[Photo Credit: ABC]
Follow Alicia on Twitter @alicialutes
More:
Sean Lowe Officially Named The New 'Bachelor'
Reality Steve Responds to Second 'Bachelor' Spoilers Lawsuit
Love By Numbers: The Big 'Bachelor' Breakup Barometer

'Texas Chainsaw': Top 5 Leatherface Kills (Moviefone)