'The Bachelor': Why Bad Girls Always Win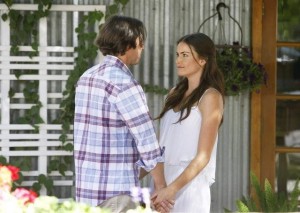 Ever since its inception in March 2002, The Bachelor has prided itself on helping others find love. Year after year, 25 women are placed before each chosen bachelor with the goal of selecting one of them to eventually be his bride. And for a while, the system worked wonderfully, with each guy weeding out the crazies and insufferable candidates as each season progressed.
However, somewhere along the way things changed, and the entire integrity of the show began to shift. Bad girls started winning over good girls, creating an upset among dedicated fans. So what caused this change and why does it appear to be a sweeping trend on the show even today? We have some theories.
While it'd be easy to say the bad girls are simply getting better at hiding their vindictive nature to each respectable suitor, we believe it stems deeper than just a bit of deception. In fact, it seems to be all part of the show's strategy. Reality shows like The Bachelor are governed by a variety of outside forces, with producers constantly coaxing and goading both the contestants and the actual bachelors to say or do something entertaining. For what purpose, you ask? Well, to turn the underdog good girl into the next Bachelorette, of course. 
When Alex Michel chose Amanda Marsh over Trista Rehn in Season 1, it provided the perfect opportunity for the ABC higher-ups to nab Trista to be the very first Bachelorette star in 2003. It was the perfect way to garner a large audience for the parallel series since fans were already invested and familiar with Trista. Of course fans they would want to see if the The Bachelor reject would finally get her happily ever after. And once producers fully grasped that concept, it's clear they decided to run with it.
If you recall, Jake Pavelka showed favoritism toward bad girl Vienna Girardi in Season 8, which could explain why sweetheart Ali Fedotowsky dropped out of the running voluntarily. And though her leaving caused a major upset, it made Ali's season on The Bachelorette that much more desirable to watch. You know a producer had a hand in how that all played out. Additionally, Ashley Hebert went on to become the Bachelorette the following season, after being rejected by The Bachelor's Brad Womack. Viewers respond best to familiarity and by transforming these girls into the rose-receivers to the rose-givers, it adds a layer of personal connection to each season.
And it looks like Season 16 of The Bachelor will be no different. Now that Ben Flajnik is rumored to have chosen bad girl Courtney Robertson over good girl Lindzi after rejecting fan favorite Kacie B., it's only a matter of time until the network tries to reel one of the two in to star on The Bachelorette as well. And let's face it, we'd all tune in and watch.
Why do you think the bad girls keep winning over the good girls? Is it a marketing technique or purely coincidental?